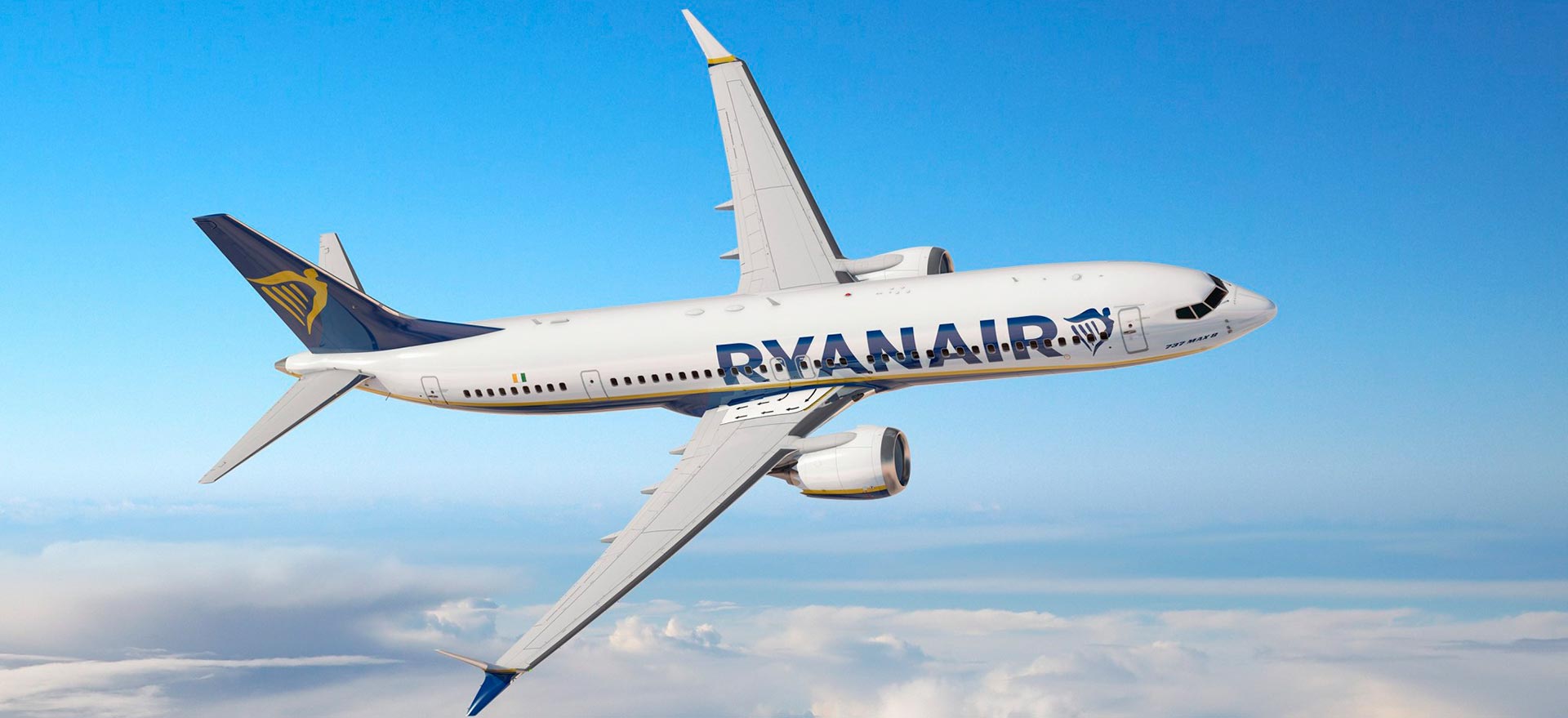 AW | 2020 05 21 16:04 | AIRLINES / INDUSTRY
Ryanair continúa interés por Boeing 737-8/200 MAX
The Boeing Company ha conservado un cliente muy importante apesar de haber sido golpeado con cancelaciones masivas por su asediado Boeing 737 MAX y las extensiones de la crisis sanitaria. A pesar de contínuas cancelaciones, reprogramaciones y reconfirmacioines, la aerolínea de bajo costo más grande de Europa, Ryanair continúa conservando el interés por la línea 737 MAX.
Ryanair sigue comprometido con el Boeing 737 MAX y todavía está considerando órdenes adicionales ha transmitido el CEO Michael O'Leary esta semana durante la presentación de resultados de la compañía para el año financiero completo que finalizó el 31 Marzo 2020. El grupo con sede en Irlanda espera recibir el primer Boeing 737-8/200 MAX en algún lugar entre Octubre-Diciembre 2020. La compañía confirma que el modelo será fundamental para reducir los costos unitarios en el entorno de tarifas bajas post-pandemia de Europa y aprovechar las oportunidades de crecimiento cuando se recupere el tráfico. Ryanair ha solicitado pedidos en firme por 135 Boeing 737-8/200 MAX y opciones para otras 75 unidades. Las aeronaves son configuradas para una mayor densidad para acomodar 200 asientos. Este tipo de configuración son empleadas por las aerolíneas low cost del mundo para alcanzar un mayor índice de rendimiento económico. «Somos grandes admiradores del cambio de juego del Boeing MAX 200. Estos todavía son excelentes aviones», dijo Michael O'Leary.
Atendiendo la espera
La compañía Boeing ha estado basando su orientación para un retorno al servicio del Boeing 737 MAX en los Estados Unidos para fines del verano boreal y principios del 4Q2020 y una retroalimentación más positiva de los reguladores, incluida la Agencia de Seguridad Aérea de la Unión Europea (EASA), El CEO de Ryanair espera que el fabricante estadounidense pueda entregar algunos de sus aviones 737 MAX en el cuarto trimestre calendario de este año y el primer trimestre del próximo año. Boeing produjo alrededor de 20 a 25 unidades 737 MAX 200 para Ryanair. Estos aviones están aparcados en la rampa y esperando la entrega al LCC irlandés. "Queremos llevarlos. Creo que hay una perspectiva razonable de que veremos 20 o 30 de esos aviones volando hacia Ryanair en el verano de 2021", dijo O'Leary a los analistas.
Ryanair siempre se ha esforzado por tener los costos unitarios más bajos entre las aerolíneas europeas y la nueva pandemia de Coronavirus ha intensificado su riguroso enfoque de costos. La aerolínea de bajo costo (LCC) espera que el volumen de tráfico regrese bastante rápido, aunque con el respaldo de tarifas mucho más bajas, en parte debido a importantes descuentos en los precios de las aerolíneas con enormes cofres de guerra de ayuda estatal y su propia promesa de competir con tarifas aún más bajas. «Dondequiera que haya una venta por debajo del costo, fijaremos un precio por debajo de la venta por debajo del costo», explicó O'Leary.
Los gobiernos de toda Europa han asignado o prometido unos rescates de € 30 mil millones (US$ 32.8 mil millones) a sus transportistas de bandera, incluidos Lufthansa, Air France-KLM y Alitalia, que O'Leary calificó como «adictos a la ayuda estatal». Ryanair insiste en que, a diferencia de muchos de sus competidores, no solicitará ni recibirá ayuda estatal.
Renunciar a Airbus
Para asegurar la base de costos más bajos y aprovechar las oportunidades de crecimiento en el verano boreal 2021, siempre que no haya una segunda o tercera ola de COVID-19, Ryanair necesita un primer lote de sus 737 MAX. Varios de sus 737NG están programados para dejar la flota en línea con la estrategia de su LCC de operar una flota joven y eficiente. Además, el plan de Ryanair para evolucionar a una flota mixta Boeing 737MAX/Airbus A320NEO parece perder brillo. El grupo despliega una sola flota Boeing 737-800, a excepción de su filial austríaca, Laudamotion, que opera A320-200. Pero Lauda está haciendo grandes pérdidas. Sus planes de crecimiento se han reducido y es probable que su base de Viena se cierre el 30 Mayo 2020 si los sindicatos no aceptan un recorte salarial y un nuevo acuerdo laboral. Los representantes sindicales recibieron un ultimátum el Jueves 14/05.
Laudamotion opera 30 A320-200CEO, de los cuales 15 se encuentran en Viena, Austria. Si la base se cierra, Ryanair intervendría y operaría las rutas bajo su marca y con aeronaves Boeing 737. Esto podría llevar a Ryanair a avanzar en su planificación en los próximos cuatro años para desprogramar la flota de aeronaves A320 de Laudamotion. «Reemplazaremos esos aviones a medida que salgan del arrendamiento con nuevos aviones MAX, que tendrán un costo mucho menor, más asientos y menor costo», según O'Leary. Ryanair ya ha cancelado ocho A320 que debían ser entregados a Laudamotion por compañías de leasing bajo modalidad de arrendamiento.
La distante relación entre Ryanair y Airbus no se está calentando realmente. Michael O'Leary dijo que la aerolínea intentó repetidamente interactuar con el fabricante de aviones europeo, pero «no estamos llegando a ninguna parte con ellos». Y en este momento, si bien no hemos renunciado por completo a Airbus, creo que no estamos muy lejos de renunciar a Airbus".
Perspectivas con Boeing
El futuro de Ryanair radicará en profundizar la relación con la compañía americana Boeing, afirmó O'Leary. Las negociaciones continúan con la aeroespacial sobre varios aspectos: el precio de los MAX 200; los reembolsos de Boeing a Ryanair por los costos y pérdidas resultantes de las entregas demoradas de los 737 MAX; y sobre la posibilidad de un pedido adicional.
En Febrero 2020, Michael O'Leary reveló que Ryanair se había acercado a Boeing para adquirir más aviones 737 MAX, posiblemente incluyendo la variante más grande, el Boeing 737-10 MAX. Eso fue antes de la crisis sanitaria de la pandemia. "No creo que en este momento, estemos viendo un aumento en los pedidos de Boeing. Y eso no quiere decir que si obtuvieran precios muy atractivos que no consideraríamos tomar más aviones», dijo el CEO de Ryanair. Añadió que las tres conversaciones están interconectadas, pero no pueden concluirse hasta que el LCC tenga alguna certeza de cuándo el 737 MAX volverá al servicio o cuándo podrá recibir las entregas de su avión. «Tenemos pedidos firmes para 135 MAX 200 durante los próximos cuatro años, claramente necesitamos reelaborar el programa de entrega con Boeing en esos aviones. Pero todo lo que puedo decir es que estamos trabajando estrechamente con Boeing. Estamos muy impresionados con el nuevo equipo de administración en Boeing y lo que han hecho particularmente en el proyecto de regreso al servicio en los últimos meses, ha habido mucho menos optimismo ciego en Boeing, y hay una franqueza mucho más franca. lidiando con desafíos particularmente con clientes y reguladores», expresa Michael O'Leary.
El primer Boeing 737-8 MAX de Ryanair debería haber llegado en Abril 2019, pero el cronograma de entrega se retrasó varias veces debido a la continua puesta a tierra del avión de pasillo único por parte de los reguladores de seguridad de la aviación. Ryanair esperaba tener 55 MAX 200 en la flota para el verano boreal de 2020. No tiene ninguno, lo que en retrospectiva podría ser una bendición ya que el tráfico en Europa se ha detenido a raíz de la pandemia de Coronavirus y las restricciones impuestas del Gobierno. Según los datos de Eurocontrol, alrededor de 5.300 vuelos operaron en los cielos de Europa el 19 Mayo 2020, un 85% menos que el año anterior. Ryanair operó 41 vuelos a través de su red el Martes 19/05, un 98% menos que los 2.446 servicios diarios que realizó hace un año.
El grupo de aviación low cost irlandés espera transportar menos de 80 millones de pasajeros en el año financiero hasta Marzo 2021, casi la mitad de su objetivo original de 154 millones. Voló 149 millones de pasajeros en el año fiscal 2019-20. Si bien admite que en esta etapa es como volar a ciegas e imposible saber cómo evolucionará el COVID-19 y el apetito de los pasajeros en el extranjero en los próximos meses.
El CEO de Ryanair se mantiene optimista en el panorama a mediano plazo. «No veo más que una oportunidad aquí para acelerar el crecimiento de la flota en el próximo año financiero o dos porque habrá oportunidades. Las oportunidades para aumentar la cuota de mercado surgirán de las quiebras de aerolíneas y competidores más débiles que pospongan las entregas de aviones o cancelen pedidos. Entonces habrá oportunidades para una aerolínea, aquellas aerolíneas que tienen los costos más bajos», dijo Michael O'Leary.
Boeing retains Ryanair client
Ryanair continues interest in Boeing 737-8 / 200 MAX
The Boeing Company has retained a very important client despite having been hit with massive cancellations by its embattled Boeing 737 MAX and the extensions of the health crisis. Despite continued cancellations, rescheduling, and reconfirmations, Europe's largest low-cost airline, Ryanair continues to retain interest in the 737 MAX line.
Ryanair remains committed to the Boeing 737 MAX and is still considering additional orders CEO Michael O'Leary has conveyed this week during the company's earnings presentation for the full financial year ending March 31, 2020. The Ireland-based group It expects to receive the first Boeing 737-8/200 MAX somewhere between October-December 2020. The company confirms that the model will be essential to reduce unit costs in Europe's post-pandemic low-fare environment and take advantage of growth opportunities. when traffic recovers. Ryanair has requested firm orders for 135 Boeing 737-8 / 200 MAX and options for another 75 units. The aircraft are configured for higher density to accommodate 200 seats. This type of configuration is used by the world's low-cost airlines to achieve a higher economic performance index. «We are huge fans of the Boeing MAX 200 gameplay. These are still great planes», said Michael O'Leary.
Answering the wait
The Boeing company has been basing its guidance for a return to service of the Boeing 737 MAX in the United States by the end of the summer and early 4Q2020 and more positive feedback from regulators, including the European Union Aviation Safety Agency ( EASA), Ryanair's CEO expects the American manufacturer to be able to deliver some of its 737 MAX aircraft in the fourth calendar quarter of this year and the first quarter of next year. Boeing produced around 20 to 25 737 MAX 200 units for Ryanair. These planes are parked on the ramp and awaiting delivery to the Irish LCC. «We want to take them. I think there is a reasonable prospect that we will see 20 or 30 of those planes flying into Ryanair in the summer of 2021», O'Leary told analysts.
Ryanair has always strived for the lowest unit costs among European airlines, and the new Coronavirus pandemic has intensified its rigorous approach to costs. The low-cost airline (LCC) expects traffic volume to return fairly quickly, albeit supported by much lower fares, in part due to significant airline price discounts with huge state aid war chests and its own promise to compete with even lower rates. «Wherever there is a sale below cost, we will price below sale below cost», O'Leary explained.
Governments across Europe have allocated or promised € 30 billion (US$ 32.8 billion) bailouts to their flag carriers, including Lufthansa, Air France-KLM, and Alitalia, which O'Leary called «aid addicts state». Ryanair insists that, unlike many of its competitors, it will neither request nor receive state aid.
Give up Airbus
To ensure the lowest cost base and take advantage of growth opportunities in the boreal summer 2021, as long as there is no second or third wave of COVID-19, Ryanair needs the first batch of its 737 MAX. Several of its 737NGs are slated to leave the fleet in line with its LCC's strategy of operating a young and efficient fleet. Furthermore, Ryanair's plan to evolve into a mixed Boeing 737MAX/Airbus A320NEO fleet appears to be dwindling. The group deploys a single Boeing 737-800 fleet, with the exception of its Austrian subsidiary, Laudamotion, which operates A320-200. But Lauda is making big losses. Its growth plans have been curtailed and its Vienna base is likely to close on May 30, 2020 if unions do not accept a pay cut and a new labor deal. Union representatives received an ultimatum on Thursday 14/05.
Laudamotion operates 30 A320-200CEO, of which 15 are located in Vienna, Austria. If the base closes, Ryanair would intervene and operate the routes under its brand name and with Boeing 737 aircraft. This could lead Ryanair to advance its planning in the next four years to deprogram Laudamotion's fleet of A320 aircraft. «We will replace those planes as they come out of the lease with new MAX planes, which will have a much lower cost, more seats, and a lower cost», according to O'Leary. Ryanair has already canceled eight A320s that were to be delivered to Laudamotion by leasing companies on a lease basis.
The distant relationship between Ryanair and Airbus is not really heating up. Michael O'Leary said the airline repeatedly tried to interact with the European aircraft maker, but "we are not getting anywhere with them. And right now, while we have not completely given up on Airbus, I think we are not far from giving up on Airbus".
Prospects with Boeing
Ryanair's future will lie in deepening the relationship with the American company Boeing, O'Leary said. Negotiations continue with the aerospace on several aspects: the price of the MAX 200; Boeing's reimbursements to Ryanair for costs and losses resulting from delayed deliveries of the 737 MAX; and about the possibility of an additional order.
In February 2020, Michael O'Leary revealed that Ryanair had approached Boeing to acquire more 737 MAX aircraft, possibly including the largest variant, the Boeing 737-10 MAX. That was before the health crisis of the pandemic. «I don't think right now we are seeing an increase in Boeing orders. And that doesn't mean if they got very attractive prices that we wouldn't consider taking more planes», said the CEO of Ryanair. He added that the three talks are interconnected, but cannot be concluded until the LCC has any certainty when the 737 MAX will return in service or when you will be able to receive deliveries of your aircraft. «We have firm orders for 135 MAX 200s over the next four years, clearly we need to rework the delivery schedule with Boeing on those aircraft. But all I can say is that we are working closely with Boeing. We are very impressed with the new management team at Boeing and what they have done particularly on the return to a service project in recent months, there has been much less blind optimism at Boeing, and there is a much more frank frankness. dealing with challenges particularly with customers and regulators», says Michael O'Leary.
Ryanair's first Boeing 737-8 MAX should have arrived in April 2019, but the delivery schedule was delayed multiple times due to the continuous grounding of the single-aisle aircraft by aviation security regulators. Ryanair hoped to have 55 MAX 200 in the fleet by the boreal summer of 2020. It has none, which in hindsight could be a boon as traffic in Europe has been halted in the wake of the Coronavirus pandemic and government-imposed restrictions. According to Eurocontrol data, around 5,300 flights operated in the skies of Europe on May 19, 2020, 85% less than the previous year. Ryanair operated 41 flights through its network on Tuesday 19/05, 98% less than the 2,446 daily services it performed a year ago.
The Irish low-cost aviation group expects to carry fewer than 80 million passengers in the financial year through March 2021, almost half of its original target of 154 million. It flew 149 million passengers in the fiscal year 2019-20. Although he admits that at this stage it is like flying blind and it is impossible to know how the COVID-19 will evolve and the appetite of passengers abroad in the coming months.
Ryanair's CEO remains optimistic in the medium-term outlook. «I see only one opportunity here to accelerate fleet growth in the next financial year or two because there will be opportunities. Opportunities to increase market share will arise from the bankruptcies of airlines and weaker competitors that postpone aircraft deliveries. or cancel orders. Then there will be opportunities for an airline, those airlines that have the lowest costs», said Michael O'Leary.
Ξ A I R G W A Y S Ξ
SOURCE: Airgways.com
DBk: Boeing.com /Ryanair.com / Forbes.com / Airgways.com
AW-POST: 202005211604AR
A\W   A I R G W A Y S ®