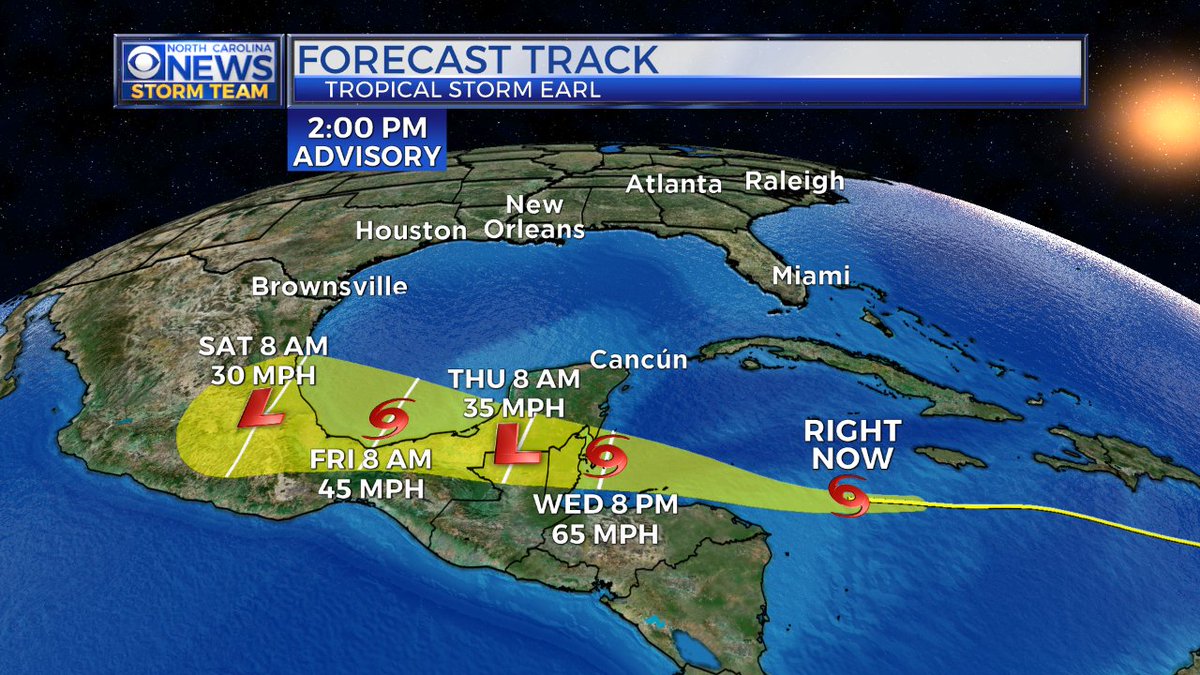 AW | 2016 08 03 10:19 | SAFETY / SECURITY
Ciudad de México. La Tormenta Tropical Earl, que se formó este martes en el Mar Caribe, se movía con rumbo oeste y era probable que se convierta en huracán antes de tocar tierra en la península de Yucatán, dijo el Centro Nacional de Huracanes (NHC), por sus siglas en inglés, de Estados Unidos en un reporte.
Earl, una de las primeras tormentas del Caribe, se desplazaba con dirección a las costas de Belice y del estado de Quintana Roo, en México, donde se ubican famosos centros turísticos como Cancún y la Riviera Maya.
La tormenta se desplazaba a una velocidad de 26 kilómetros por hora y mantenía vientos sostenidos de 95 kilómetros por hora, ubicándose unos 565 kilómetros al este de Ciudad de Belice.
«Se pronostica un fortalecimiento y es probable que Earl se convierta en huracán antes de que llegue a tierra», precisó el CNH en un reporte.
Se espera que las condiciones de tormenta tropical alcancen primero las costas de Honduras, en las próximas horas, y que lleguen a México y Belice entre la noche del miércoles y la madrugada del jueves.
Una vez que la tormenta cruce el territorio peninsular, el CNH prevé que el viernes ingrese por la costa sur al Golfo de México, donde la compañía petrolera estatal Pemex opera docenas de plataformas petroleras.
Los campos de aguas someras ubicados frente a la costa de los estados de Tabasco, Veracruz y Campeche aportan casi un 80 por ciento de la producción total de petróleo de México.
Antes de llegar a la península, la tormenta afectará con fuertes lluvias los territorios de Honduras y Guatemala, además de México y Belice, las que podrían generar inundaciones y deslaves que amenacen la vida de los habitantes de dichas zonas, advirtió el CNH. 
Tropical Storm Earl 'advances in the Caribbean; It will become hurricane
Mexico City. Tropical Storm Earl, which formed Tuesday in the Caribbean Sea, moving westbound and was likely to become a hurricane before landfall in the Yucatan Peninsula, said the National Hurricane Center (NHC) of the United States in a report.
Earl, one of the first storms of the Caribbean, was moving toward the coast of Belize and the state of Quintana Roo, in Mexico, where famous resorts like Cancún and the Riviera Maya are located.
The storm was moving at a speed of 26 kilometers per hour and maintained sustained winds of 95 kilometers per hour, being located about 565 kilometers east of Belize City.
«Strengthening is forecast and is likely to become a hurricane Earl before it makes landfall,» the NHC said in a report.
It is expected that tropical storm conditions to reach the coast of Honduras first, in the coming hours, and come to Mexico and Belize between Wednesday night and early Thursday.
Once the storm crossing the peninsula, the hurricane center expected to enter on Friday on the southern coast of the Gulf of Mexico, where state oil company Pemex operates dozens of oil rigs.
Shallow water fields located off the coast of the states of Tabasco, Veracruz and Campeche contribute almost 80 percent of the total oil production of Mexico.
Before reaching the peninsula, the storm with heavy rain will affect the territories of Honduras and Guatemala, Mexico and Belize well, which could cause flooding and landslides that threaten the lives of the inhabitants of these areas, the NHC warned. A\W
Ξ A I R G W A Y S Ξ
SOURCE: jornada.unam.mx
DBk: Photographic ©
news4jax.com / wnct.com 


AW-POST: 201608031019AR
A\W A I R G W A Y S ®