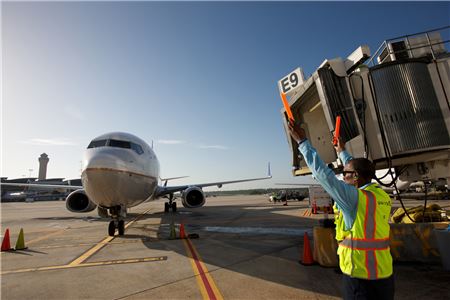 AW | 2017 08 26 12:26 | SAFETY / SECURITY / AIR TRAFFIC
Más de cien vuelos cancelados en Aeropuerto de Houston por el paso del huracán Harvey
La Administración Federal de Aviación (FAA) monitorea de cerca los huracanes previstos y los eventos meteorológicos severos y prepara las instalaciones y el equipo de la FAA para resistir el daño que provocará el paso del Huracán Harvey. Se preparará y protegerá las instalaciones de control de tráfico aéreo a lo largo de la trayectoria de tormenta proyectada para que podamos reanudar rápidamente las operaciones después del paso del huracán. Hacer que los vuelos se reanuden rápidamente es fundamental para apoyar los esfuerzos de socorro en casos de desastre.
Las torres de control de la FAA en áreas propensas a huracanes están diseñadas y construidas para soportar vientos de fuerza de huracanes. Cada torre de control tiene una sostenibilidad máxima del viento. Cuando los vientos se acercan a ese nivel, los controladores evacuan las cabinas de la torre. Pueden permanecer en el edificio de servicio en un nivel inferior seguro, y están listos para volver a trabajar tan pronto como la tormenta pasa.
También protegemos el equipo de comunicaciones y ayudas a la navegación en la mayor medida posible. A medida que la tormenta se acerca, desactivamos las antenas de radar de vigilancia del aeropuerto para permitirles girar libremente, minimizando el daño potencial del viento. Esto limita el daño a los motores de la antena y permite que la cobertura del radar se reanude rápidamente después de que pase la tormenta.
Vuelos en la línea de la tormenta
A las 7 de la mañana del sábado 26 de agosto el Aeropuerto Internacional George Bush había efectivizado 64 cancelaciones y 6 retrasos, mientras que en el Aeropuerto William P. Hobby, las cancelaciones llegaron a 102 y los retrasos a 1, según Begley.
Se están preparando con reserva de combustible, agua para drenaje, guardando todo el equipo que no sea necesario que esté al aire libre y adiestrando a los empleados de qué hacer en caso de una emergencia.
"Las aerolíneas y la Administración Federal de Aviación (FAA) son los que se encargan de decidir si un vuelo es cancelado o no, por la seguridad de los pasajeros", apuntó Begley.
Según estadísticas oficiales, en un día promedio en el Aeropuerto Hobby hay de 150 a 175 vuelos de ida y vuelta. Mientras que en el Aeropuerto Bush, más de 600 vuelos ida y vuelta.
Recomiendan revisar el estado de su vuelo con su línea aérea. También puede consultar el estado de algunos de los principales aeropuertos en el camino de la tormenta visitando Fly.FAA.gov, que se actualiza regularmente.
Las aerolíneas han cancelado todos los vuelos desde y hacia el Aeropuerto Internacional de Corpus Christi, CCIA, en Texas. Rockport, una ciudad costera de unos 10.000 que estaba en el camino del huracán cuando llegó a tierra. Charles J. Wax, alcalde de Rockport, dijo que las condiciones eran demasiado peligrosas el sábado por la mañana para desplegar agentes de emergencia en toda la ciudad, pero que una revisión inicial, como pasó la tormenta durante la noche, mostró «daños generalizados». 
Desarrollo del huracán Harvey

El huracán Harvey , impulsado por las cálidas aguas del Golfo de México, llegó a tierra como un huracán de categoría 4 a las 9:45 pm del viernes, antes de lo esperado. Llegó a tierra justo al noreste de Corpus Christi, Texas, con vientos de 130 mph.

Aunque la extensión de la devastación aún no se conocía, los oficiales de emergencia reportaron el sábado daños en edificios pesados ​​en Port Aransas y en Rockport, con árboles destrozados y techos desprendidos. Al menos 250.000 clientes estaban sin electricidad. Se espera que la tormenta mantenga la fuerza de la tormenta tropical durante al menos cuatro días, provocando fuertes lluvias e inundaciones. A \ W
FAA prepares for Hurricane Harvey
More than 100 flights canceled in Houston due to Hurricane Harvey
The Federal Aviation Administration (FAA) closely monitors forecasted hurricanes and severe weather events and prepares FAA facilities and equipment to withstand the damage caused by Hurricane Harvey. Air traffic control facilities will be prepared and protected along the projected storm path so that we can quickly resume operations after the hurricane. Making flights resume quickly is critical to supporting disaster relief efforts.
The FAA control towers in hurricane-prone areas are designed and built to withstand hurricane force winds. Each control tower has maximum wind sustainability. When the winds approach that level, the controllers evacuate the tower cabins. They can stay in the service building on a lower level safe, and are ready to go back to work as soon as the storm passes.
We also protect communications equipment and navigation aids as much as possible. As the storm approaches, we deactivate airport surveillance radar antennas to allow them to rotate freely, minimizing potential wind damage. This limits damage to the antenna motors and allows the radar coverage to resume rapidly after the storm passes.
Flights on the storm line
At 7 am on Saturday, August 26, George Bush International Airport had 64 cancellations and 6 delays, while at William P. Hobby Airport, cancellations reached 102 and delays to 1, according to Begley.
They are preparing with fuel reserve, drainage water, keeping all equipment that is not necessary outdoors and training employees what to do in case of an emergency.
«The airlines and the Federal Aviation Administration (FAA) are responsible for deciding whether or not a flight is canceled for the safety of passengers,» said Begley.
According to official statistics, on an average day at Hobby Airport there are 150 to 175 round trip flights. While at Bush Airport, more than 600 flights back and forth.
They recommend reviewing the status of your flight with your airline. You can also check the status of some of the major airports on the way to the storm by visiting Fly.FAA.gov, which is regularly updated.
Airlines have canceled all flights to and from Corpus Christi International Airport, CCIA, Texas. Rockport, a coastal town of about 10,000 that was on the road to the hurricane when it landed. Charles J. Wax, the mayor of Rockport, said conditions were too dangerous Saturday morning to deploy emergency agents throughout the city, but an initial review, as the storm struck overnight, showed «widespread damage». A \ W
Development of Hurricane Harvey

Hurricane Harvey, propelled by the warm waters of the Gulf of Mexico, hit the ground as a Category 4 hurricane at 9:45 p.m. on Friday, sooner than expected. It landed just northeast of Corpus Christi, Texas, with winds of 130 mph.

Hundreds of citizens migrate elsewhere to the shelter of Hurricane Harvey

Although the extent of the devastation was not yet known, emergency officials reported damage to heavy buildings in Port Aransas and Rockport on Saturday, with shattered trees and shed roofs. At least 250,000 customers were without electricity. The storm is expected to maintain the strength of the tropical storm for at least four days, causing heavy rains and flooding. A \ W
Ξ A I R G W A Y S Ξ
SOURCE:  Airgways.com
DBk:  Tamir Kalifa / Abc7ny.com / GetImage.com / Noaa.gov
AW-POST: 201708261226AR
A\W   A I R G W A Y S ®