AW | 2017 10 17 17:23 | INDUSTRY
El constructor europeo Airbus compra a Bombardier el 50,01% del programa CSeries
Airbus compra a Bombardier el 50% del negocio del programa del avión CSeries en una movida político-estratégica de Bombardier contra el desafío de Boeing por los aranceles en Estados Unidos
Airbus anunció este lunes que el fabricante europeo adquirirá una participación mayoritaria en la sociedad que produce el modelo CSeries del constructor canadiense Bombardier, una familia de aviones de alcance medio con capacidad para entre 100 y 150 personas.

A Boeing debería preocuparle el resultado de su guerra con Bombardier. El mayor riesgo es que la disputa podría empujar a dos de los rivales emergentes del fabricante estadounidense de aviones a una asociación cada vez más profunda que los hará más fuertes.
Bombardier ha conseguido la vía para esquivar el arancel especial que acaba de imponer Estados Unidos a su nuevo avión comercial. Cede el control del programa CSeries al consorcio europeo Airbus. La operación permite crear una alianza que permitirá introducir sin complicaciones los aviones CSeries tanto en el m undo como así en Estados Unidos para eliminar a Boeing la supremacía global en la industria.
La alianza que viene de Europa
La operación cuenta, de hecho, con el visto bueno de Ottawa. La intención de Airbus es la de ampliar la fábrica que ya opera en Mobile (Alabama) y abrir así hueco para establecer una segunda línea de ensamblaje para el CSeries. En esa planta es donde fabrica los modelos de pasillo único que se venden en EEUU. Al estar fabricado en suelo estadounidense, evitará en principio los aranceles para las entregas a clientes establecidos en el país, como la compañía Delta Air Lines.
La compañía canadiense Bombardier indicó en un comunicado que Airbus comprará el 50,01% de CSeries Aircraft Limited Partnership (CSALP), que produce los aviones de la CSeries desarrollados por Bombardier. El resto de la sociedad se repartirá entre Bombardier, con aproximadamente un 31%, e Investissement Québec (IQ), con el 19% restante. El acuerdo incluye la apertura de una segunda línea de producción en Estados Unidos que permitirá a Bombardier evitar aranceles aduaneros en los aviones CSeries bajo la órbita del fabricante europeo Airbus.
La familia CSeries, con capacidad para entre 100 y 150 pasajeros, cubre un segmento de mercado que Boeing abandonó hace años. Este bimotor de pasillo único, sin embargo, es una alternativa en las rutas regionales para los modelos más pequeños del Boeing 737. Delta ya dijo la semana pasada que no iba a pagar el arancel. El gravamen irritó también a Reino Unido, porque las alas se fabrican en Irlanda del Norte.
La posible pérdida de empleos en Canadá provocó que el Gobierno canadiense señalase que revisará el acuerdo para asegurarse que es en «el interés nacional» y crea empleos en el país. La venta de la mayoría de CSALP se produce poco después de que las autoridades estadounidenses impusiesen de forma preliminar unos aranceles aduaneros punitivos del 300% a los aviones CSeries de Bombardier. La medida fue adoptada por Washington a petición de Boeing que considera que Bombardier está siendo subvencionada por las autoridades canadienses para ofrecer sus aviones a precios inferiores a los de la competencia. Bombardier dijo que Airbus proporcionará «experiencia en contratación, ventas y mercadotecnia así como asistencia al cliente». La línea principal de producción de los aviones de la familia CSeries permanecerá en Canadá «con el apoyo de la proyección mundial y escala de Airbus». Pero las dos empresas indicaron que abrirán una «segunda línea final de montaje» en Alabama para los clientes estadounidense.
DESPEGUE DE UN PROTOTIPO BOMBARDIER CANADAIR CS-300
Airbus ya cuenta con una planta de producción en la localidad de Mobile, en Alabama (EEUU). La decisión de producir en Estados Unidos permitirá evitar las tarifas impuestas por Washington. Las dos empresas señalaron que la familia CSeries, un avión de un pasillo con capacidad para entre 100 y 150 pasajeros, «es muy complementario de la cartera actual de aviones de pasillo único de Airbus. Esta es una victoria para todos» declaró el consejero delegado de Airbus, Tom Enders, mientras que el presidente de Bombardier, Alain Bellemare, dijo estar «muy contento de recibir Airbus al programa CSeries».
El ministro de Innovación, Ciencia y Desarrollo Económico de Canadá, Navdeep Bains, señaló que «inversiones propuestas de esta clase requieren que el Gobierno considere si son en el interés nacional. El acuerdo con Airbus, como todas las inversiones significantes propuestas en Canadá por extranjeros, está sujeta a la Ley de Inversiones de Canadá. En mi revisión miraré cómo este acuerdo beneficia a los canadienses, apoya nuestro sector y crea buenos empleos», añadió.
La disputa entre Boeing y Bombardier ha generado nuevos chispazos con el anuncio de Bombardier de entrar en alianza con Airbus Group. Bombardier está logrando un movimiento de fichas muy inteligente, por un lado, otorgando a Bombardier una clara alianza con Airbus permitiendo la fabricación de piezas del Programa CSeries, para obtener las cancelaciones de aranceles, por ser una empresa estadounidense. Por otro lado, le permitirá a Bombardier no perder el jugoso mercado de EEUU.
El Primer Ministro de Canadá, Justin Trudeau, abordó la cuestión recientemente en una conversación telefónica con el Donald Trump. Es más, llegó a advertir que si Boeing seguía adelante con sus quejas, se vería obligado a cancelar la compra de 18 cazabombarderos F-18 F/A Super Hornet, por 5.200 millones de dólares. Es un valor equivalente al contrato de Delta con Bombardier.
El dictamen final de la Comisión de Comercio Internacional sobre los aranceles se conocerá en febrero. El choque pone en evidencia la tensión que hay entre EE UU y Canadá en plena negociación de la revisión del acuerdo de libre cambio, que está totalmente estancado. La operación entre Bombardier y Airbus se lleva fraguando desde agosto. Ya intentaron una alianza similar hace dos años.
Los primeros aviones del CSeries ya están volando en algunas aerolíneas europeas desde hace un año, con una respuesta muy positiva de los pasajeros. Delta recibirá sus aviones a lo largo de 2018. El acuerdo contempla la posibilidad de ceder el control por completo del programa a Airbus en 2023. Boeing responde poniendo en duda la verdadera intencionalidad de la operación.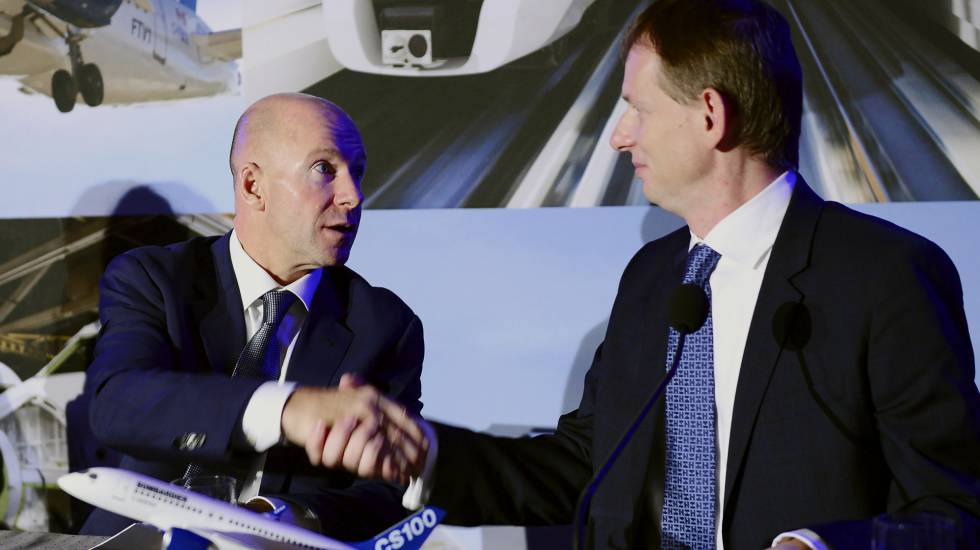 Airbus acquires participation in CSeries program
European builder Airbus purchases Bombardier 50.01% of the CSeries program
Airbus buys Bombardier 50,01% of the CSeries aircraft program business in a Bombardier political-strategic move against Boeing's challenge for US tariffs
Airbus announced Monday that the European manufacturer will acquire a majority stake in the company producing the CSeries model of the Canadian manufacturer Bombardier, a family of medium-range aircraft with capacity for between 100 and 150 people.
Boeing should be concerned about the outcome of his war with Bombardier. The biggest risk is that the dispute could push two of the US aircraft manufacturer's emerging rivals into an ever-deepening partnership that will make them stronger.
Bombardier has gotten the way to avoid the special tariff that the United States has just imposed on its new commercial aircraft. Gives control of the CSeries program to the European consortium Airbus. The operation allows the creation of an alliance that will allow the introduction of CSeries aircraft both in the world and in the United States without complications to eliminate Boeing's global supremacy in the industry.
The alliance that comes from Europe
The operation counts, in fact, with the approval of Ottawa. Airbus intends to expand the factory that already operates in Mobile (Alabama) and thus open the gap to establish a second assembly line for the CSeries. In that plant is where he manufactures the unique aisle models that are sold in the US. Being manufactured on US soil, it will in principle avoid tariffs for deliveries to customers established in the country, such as Delta Air Lines.
BOMBARDIER FORMALIZES ALLIANCE WITH AIRBUS TO WIN BATTLE BOEING IN THE US MARKET
The Canadian company Bombardier said in a statement that Airbus will buy 50.01% of CSeries Aircraft Limited Partnership (CSALP), which produces the CSeries aircraft developed by Bombardier. The rest of the company will be distributed between Bombardier, with approximately 31%, and Investissement Québec (IQ), with the remaining 19%. The agreement includes the opening of a second production line in the United States that will allow Bombardier to avoid customs duties on CSeries aircraft under the orbit of European manufacturer Airbus.
The CSeries family, with capacity for between 100 and 150 passengers, covers a market segment that Boeing abandoned years ago. This single-aisle twin engine, however, is an alternative on regional routes for the smaller models of the B737. Delta said last week that it was not going to pay the tariff. The tax also irritated the United Kingdom, because the wings are made in Northern Ireland.
The potential loss of jobs in Canada has prompted the Canadian government to sign a revised agreement to make sure it is «in the national interest» and creates jobs in the country. The sale of the majority of CSALP comes shortly after US authorities preliminarily imposed 300% punitive customs duties on Bombardier CSeries. The measure was adopted by Washington at the request of Boeing, who considers that Bombardier is being subsidized by the Canadian authorities to offer its aircraft at prices lower than those of the competition. Bombardier said Airbus will provide «experience in hiring, sales and marketing as well as customer support». The main production line of the CSeries family aircraft will remain in Canada «with the support of Airbus' worldwide projection and scale.» But the two companies said they will open a «final second assembly line» in Alabama for US customers.
Airbus already has a production plant in Mobile, Alabama (USA). The decision to produce in the United States will allow to avoid the rates imposed by Washington. The two companies said the CSeries family, a 100- to 150-passenger aisle aircraft, «is very complementary to Airbus' current single-aisle aircraft portfolio. This is a victory for everyone,» said the CEO of Airbus, Tom Enders, while Bombardier President Alain Bellemare said he was «very pleased to receive Airbus to the CSeries program.»
Canada's Minister of Innovation, Science and Economic Development Navdeep Bains said that «proposed investments of this kind require the Government to consider whether they are in the national interest.» The agreement with Airbus, like all significant investments proposed in Canada by foreigners , is subject to Canada's Investment Law.In my review I will look at how this agreement benefits Canadians, supports our sector and creates good jobs», he added.
The dispute between Boeing and Bombardier has generated new sparks with Bombardier's announcement of entering into an alliance with the Airbus Group. Bombardier is achieving a very smart chip movement, on the one hand, giving Bombardier a clear alliance with Airbus allowing the manufacture of parts of the CSeries Program, to obtain the cancellation of tariffs, for being an American company. On the other hand, it will allow Bombardier not to lose the juicy US market.
Canadian Prime Minister Justin Trudeau addressed the issue recently in a telephone conversation with Donald Trump. Moreover, he warned that if Boeing went ahead with its complaints, it would be forced to cancel the purchase of 18 F-18 F / A Super Hornet fighter fighters for $ 5.2 billion. It is equivalent to Delta's contract with Bombardier.
The final opinion of the International Trade Commission on Tariffs will be released in February. The clash shows the tension between the US and Canada in the full negotiation of the revision of the free trade agreement, which is totally stalled. The operation between Bombardier and Airbus has been brewing since August. They already tried a similar alliance two years ago.
The first CSeries aircraft have been flying in some European airlines for a year, with a very positive response from the passengers. Delta will receive its aircraft throughout 2018. The agreement provides for the possibility of giving full control of the program to Airbus in 2023. Boeing responds by questioning the true intentionality of the operation. A \ W
Ξ A I R G W A Y S Ξ
SOURCE:  Airgways.com
DBk:  Bombardier.com / Airbus.com / Paul Chiasson (Associated Press) / Airgways.com / Ainonline.com 
AW-POST: 201710171723AR
A\W   A I R G W A Y S ®