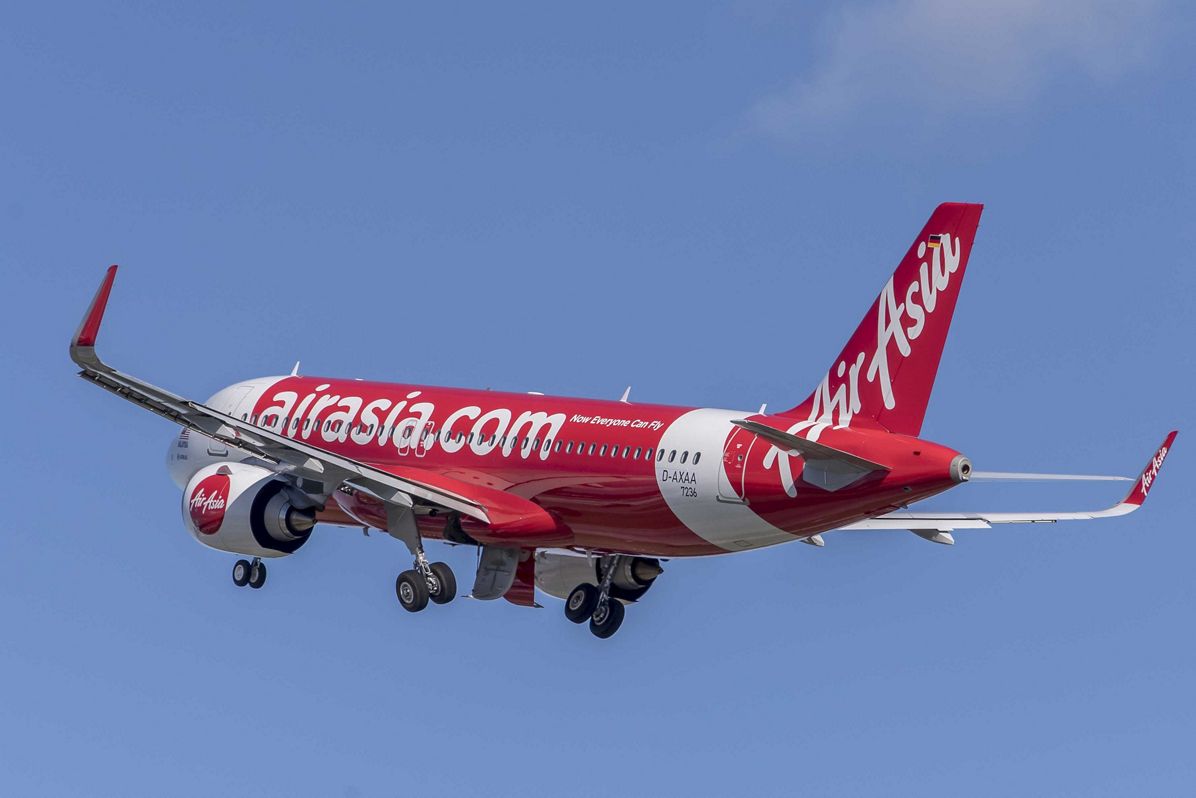 AW | 2017 10 25 17:17 | INDUSTRY / AIRLINES
Airbus FALA entrega primer A320NEO fabricado en China
El fabricante aeronáutico europeo Airbus entregó hoy a la aerolínea malasia AirAsia la primera unidad de un A320NEO que sale de la planta de acabado de aviones que la compañía tiene en la ciudad china de Tianjin.

AirAsia ha recibido el primer A320NEO ensamblado en la línea de ensamblaje final Airbus Asia (FALA) en Tianjin, China. El avión, propulsado por motores CFM LEAP-1A, tiene capacidad para 186 pasajeros y está equipado con la innovadora cabina Space-Flex, dijo Airbus en un comunicado el martes. AirAsia es la mayor aerolínea cliente de la familia A320 con pedidos de 578 aviones, incluido A320NEO.  El Airbus A320NEO es el decimotercer avión de su clase de la aerolínea y el número 184 del modelo A320 que el fabricante entrega a AirAsia, indicó Airbus en un comunicado.
El presidente de Airbus China, Eric Chen señaló: «La entrega del NEO marca un hito para nuestra cadena de montaje final asiática, que ayudará a responder a la consistente demanda de nuestros clientes en China y en la región Asia-Pacífico». La entrega de «NEO» fue un hito para Airbus FALA, lo que ayudaría a satisfacer la fuerte demanda de sus clientes en China y la región de Asia-Pacífico.
El director ejecutivo de AirAsia Bhd, Aireen Omar, dijo: «El avión Airbus A320 ha contribuido enormemente a nuestro modelo de negocios y nuestras operaciones. Recibimos nuestro primer A320NEO el año pasado y este es nuestro 13º Airbus A320NEO que recibimos para el grupo, que también es el 184º avión entregado por Airbus. Estamos muy contentos con el A320NEO, que ofrece hasta un 15% de ahorro de combustible y un alcance adicional de 500 millas náuticas, lo que se traduce en tarifas más bajas para nuestros huéspedes».
AIRBUS TIANJIN, EN REPÚBLICA DE CHINA
El Airbus FALA en Tianjin, inaugurado en 2008, se convirtió en la tercera ubicación de la línea de montaje de aviones de pasillo único de Airbus en todo el mundo. La planta de Airbus en Tiajin (noreste) es la tercera de acabado final de la compañía tras las de Toulouse (Francia) y Hamburgo (Alemania). Airbus inauguró el mes pasado también en Tianjin una segunda planta de terminación de aviones para unidades del A330 de doble pasillo, dentro de su apuesta por reforzar su presencia en Asia y en concreto en China, un mercado clave para el negocio mundial de la aviación civil.
Es la primera línea de ensamblaje final de Airbus fuera de Europa. Hasta la fecha, se han ensamblado y entregado unas 340 aeronaves desde las instalaciones de Tianjin. 
Airbus delivers 1st A320NEO assembled in Asia

Airbus FALA delivers first A320NEO made in China
European aircraft manufacturer Airbus today delivered to Malaysian airline AirAsia the first unit of an A320NEO that leaves the aircraft finishing plant that the company has in the Chinese city of Tianjin.
AirAsia has received the first A320NEO assembled in the Airbus Asia (FALA) final assembly line  in Tianjin, China. The aircraft, powered by CFM LEAP-1A engines, has 186 passengers and is equipped with the innovative Space-Flex cabin, Airbus said in a statement Tuesday. AirAsia is the largest carrier airline of the A320 family with orders for 578 aircraft, including A320NEO. The Airbus A320NEO is the airline's thirteenth aircraft of its class and the number 184 of the A320 model that the manufacturer delivers to AirAsia, Airbus said in a statement.
Airbus China President Eric Chen said: «The NEO delivery marks a milestone for our Asian final assembly line, which will help meet the consistent demand of our customers in China and the Asia-Pacific region.» The delivery of «NEO» was a milestone for Airbus FALA, which would help meet the strong demand of its customers in China and the Asia-Pacific region.
El director ejecutivo de AirAsia Bhd, Aireen Omar, said: «The Airbus A320 has contributed enormously to our business model and our operations. We received our first A320NEO last year and this is our 13th Airbus A320NEO we received for the group, which is also the 184th aircraft delivered by Airbus.We are very pleased with the A320NEO, which offers up to 15% fuel savings and an additional 500 nautical mile range, which translates into lower rates for our guests».
The Airbus FALA in Tianjin, inaugurated in 2008, became the third location of the Airbus single-aisle assembly line worldwide. The Airbus plant in Tiajin (northeastern) is the third of the final finish of the company after those of Toulouse (France) and Hamburg (Germany). Airbus also inaugurated a second aircraft termination plant for double-aisle A330 units last month in Tianjin, as part of its bid to strengthen its presence in Asia and specifically in China, a key market for the global civil aviation business .
It is Airbus' first line of final assembly outside Europe. To date, some 340 aircraft have been assembled and delivered from the Tianjin facility. A\W
Ξ A I R G W A Y S Ξ
SOURCE:  Airgways.com
DBk:  Airbus.com  / Wikimedia.org
AW-POST: 201710251717AR
A\W   A I R G W A Y S ®