AW | 2019 03 25 07:33 | AIRLINES / INDUSTRY
Comlux recibe su primer Airbus ACJ320NEO
Comlux ha recibido la primera de tres aeronaves Airbus ACJ320NEO equipada para transporte VIP. Es el mayor cliente de la Familia ACJ320NEO, que ya ha ganado un total de 11 órdenes.
"El nuevo ACJ320NEO nos da los medios para ofrecer vuelos sin escalas a aún más del mundo. CFM International ha apoyado Comlux lo largo de los años, y hemos elegido sus nuevos motores, LEAP-1A de bajo consumo y altamente confiable para alimentar la aeronave. Comlux Finalización instalará un interior de la cabina VIP única, utilizando las tecnologías más avanzadas para ofrecer el mejor confort y lujo a nuestros clientes", dice Comlux Presidente Ejecutivo y CEO Richard Gaona.
La familia ACJ320NEO utiliza nuevos motores y la punta del ala montados Sharklets para ofrecer un ahorro de combustible del 15%, lo que también se traduce en un salto adelante en la gama de operadores de aviones de negocios. La configuración del ACJ320NEO es de 25 pasajeros, cubriendo una autonomía de 13 horas o 6.000 nm/11.100 kilómetros. La versión más pequeña ACJ319NEO puede transportar ocho pasajeros cubriendo 15 horas o 6.750 nm/12.500 kilómetros.
"Los Airbus corporativos ya tienen una reputación para la comodidad, confiabilidad y valor, ya disfrutar de los costos de operación similares los aviones de negocios tradicionales a través de su patrimonio avión, y ahora son aún más económico en sus versiones NEO", dice el Presidente de ACJ Benoit Defforge.
Más de 700 aviones de la Familia A320NEO ya están en servicio con las compañías aéreas y con más de 15.000 pedidos en firme para toda la familia A320, es el claro líder en su clase.
Airbus A320 fue pionera en características que son ahora estándar en la mayoría de los aviones de negocios de nueva generación como fly-by-wire-protección mejorada, mantenimiento centralizado de ahorro de costes y de fibra de carbono para ahorrar peso la garantía de que tiene un futuro largo y exitoso por delante de él. Más de 190 aviones corporativos de Airbus están en servicio en todo el mundo, volando en todos los continentes, incluida la Antártida.
Comlux receives 1st ACJ320NEO
Comlux receives its first Airbus ACJ320NEO
Comlux has received the first of three Airbus ACJ320NEO aircraft equipped for VIP traffic. He is the largest client of the ACJ320NEO Family, which has already won a total of 11 orders.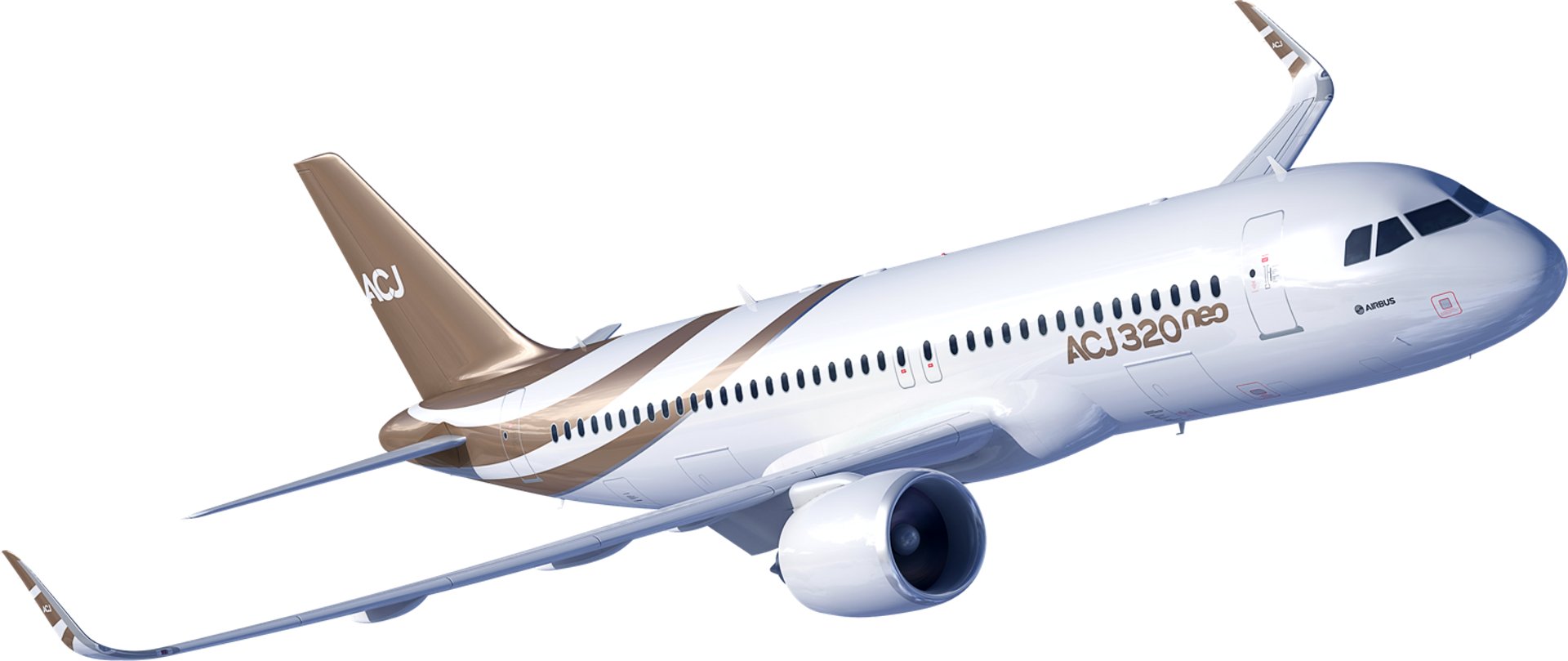 "The new ACJ320NEO gives us the means to offer nonstop flights to even more of the world. CFM International has supported Comlux over the years, and we have chosen its new low-consumption, highly reliable LEAP-1A engines to power the aircraft. Comlux Completion will install a unique VIP cabin interior, using the most advanced technologies to offer the best comfort and luxury to our customers", says Comlux CEO and CEO Richard Gaona.
The ACJ320NEO family uses new engines and wingtips mounted Sharklets to offer 15% fuel savings, which also translates into a leap forward in the range of business aircraft operators. The configuration of the ACJ320NEO is 25 passengers, covering an autonomy of 13 hours or 6,000 nm / 11,100 kilometers. The smaller version ACJ319NEO can carry eight passengers covering 15 hours or 6,750 nm/12,500 kilometers.
"The corporate Airbus already have a reputation for comfort, reliability and value, and enjoy operating costs similar to traditional business aircraft through their aircraft heritage, and now they are even more economical in their NEO versions", says the President of ACJ Benoit Defforge.
More than 700 aircraft of the A320NEO Family are already in service with airlines and with more than 15,000 firm orders for the entire A320 family, it is the clear leader in its class.
Airbus A320 pioneered features that are now standard in most next-generation business aircraft such as improved fly-by-wire-protection, centralized maintenance of cost savings and carbon fiber to save weight the guarantee that it has a long and successful future ahead of him. More than 190 Airbus corporate aircraft are in service worldwide, flying on all continents, including Antarctica. A \ W
Ξ A I R G W A Y S Ξ
SOURCE: Airgways.com
DBk: Airbus.com / Airgways.com
AW-POST: 201903250733AR
A\W   A I R G W A Y S ®