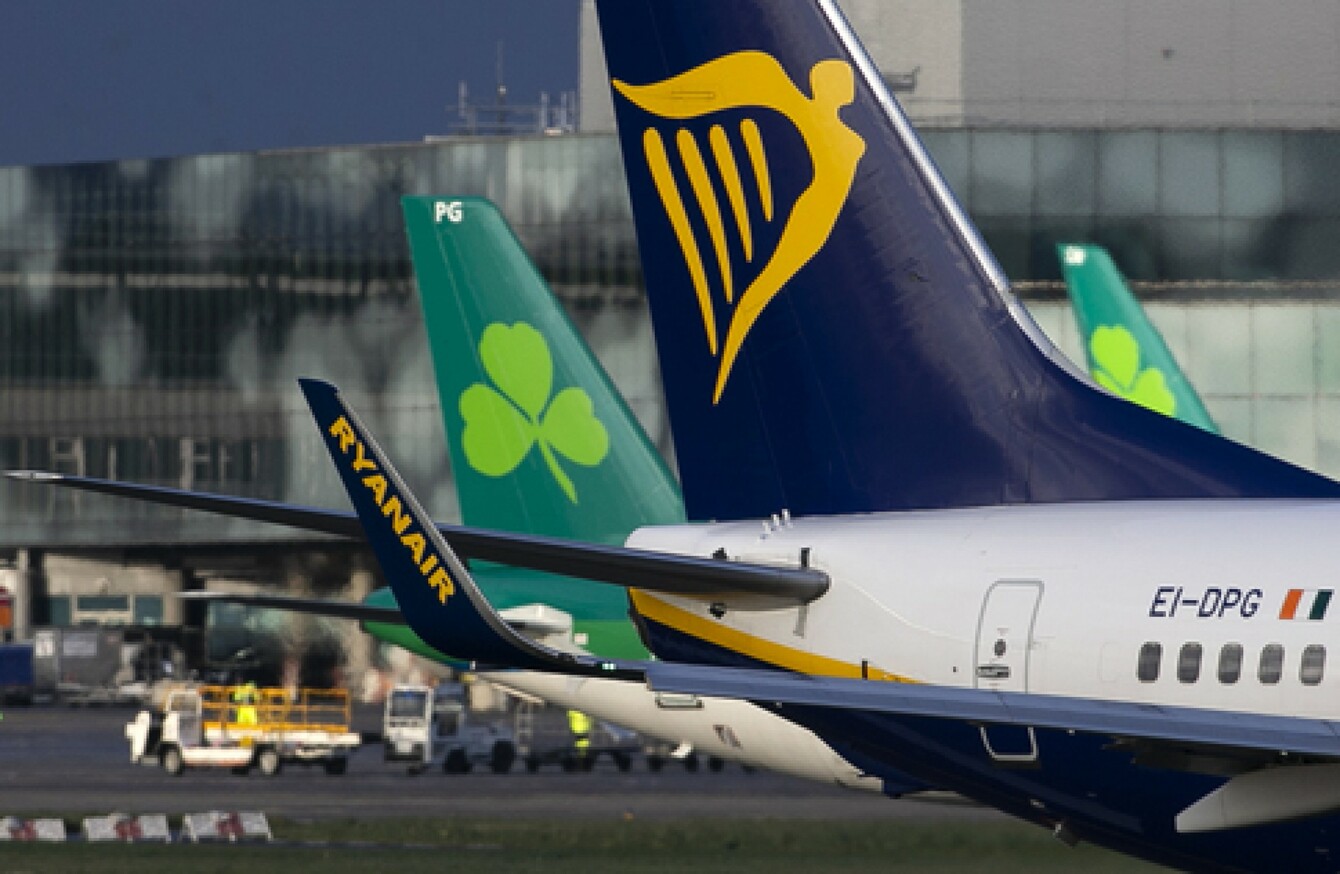 AW | 2020 03 16 09:47 |  AIRLINES MARKET / AVIATION SAFETY
Las aerolíneas toman medidas drásticas para sobrevivir a la crisis de la pandemia Coronavirus
Las aerolíneas de todo el mundo están efectuando recortes drásticos en su programación de vuelos y en la plantilla de empleados. Las compañía aéreas han anunciado la solicitud de ayuda de los gobiernos respectivos después de que los países endurecieron aún más las restricciones fronterizas debido a la rápida propagación del virus.
En las últimas 24 horas, United Airlines de los EE.UU., IAG matriz de British Airways, Aer Lingus, Iberia, Air France-KLM, easyJet, Finnair, Air New Zealand y Aeroflot dieron a conocer medidas drásticas para reducir costos después de varios países, incluidos Alemania y España, cerraron sus fronteras.
Las aerolíneas
IAG Group, propietario de Aer Lingus y British Airways, dijo que reduciría su capacidad de vuelo en al menos un 75% en Abril y Mayo. La compañía también congelará el gasto discrecional, reducirá las horas de trabajo y suspenderá temporalmente los contratos de trabajo. IAG reveló que el jefe saliente Willie Walsh aplazaría su retiro en su lucha por sobrevivir al brote de coronavirus. El grupo de la aerolínea, sin embargo, no pidió ayuda del gobierno.
Air France-KLM Group dijo que estaba intensificando las medidas de ahorro para hacer frente al impacto. La aerolínea franco-holandesa dijo que había identificado nuevas medidas que generarían 200 millones de euros en ahorros en 2020, y formas de reducir sus gastos de capital en 350 millones de euros. Air France-KLM dijo que reduciría gradualmente sus vuelos en los próximos días, y que la cantidad de kilómetros de asientos disponibles (ASK) podría caer entre un 70% y un 90%. Como resultado del corte de capacidad, Air France pondrá a tierra toda su flota de Airbus 380 y KLM detendrá toda su flota de Boeing 747-400.
El Gobierno de Gran Bretaña dijo que discutiría cómo proteger a la industria de las aerolíneas de la pandemia de coronavirus después de que easyJet se unió a Virgin Atlantic para pedir ayuda del gobierno cuando la gente de todo el mundo deja de viajar. "La aviación europea se enfrenta a un futuro precario y está claro que será necesario un respaldo coordinado del gobierno para garantizar que la industria sobreviva y pueda continuar operando cuando la crisis haya terminado", dijo el CEO de easyJet, Johan Lundgren.
Tui AG de Alemania y el operador escandinavo SAS Airlines dijeron que suspenderían la gran mayoría de las operaciones debido a la expansión del COVID-19 y solicitarían el apoyo del gobierno.
Finnair emitió su segunda advertencia de ganancias en tres semanas, diciendo que informaría una pérdida operativa comparable sustancial para 2020, ya que estaba recortando alrededor del 90% de su capacidad normal desde principios de Abril 2020.
Air New Zealand dijo que la pérdida de empleos sería necesaria ya que reduciría la capacidad de largo recorrido en un 85% en los próximos meses.
Qantas Airways Ltd dijo que haría nuevos recortes en su horario de vuelo más allá de la reducción del 25% en la capacidad internacional anunciada la semana pasada debido a las nuevas restricciones de viaje.
En Estados Unidos, United Airlines reservó US$ 1.5 mil millones menos de ingresos en marzo en comparación con el mismo momento del año pasado y advirtió a los empleados que los aviones podrían volar casi vacíos en el verano, incluso después de severos recortes de vuelos. United dijo que reduciría los salarios de los oficiales corporativos en un 50% y reduciría la capacidad de vuelo en aproximadamente un 50% en Abril y Mayo, y también se esperan recortes de capacidad en el período de viaje de verano. "Esta crisis se está moviendo muy rápido", dijeron el Domingo 15/03 el Director Ejecutivo de United Airlines, Oscar Muñoz, y el Presidente (CEO) Scott Kirby en un memorando a los empleados.
"Hacemos un llamado al Congreso y a la Casa Blanca para que tomen todas las medidas disponibles para proteger la salud y la nómina de los trabajadores estadounidenses", dijo Sara Nelson, Presidenta de la Asociación de Asistentes de Vuelo-CWA, que representa a 50.000 asistentes de vuelo estadounidenses.
CAPA Center for Aviation, una firma consultora de aerolíneas, predijo que la mayoría de las aerolíneas podrían estar en bancarrota a fines de Mayo 2020 sin una acción coordinada del gobierno y la industria para evitar tal catástrofe. "La demanda se está agotando de formas que no tienen precedentes. La normalidad aún no está en el horizonte", dijo CAPA en un informe.
Sus comentarios se produjeron cuando el Centro de Aviación, una consultora de aviación respetada, advirtió que para fines de mayo la mayoría de las aerolíneas estarían en bancarrota debido a las restricciones de viaje sin precedentes que están implementando los gobiernos de todo el mundo. "Muchas aerolíneas probablemente ya han sido llevadas a la quiebra técnica, o al menos están violando sustancialmente los convenios de deuda", dijo Capa en un informe. "Para fines de mayo de 2020, la mayoría de las aerolíneas del mundo estarán en bancarrota. Se necesita una acción coordinada del gobierno y la industria, ahora, si se quiere evitar una catástrofe".
Airlines take drastic measures
Airlines Take Drastic Action to Survive the Crisis of the Coronavirus Pandemic
Airlines around the world are making drastic cuts in their flight scheduling and workforce. The airlines have announced a request for help from the respective governments after countries further tightened border restrictions due to the rapid spread of the virus.
In the last 24 hours, United Airlines from the USA. IAG parent of British Airways, Aer Lingus, Iberia, Air France-KLM, EasyJet, Finnair, Air New Zealand, and Aeroflot unveiled drastic measures to cut costs after several countries, including Germany and Spain, closed their borders.
Airlines
IAG Group, the owner of Aer Lingus and British Airways, said it would reduce its flight capacity by at least 75% in April and May. The company will also freeze discretionary spending, reduce work hours, and temporarily suspend employment contracts. IAG revealed that outgoing chief Willie Walsh would postpone his retirement in his fight to survive the coronavirus outbreak. The airline group, however, did not ask for government help.
Air France-KLM Group said it was stepping up savings measures to cope with the impact. The Franco-Dutch airline said it had identified new measures that would generate € 200 million in savings in 2020, and ways to reduce its capital expenditures by € 350 million. Air France-KLM said it would gradually reduce its flights in the coming days, and that the number of kilometers of available seats (ASK) could drop by between 70% and 90%. As a result of the capacity cut, Air France will ground its entire Airbus 380 fleet and KLM will halt its entire Boeing 747-400 fleet.
Britain's government said it would discuss how to protect the airline industry from the coronavirus pandemic after easyJet joined Virgin Atlantic to ask for government help when people around the world stop traveling. "European aviation faces a precarious future and it is clear that coordinated government support will be necessary to ensure that the industry survives and can continue to operate when the crisis is over", said easyJet CEO Johan Lundgren.
Tui AG of Germany and Scandinavian operator SAS Airlines said they would suspend the vast majority of operations due to the expansion of COVID-19 and request government support.
Finnair issued its second earnings warning in three weeks, saying it would report a substantial comparable operating loss by 2020, as it was cutting around 90% of its normal capacity since early April 2020.
Air New Zealand said job loss would be necessary as it would reduce long-haul capacity by 85% in the coming months.
Qantas Airways Ltd said it would make further cuts in its flight schedule beyond the 25% reduction in international capacity announced last week due to new travel restrictions.
In the United States, United Airlines reserved US$ 1.5 billion less in revenue in March compared to the same time last year and warned employees that the planes could fly nearly empty in the summer, even after severe flight cuts. United said it would reduce corporate officer salaries by 50% and reduce flight capacity by approximately 50% in April and May, and capacity cuts are also expected in the summer travel period. "This crisis is moving very fast", United Airlines Chief Executive Officer Oscar Muñoz and President (CEO) Scott Kirby said in a memo to employees.
"We call on Congress and the White House to take all available measures to protect the health and payroll of American workers", said Sara Nelson, President of the Association of Flight Attendants-CWA, which represents 50,000 attendees. American flight.
CAPA Center for Aviation, an airline consulting firm, predicted that most airlines could be bankrupt in late May 2020 without coordinated government and industry action to prevent such a catastrophe. "Demand is running out in ways that are unprecedented. Normalcy is not yet on the horizon", CAPA said in a report.
His comments came when the Aviation Center, a respected aviation consultancy, warned that by the end of May most airlines would be bankrupt due to unprecedented travel restrictions being implemented by governments around the world. "Many airlines have probably already been bankrupt, or at least substantially violating debt covenants," Capa said in a report. "By the end of May 2020, most of the world's airlines will be bankrupt. Coordinated action by government and industry is needed, now, if a catastrophe is to be avoided".
Ξ A I R G W A Y S Ξ
SOURCE: Airgways.com
DBk: Airgways.com / Centreofaviation.com / Headtopics.com / Thejournal.ie
AW-POST: 202003160947AR
A\W   A I R G W A Y S ®