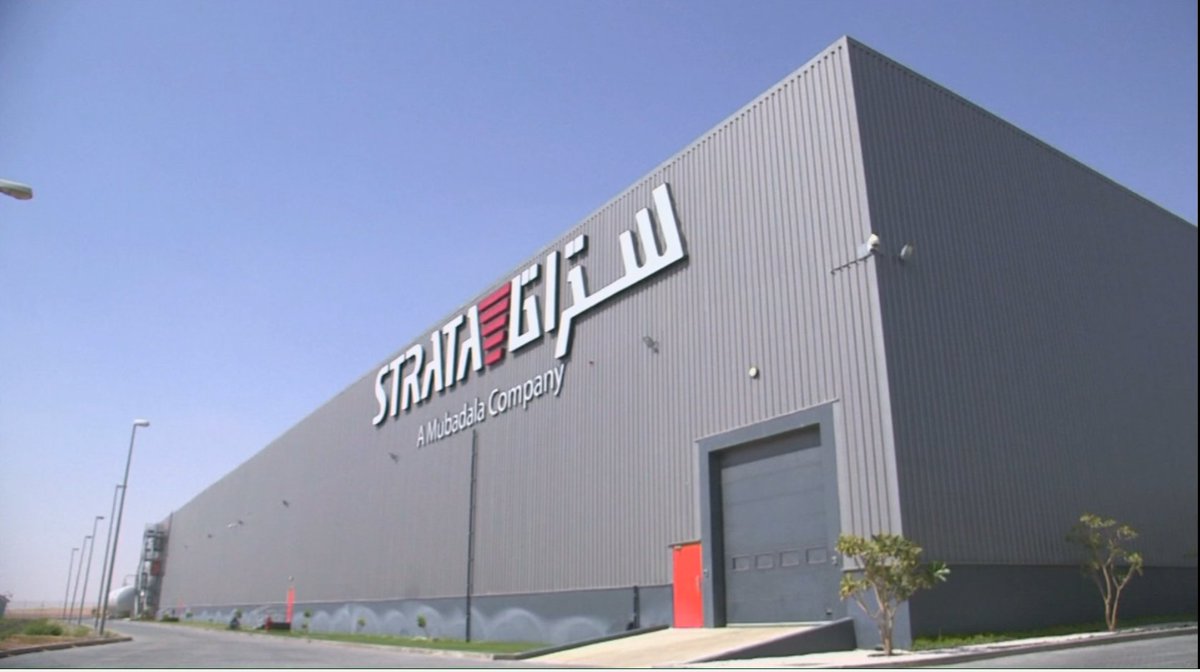 AW | 2020 03 16 13:10 | INDUSTRY
Strata implementa la fabricación automatizada para Airbus A350
Strata Manufacturing ha implementado dos de las máquinas MTorres Automatic Tape Laying (ATL) de última generación para soportar sus capacidades de fabricación Airbus A350-900. El fabricante con sede en Al Ain, Emiratos Árabes Unidos, ha obtenido la calificación de la primera parte y el diseño de la inspección del primer artículo y las verificaciones de calidad para el uso de las máquinas robóticas ATL controladas por computadora que automatizarán la producción de Strata de los componentes de la aleta interna.
"El despliegue de tecnologías innovadoras brinda una mayor eficiencia y una mayor productividad que impulsará la competitividad a largo plazo de la compañía en una industria en rápida evolución y cada vez más competitiva. Mediante la rápida adopción de tecnologías y soluciones de vanguardia como ATL, Strata avanzará aún más en su posición en la industria aeroespacial mundial, facilitará nuestra evolución para fabricar piezas de aeronaves más complejas y establecerá a Strata como un actor clave de la industria con las capacidades tecnológicas para crecer en fabricación avanzada", dijo Ismail Ali Abdulla, CEO de Strata.
Como parte del Plan de Emiratización de la nación y el compromiso de Strata para desarrollar y aprovechar todo el potencial de una fuerza laboral de los EAU, cinco de los empleados de Strata, incluidas dos mujeres Emiratíes, Mai Jaber Saeed Al Marri y Latifa Abdulla Alshamsi, viajaron a España durante cinco días. curso de capacitación sobre el funcionamiento de la máquina ATL. El curso de capacitación, que se dividió en clases teóricas y ejercicios prácticos, cubrió una descripción completa del sistema, como la operación y el mantenimiento de la máquina. Además, Emiratis Barraq Khalid Abdulrahim, Jefe de Proyecto y Meera Al Shamsi, Supervisora Junior en la unidad de producción, desempeñaron un papel fundamental en el desarrollo y despliegue de las máquinas ATL en las aletas internas Airbus A350. "Como nuestro objetivo es continuar entregando productos de alta calidad a nuestros clientes, consideramos que la integración de máquinas y robótica es vital para crear un sistema de fabricación eficiente. Equipar a nuestra gente con las herramientas y técnicas adecuadas al adoptar tecnologías de fabricación avanzadas es un elemento clave en nuestra visión para aumentar la competitividad de Strata en la cadena de suministro aeroespacial global", dijo Abdulla.
Las dos máquinas ATL colocan materiales preimpregnados unidireccionales en un lecho plano, que luego se transfiere a una herramienta de molde para su posterior procesamiento. Con una envolvente de trabajo de 2.5 metros por 10 metros, el proceso de grandes capas de composite se automatiza fácilmente y elimina la necesidad de una máquina de corte ultrasónica separada. A través de esta nueva tecnología, Strata reducirá drásticamente los tiempos de procesamiento en comparación con un proceso estándar de colocación manual.
Strata trabaja con los principales fabricantes de aviones, incluidos Airbus, Boeing, Leonardo y Pilatus. Con sede en el Parque Aeroespacial Nibras Al Ain, Strata apoya el desarrollo de un centro aeroespacial líder en Abu Dhabi como parte de las iniciativas de diversificación económica del emirato.
Strata automation Airbus A350
Strata implements automated manufacturing for Airbus A350
Strata Manufacturing has deployed two of the latest generation MTorres Automatic Tape Laying (ATL) machines to support its Airbus A350-900 manufacturing capabilities. The manufacturer based in Al Ain, United Arab Emirates, has obtained the first part qualification and first item inspection design and quality verifications for use of ATL robotic machines controlled by a computer that will automate the production of Strata of the components of the inner fin.
"The deployment of innovative technologies provides increased efficiency and increased productivity that will drive the company's long-term competitiveness in a rapidly evolving and increasingly competitive industry. By rapidly adopting cutting-edge technologies and solutions such as ATL, Strata It will further advance its position in the global aerospace industry, facilitate our evolution to manufacture more complex aircraft parts, and establish Strata as a key industry player with the technological capabilities to grow in advanced manufacturing", said Ismail Ali Abdulla, CEO from Strata.
As part of the nation's Emiratization Plan and Strata's commitment to developing and harnessing the full potential of a UAE workforce, five of Strata's employees, including two Emirati women, Mai Jaber Saeed Al Marri and Latifa Abdulla Alshamsi, traveled to Spain for five days. ATL machine operation training course. The training course, which was divided into theory classes and practical exercises, covered a complete description of the system, such as the operation and maintenance of the machine. In addition, Emiratis Barraq Khalid Abdulrahim, Project Manager and Meera Al Shamsi, Junior Supervisor in the production unit, played a key role in the development and deployment of ATL machines on the Airbus A350 internal fins. "As our goal is to continue delivering high-quality products to our customers, we consider the integration of machines and robotics to be vital to creating an efficient manufacturing system. Equipping our people with the right tools and techniques by embracing advanced manufacturing technologies is a key element in our vision to increase Strata's competitiveness in the global aerospace supply chain", said Abdulla.
The two ATL machines place unidirectional prepregs on a flatbed, which is then transferred to a mold tool for further processing. With a 2.5 meter by 10 meter working envelope, the large composite layer process is easily automated and eliminates the need for a separate ultrasonic cutting machine. Through this new technology, Strata will dramatically reduce processing times compared to a standard manual placement process.
Strata works with major aircraft manufacturers, including Airbus, Boeing, Leonardo, and Pilatus. Based in the Nibras Al Ain Aerospace Park, Strata supports the development of a leading aerospace center in Abu Dhabi as part of the emirate's economic diversification initiatives.
أتمتة ستراتا Airbus A350
تطبق ستراتا التصنيع الآلي لطائرة إيرباص A350
قامت شركة Strata Manufacturing بنشر اثنين من أحدث جيل من ماكينات MTorres لوضع الشريط الأوتوماتيكي (ATL) لدعم قدراتها في تصنيع طائرات إيرباص A350-900. حصلت الشركة المصنعة ومقرها في العين ، الإمارات العربية المتحدة ، على مؤهل الجزء الأول وتصميم فحص العنصر الأول والتحقق من الجودة لاستخدام الآلات الروبوتية ATL التي يتم التحكم فيها بواسطة الكمبيوتر والتي ستعمل على أتمتة إنتاج طبقات من مكونات الزعنفة الداخلية.
"يوفر نشر التقنيات المبتكرة زيادة الكفاءة وزيادة الإنتاجية التي ستدفع القدرة التنافسية للشركة على المدى الطويل في صناعة سريعة التطور وتنافسية بشكل متزايد. من خلال الاعتماد السريع على أحدث التقنيات والحلول مثل ATL و Strata وقال إسماعيل علي عبد الله ، الرئيس التنفيذي ، إنها ستعزز موقعها في صناعة الطيران العالمية ، وتسهل تطورنا لتصنيع قطع غيار الطائرات الأكثر تعقيدًا ، وترسيخ ستراتا كلاعب صناعي رئيسي يتمتع بالقدرات التكنولوجية للنمو في التصنيع المتقدم ". من ستراتا.
كجزء من خطة التوطين الوطنية والتزام ستراتا بتطوير وتسخير الإمكانات الكاملة للقوى العاملة الإماراتية ، خمسة من موظفي ستراتا ، بما في ذلك امرأتان إماراتيتان ، مي جابر سعيد المري ولطيفة عبدالله الشامسي سافر إلى إسبانيا لمدة خمسة أيام. دورة تدريبية حول تشغيل ماكينة ATL. غطت الدورة التدريبية ، التي تم تقسيمها إلى فصول نظرية وتمارين عملية ، وصفًا كاملاً للنظام ، مثل تشغيل الماكينة وصيانتها. بالإضافة إلى ذلك ، لعب الإماراتيون باراك خالد عبد الرحيم ، مدير المشروع وميرا الشامسي ، المشرف الصغير في وحدة الإنتاج ، دورًا رئيسيًا في تطوير ونشر ماكينات ATL على الزعانف الداخلية لطائرة إيرباص A350. "نظرًا لأن هدفنا هو الاستمرار في تقديم منتجات عالية الجودة لعملائنا ، فإننا نعتبر دمج الأجهزة والروبوتات أمرًا حيويًا لإنشاء نظام تصنيع فعال. وقال عبد الله: "إن تزويد موظفينا بالأدوات والتقنيات الصحيحة من خلال تبني تقنيات التصنيع المتقدمة عنصر أساسي في رؤيتنا لزيادة القدرة التنافسية لشركة ستراتا في سلسلة الإمداد العالمية للطيران".
تقوم آلتان ATL بوضع عمليات إعداد مسبقة أحادية الاتجاه على سرير مسطح ، ثم يتم نقلها إلى أداة العفن لمزيد من المعالجة. مع ظرف عمل 2.5 متر × 10 متر ، فإن عملية الطبقة المركبة الكبيرة يتم أتمتتها بسهولة وتزيل الحاجة إلى آلة قطع بالموجات فوق الصوتية منفصلة. من خلال هذه التقنية الجديدة ، ستقوم ستراتا بتقليل أوقات المعالجة بشكل كبير مقارنة بعملية وضع يدوي يدوي.
تعمل ستراتا مع كبرى شركات تصنيع الطائرات ، بما في ذلك إيرباص وبوينج وليوناردو وبيلاتوس. مقرها في حديقة نبراس العين للفضاء ، تدعم ستراتا تطوير مركز رائد للفضاء في أبوظبي كجزء من مبادرات التنويع الاقتصادي للإمارة.
Ξ A I R G W A Y S Ξ
SOURCE: Airgways.com
DBk: Strata.ae / Arabianaerospace.aero / Stattimes.com / Airgways.com / Wam.ae / Wikipedia.org
AW-POST: 202003161310AR
A\W   A I R G W A Y S ®