AW | 2020 05 26 21:40 | AIRPORTS / GOVERNMENT
En medio pandemia Gobierno Brasil concesionará 43 aeropuertos
El Gobierno de Brasil ha iniciado la apertura de concesión de 43 aeropuertos. El Ministro de Infraestructura, Tarcísio de Freitas, reafirmó que Brasil podrá subastar concesiones de aeropuertos a principios de 2021, a pesar del cierre causado por la crisis de Covid-19 en el país. El Lunes 25 Mayo 2020 ha comunicado que las esferas de toma de decisiones, incluido el Tribunal Federal de Auditoría (TCU), están unidas por el progreso del programa de privatización. Tarcísio de Freitas dice que el pronóstico es que Brasil podrá subastar las concesiones hasta 2022
Los comentarios se hicieron durante una transmisión por Internet promovida por Santander Brasil, luego de que el viernes la Corte Suprema (STF) publicara imágenes de una reunión ministerial en la que el ministro de Medio Ambiente, Ricardo Salles, dijo que la pandemia es una oportunidad para cambiar puntos de legislación en el país sin llamar la atención y facilitar la explotación de tierras actualmente restringidas por las leyes ambientales.
En la misma reunión, el 22 Abril 2020, el Presidente del Banco do Brasil, Rubem Novaes declaró: "Hay un ambiente favorable. El poder judicial es sensible al tema, el Tribunal de Cuentas (TCU) ha ayudado. El Congreso también quiere ayudar", dijo Freitas, refiriéndose al plan Pro-Brasil para la recuperación económica, que proporciona inversión pública de R$ 30 mil millones en proyectos de infraestructura. "Construiremos esta agenda y veremos qué puntos de la legislación se pueden cambiar para brindar alivio al sector privado", dijo el ministro, sin mencionar las imágenes publicadas el viernes.
Los 43 aeropuertos
Las subastas de 22 aeropuertos en Brasil deberían llevarse a cabo este año, pero los inversores han pedido aplazamientos después de la crisis sanitaria de Coronavirus ha obstaculizado los estudios sobre activos. Ahora, la expectativa es que las competiciones tendrán lugar en Marzo 2021. Se planea otra etapa, con otros 21 aeropuertos brasileños para 2022, incluidos los concurridos Sao Paulo/Congonhas (SP) y Rio/Santos Dumont.
Para Freitas, a pesar de la pandemia, que ha llevado a los operadores de infraestructura a solicitar un reequilibrio económico de los contratos ante la fuerte caída de la demanda, las subastas serán exitosas. "Vamos a vender y vamos a vender mucho, vamos a vender los 43 aeropuertos. Como una cuestión de audacia, ya que todos están sacando el aeropuerto de la plaza. El sector se reanudará … Quizás sea el sector más afectado, pero vendremos con protocolos de seguridad y poco a poco se reanudará el movimiento", dijo el ministro. Freitas también comentó que Embraer, que tenía un contrato de venta para su división de aviones comerciales cancelado por Boeing, está preocupado y que el gobierno federal está estudiando nuevas medidas para apoyar a los sectores de aerolíneas y aeropuertos como una forma indirecta de ayudar al fabricante de aviones. "Preservar a las compañías de aviación significa preservar las órdenes para Embraer. Ciertamente vendrán nuevas medidas", dijo el Ministro de Infraestructura, recordando el financiamiento del BNDES a las aerolíneas y citando que el gobierno evalúa usar el Fondo Nacional de Aviación Civil (FNAC) como una forma de apoyo al sector. El ministro atribuyó el optimismo a la demanda de proyectos de infraestructura a conversaciones con inversores.
Brazil concessions 43 airports
Brazilian Government will concession 43 airports
The Government of Brazil has started the opening of a concession for 43 airports. Infrastructure Minister Tarcísio de Freitas reaffirmed that Brazil will be able to auction airport concessions in early 2021, despite the closure caused by the Covid-19 crisis in the country. On Monday, May 25, 2020, it was announced that the decision-making spheres, including the Federal Court of Audit (TCU), are united by the progress of the privatization program. Tarcísio de Freitas says the forecast is that Brazil will be able to auction the concessions until 2022
The comments were made during an Internet broadcast promoted by Santander Brazil, after the Supreme Court (STF) published images of a ministerial meeting on Friday in which the Minister of the Environment, Ricardo Salles, said that the pandemic is an opportunity to change points of legislation in the country without attracting attention and facilitate the exploitation of lands currently restricted by environmental laws.
At the same meeting, on April 22, 2020, the President of Banco do Brasil, Rubem Novaes declared: "There is a favorable environment. The judiciary is sensitive to the issue, the Court of Accounts (TCU) has helped. Congress also wants to help", Freitas said, referring to the Pro-Brazil plan for economic recovery, which provides R$ 30 billion in public investment in infrastructure projects. "We will build this agenda and see what points in the legislation can be changed to provide relief to the private sector", the minister said, not to mention the images released on Friday.
The 43 airports
Auctions for 22 airports in Brazil are due to take place this year, but investors have called for postponements after the Coronavirus health crisis has hampered asset studies. Now, the expectation is that the competitions will take place in March 2021. Another stage is planned, with 21 other Brazilian airports by 2022, including the busy Sao Paulo/Congonhas (SP) and Rio/Santos Dumont.
For Freitas, despite the pandemic, which has led infrastructure operators to request an economic rebalancing of contracts given the sharp drop in demand, the auctions will be successful. "We are going to sell and we are going to sell a lot, we are going to sell the 43 airports. As a matter of boldness, since everyone is taking the airport out of the plaza. The sector will resume … It may be the most affected sector, but we will come with security protocols and gradually the movement will resume", said the minister. Freitas also commented that Embraer, which had a sales contract for its commercial aircraft division canceled by Boeing, is concerned and that the federal government is studying new measures to support the airline and airport sectors as an indirect way of helping the manufacturer. of planes. "Preserving aviation companies means preserving orders for Embraer. Certainly new measures will come", said the Minister of Infrastructure, recalling BNDES financing to airlines and citing that the government is evaluating using the National Civil Aviation Fund (FNAC) as a form of support to the sector. The minister attributed optimism to demand for infrastructure projects to talks with investors.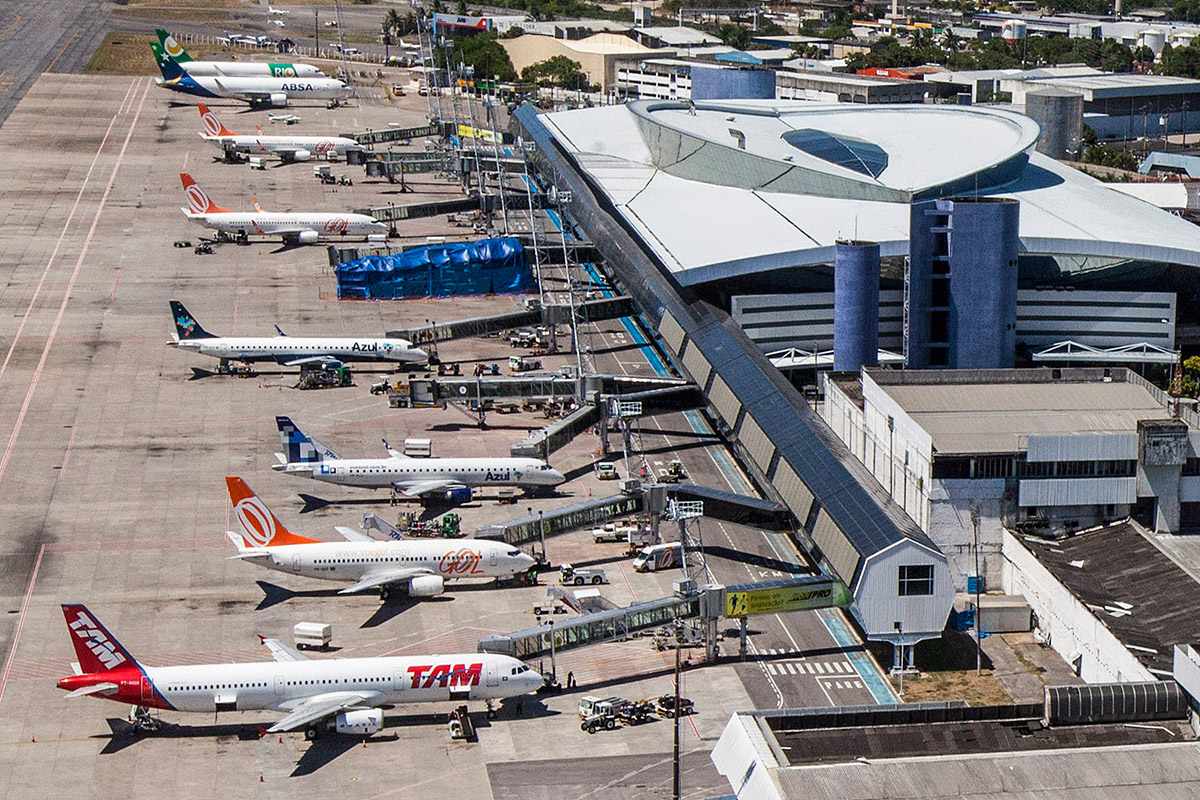 Brasil concede 43 aeroportos
Em meio à pandemia, o governo brasileiro concederá 43 aeroportos
O Governo do Brasil iniciou a abertura de uma concessão para 43 aeroportos. O ministro da Infraestrutura, Tarcísio de Freitas, reafirmou que o Brasil poderá leiloar concessões de aeroportos no início de 2021, apesar do fechamento causado pela crise do Covid-19 no país. Na segunda-feira, 25 de maio de 2020, foi anunciado que as esferas de tomada de decisão, incluindo o Tribunal de Contas da União (TCU), estão unidas pelo andamento do programa de privatização. Tarcísio de Freitas diz que a previsão é de que o Brasil possa leiloar as concessões até 2022
Os comentários foram feitos durante uma transmissão na Internet promovida pelo Santander Brasil, depois que o Supremo Tribunal Federal (STF) publicou imagens de uma reunião ministerial na sexta-feira em que o ministro do Meio Ambiente, Ricardo Salles, disse que a pandemia é uma oportunidade alterar pontos da legislação no país sem chamar a atenção e facilitar a exploração de terras atualmente restritas pelas leis ambientais.
Na mesma reunião, em 22 de abril de 2020, o presidente do Banco do Brasil, Rubem Novaes, declarou: "Existe um ambiente favorável. O judiciário é sensível à questão, o Tribunal de Contas (TCU) ajudou. O Congresso também quer ajudar", disse Freitas, referindo-se ao plano pró-Brasil de recuperação econômica, que fornece R$ 30 bilhões em investimentos públicos em projetos de infraestrutura. "Vamos construir essa agenda e ver quais pontos da legislação podem ser alterados para proporcionar alívio ao setor privado", disse o Ministro, sem mencionar as imagens divulgadas na sexta-feira.
Os 43 aeroportos
Os leilões de 22 aeroportos no Brasil devem ocorrer este ano, mas os investidores pediram adiamentos depois que a crise de saúde de Coronavírus dificultou os estudos de ativos. Agora, a expectativa é que as competições ocorram em março de 2021. Está prevista outra etapa, com outros 21 aeroportos brasileiros até 2022, incluindo os movimentados São Paulo/Congonhas (SP) e Rio/Santos Dumont.
Para Freitas, apesar da pandemia, que levou os operadores de infraestrutura a solicitar um reequilíbrio econômico dos contratos, devido à forte queda na demanda, os leilões serão bem-sucedidos. "Vamos vender e vamos vender muito, vamos vender os 43 aeroportos. Por uma questão de ousadia, já que todo mundo está tirando o aeroporto da praça. O setor será retomado … Pode ser o setor mais afetado, mas iremos com protocolos de segurança e gradualmente o movimento será retomado", afirmou o ministro. Freitas também comentou que a Embraer, que tinha um contrato de vendas para sua divisão de aeronaves comerciais cancelado pela Boeing, está preocupada e que o governo federal está estudando novas medidas para apoiar os setores de companhias aéreas e aeroportos como uma forma indireta de ajudar o fabricante. de aviões. "Preservar empresas de aviação significa preservar pedidos para a Embraer. Certamente novas medidas virão", disse o Ministro de Infraestrutura, lembrando o financiamento do BNDES às companhias aéreas e citando que o governo está avaliando usando o Fundo Nacional de Aviação Civil (FNAC) como forma de apoio ao setor. O ministro atribuiu otimismo à demanda por projetos de infraestrutura para conversas com investidores.
Ξ A I R G W A Y S Ξ
SOURCE: Airgways.com
DBk: Infraestrutura.gov.br / Airgways.com
AW-POST: 202005262140
A\W A I R G W A Y S ®