AW | 2020 05 26 21:10 | AIR INVESTIGATION / AVIATION SAFETY
Continúan la búsqueda del CVR del vuelo PK-8303
Un Airbus A320-200, registro AP-BLD de la aerolínea Pakistan International Airlines (PIA) que realizaba el vuelo PK-8303 de Lahore a Karachi (Pakistán) con 91 pasajeros y 8 tripulantes, había abortado la aproximación a Karachi debido a problemas con la extensión del tren de aterrizaje (nariz). También se han reportado problemas en los motores.
Actualizaciones 26 Mayo 2020
El 26 Mayo 2020 se ha tenido en conocimiento que el módulo de Datos de la Grabadora de Voz de la Cabina (CVR) no se ha encontrado hasta ahora, solo se ha recuperado la carcasa. El FDR, que incluye el módulo de datos, está a punto de ser llevado a París para ser leído por la Agencia francesa BEA, cuyos investigadores llegaron a Karachi el 26 Mayo 2020. Las autoridades esperan encontrar el módulo de datos del CVR durante la eliminación de los restos del lugar del accidente.
El 26 Mayo 2020, un portavoz de la aerolínea Pakistan International Airlines (PIA) informó que solo la cobertura del CVR se ha recuperado hasta ahora. Se insta a los residentes de Model Colony a entregar los componentes de la aeronave esparcidos que se encuentren en sus casas.
El 26 Mayo 2020 por la noche, la BEA informó que sus investigadores todavía están en el sitio, el FDR aún no ha salido de Pakistán, el CVR no se ha recuperado.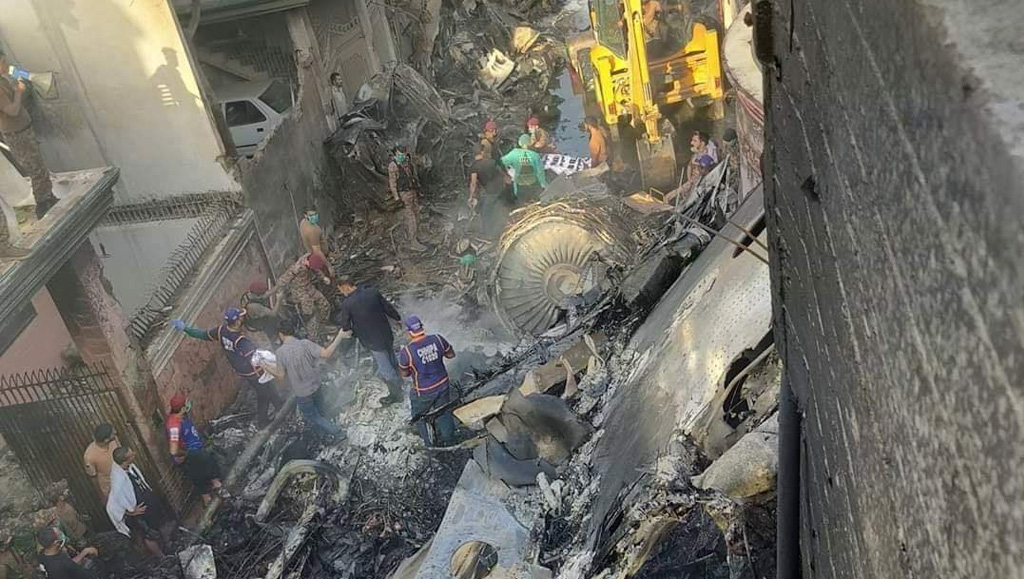 Pakistan PK8303 | Day 5
Search for CVR continues for flight PK-8303
An Airbus A320-200, registered AP-BLD of Pakistan International Airlines (PIA) airline that was flying PK-8303 from Lahore to Karachi (Pakistan) with 91 passengers and 8 crew, had aborted the approach to Karachi due to problems with the extension of the landing gear (nose). Engine problems have also been reported.
Updates May 26, 2020
On May 26, 2020 it was learned that the Cabin Voice Recorder (CVR) Data module has not been found so far, only the casing has been recovered. The FDR, which includes the data module, is about to be brought to Paris to be read by the French Agency BEA, whose investigators arrived in Karachi on May 26, 2020. Authorities hope to find the CVR data module during the removal. of the remains of the accident site.
On May 26, 2020, a spokesperson for Pakistan International Airlines (PIA) reported that only CVR coverage has been recovered so far. Model Colony residents are urged to turn in scattered aircraft components found in their homes.
On 26 May 2020 at night, the BEA reported that its investigators are still on site, the FDR has not yet left Pakistan, the CVR has not recovered.
Ξ A I R G W A Y S Ξ
SOURCE: Airgways.com
DBk: Caapakistan.com.pk / Reuters.com / Airgways.com
AW-POST: 202005262110AR
A\W A I R G W A Y S ®