AW | 2020 05 30 12:00 | AVIATION SAFETY / AVIATION ORGANISMS
DGCA India advertencia de plagas para aviación
La Dirección General de Aviación Civil (DGCA) de la India la lanzado una advertencia a la comunidad de la aviación comercial con una Circular de Operaciones Nº5/2020 acerca de las medidas de seguridad relativa a las operaciones aerocomerciales por el riesgo de plagas de langostas. Esta situación alerta a las líneas aéreas a activar protocolos de seguridad para las operaciones. El regulador indio de la industria ha aconsejado a las aerolíneas que eviten los vuelos a través de enjambres de langostas. Destacando el peligro que representan las langostas en las operaciones de las aerolíneas, especialmente durante el despegue y el aterrizaje, la DGCA ha dicho que los vuelos deben evitarse a través de cualquier enjambre de langostas conocido.
La DGCA dice que las langostas son una amenaza para las aeronaves, emite pautas para un vuelo seguro. "En general, las langostas se encuentran en niveles más bajos y, por lo tanto, representan una amenaza para las aeronaves en la fase crítica de aterrizaje y despegue del vuelo. Casi todos los puertos de admisión de aire de la aeronave serán propensos a la ingestión en grandes cantidades, si la aeronave vuela un enjambre", dijo la DGCA en una circular el 29 Mayo 2020.
Precedente
En Enero 202 un avión de Ethiopian Airlines se vio obligado a hacer un aterrizaje de emergencia después de que voló en un enjambre de langostas que se extendieron por el parabrisas.
Consecuencia seguridad
La DGCA explicó: "En general, las langostas se encuentran en niveles más bajos y, por lo tanto, representan una amenaza para las aeronaves en la fase crítica de aterrizaje y despegue del vuelo. Casi todos los puertos de entrada de aire del avión serán propensos a la ingestión en grandes cantidades, si el avión vuela a través de un enjambre".
DGCA dijo que la ingestión de los enjambres de langostas en la entrada del motor y la entrada del paquete de aire acondicionado pueden bloquearse. Otros instrumentos de una aeronave, como los Tubos de Pitot, también pueden verse afectados por las langostas, incluso cuando los aviones están estacionados. Esto puede conducir a lecturas erróneas de velocidad y altitud para la computadora de vuelo de la aeronave, lo que hace que se comporte mal. Las fuentes estáticas conducen a indicaciones erróneas de los instrumentos, especialmente a la velocidad del aire poco fiable y a las indicaciones del altímetro. El único aspecto favorable de las invasiones de langostas, señaló el regulador, es que los insectos no vuelan por la noche, proporcionando así una mejor oportunidad para evitarlos durante el día.
La DGCA aconsejó a los pilotos que no usen el limpiaparabrisas para quitar las langostas del parabrisas, ya que puede hacer que la mancha se extienda aún más. "Al ser un fenómeno diurno, también se espera que el piloto esté atento a cualquier observación de este tipo, también debe compartir información sobre la ubicación del enjambre de langostas si ha visto alguna durante el vuelo", dijo. "La tripulación de ingeniería debe llevar a cabo las verificaciones según lo ordenado antes del lanzamiento de la aeronave para el próximo vuelo", expresó la DGCA.
Los Controladores de Tránsito Aéreo deberán compartir y notificar la información sobre la presencia de langostas. El regulador también ha pedido a los pilotos que ingresen en el registro de defectos de los pilotos, si vuelan a través de enjambres de langostas. Las agencias de asistencia en tierra deben ser conscientes de que los enjambres de langostas representan un riesgo para las aeronaves estacionadas, donde las posibles entradas de aire y sondas deben estar cubiertas.
La actividad de plagas de langostas es la más alta registrada en los últimos 20 años en la India. "Si bien el daño a la agricultura y los cultivos por enjambres de langostas es bien conocido, el objetivo de esta circular de operaciones es concienciar a la fraternidad de la aviación de los riesgos que representan los enjambres de langostas y la necesidad de evitar volar a través de un enjambre", señaló la DGCA.
India, la plaga de langostas
El 2020 ha sido testigo del peor ataque de langostas en la India en décadas, ya que están atacando Maharashtra, Uttar Pradesh y Punjab después de destruir los cultivos en Rajasthan, Gujarat, Madhya Pradesh y Haryana. El 27 Mayo 2020, el Ministerio de Agricultura dijo que se intensificaron las operaciones de control y se desplegarán drones para la pulverización aérea de insecticidas en los estados afectados. Se han llevado a cabo medidas de contención de langostas y operaciones de aspersión en 303 ubicaciones repartidas en más de 47.000 hectáreas.
En 2019 las langostan se han reproducido en India, Irán y Pakistán. En la actualidad, las poblaciones se están mudando de las áreas de reproducción de primavera, desde el suroeste de Pakistán e Irán. Normalmente, invaden a finales de Junio, pero están en la India con un mes de anticipación debido a las condiciones más secas en Irán y el suroeste de Pakistán.
DGCA aviation pest warning
DGCA India aviation pest warning
The General Directorate of Civil Aviation (DGCA) of India has issued a warning to the commercial aviation community with an Operations Circular No. 5/2020 about security measures related to aero-commercial operations due to the risk of locust pests. This situation alerts airlines to activate security protocols for operations. The Indian industry regulator has advised airlines to avoid flying through swarms of locusts. Highlighting the danger locusts pose to airline operations, especially during take-off and landing, the DGCA has said that flights should be avoided through any known swarm of locusts.
The DGCA says that locusts are a threat to aircraft, it issues guidelines for safe flight. "Lobsters are generally at lower levels and therefore pose a threat to aircraft in the critical phase of landing and take-off of the flight. Almost all aircraft air intake ports will be prone to ingestion in large quantities, if the aircraft flies a swarm", the DGCA said in a circular on May 29, 2020.
Preceding
In January 202 an Ethiopian Airlines plane was forced to make an emergency landing after it flew in a swarm of locusts that spread across the windshield.
Safety consequence
The DGCA explained: "Lobsters are generally at lower levels and therefore pose a threat to aircraft in the critical phase of landing and takeoff of the flight. Almost all of the aircraft's air entry ports will be prone to ingestion in large quantities, if the plane flies through a swarm".
DGCA said that ingestion of locust swarms at the engine inlet and air conditioning package inlet may be blocked. Other instruments on an aircraft, such as Pitot Tubes, can also be affected by locusts, even when planes are parked. This can lead to erroneous speed and altitude readings for the aircraft's flight computer, causing it to misbehave. Static sources lead to erroneous instrument indications, especially unreliable air speed and altimeter indications. The only favorable aspect of locust invasions, the regulator noted, is that insects do not fly at night, thus providing a better opportunity to avoid them during the day.
The DGCA advised riders not to use the windshield wiper to remove lobsters from the windshield, as it can cause the stain to spread further. "Being a daytime phenomenon, the pilot is also expected to be on the lookout for any such observations, he should also share information on the location of the locust swarm if he has seen any during the flight", he said. "The engineering crew must carry out the verifications as ordered prior to launching the aircraft for the next flight", the DGCA said.
Air Traffic Controllers shall share and report information on the presence of locusts. The regulator has also asked pilots to enter the pilots' defect record if they fly through locust swarms. Groundhandling agencies should be aware that locust swarms pose a risk to parked aircraft, where potential air intakes and probes must be covered.
 Locust pest activity is the highest recorded in the last 20 years in India. "While the damage to agriculture and crops caused by locust swarms is well known, the objective of this circular of operations is to make the aviation fraternity aware of the risks posed by locust swarms and the need to avoid flying to through a swarm", said the DGCA.
India, the plague of locusts
2020 has seen the worst locust attack in India in decades as Maharashtra, Uttar Pradesh and Punjab are being attacked after destroying crops in Rajasthan, Gujarat, Madhya Pradesh and Haryana. On May 27, 2020, the Ministry of Agriculture said that control operations were intensified and drones for aerial spraying of insecticides will be deployed in the affected states. Locust containment measures and spraying operations have been carried out at 303 locations spread over more than 47,000 hectares.
In 2019 lobsters have been bred in India, Iran and Pakistan. Currently, populations are moving from spring breeding areas, from southwest Pakistan and Iran. They normally invade in late June, but are in India a month in advance due to drier conditions in Iran and southwest Pakistan.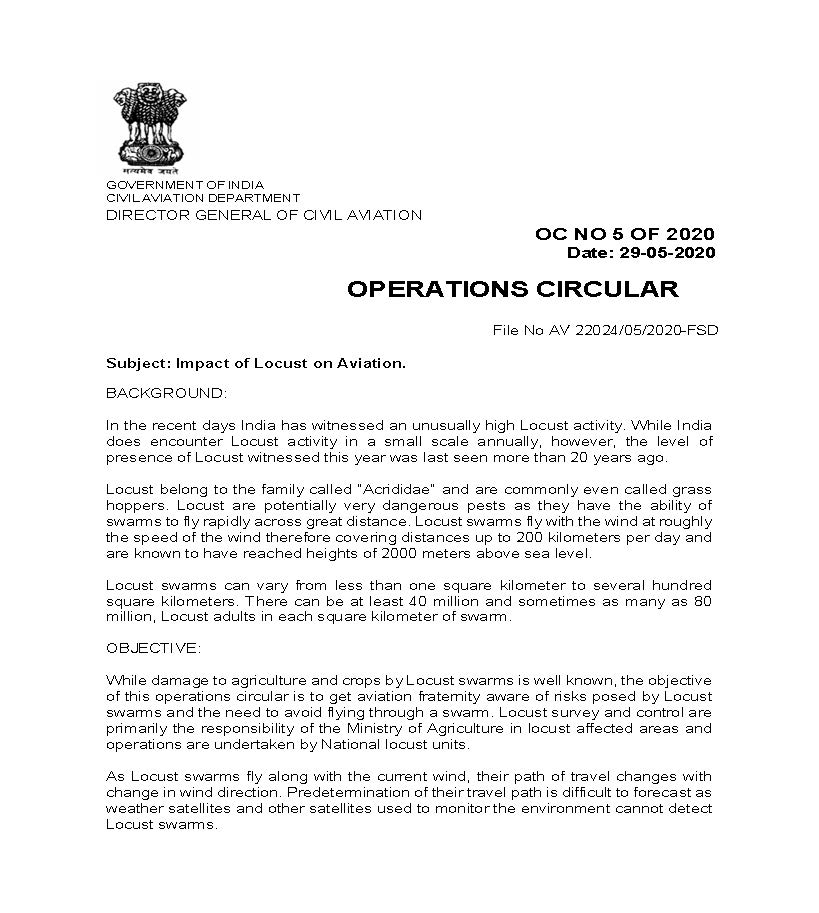 DGCA विमानन कीट चेतावनी
DGCA इंडिया एविएशन कीट चेतावनी
भारत के नागरिक उड्डयन महानिदेशालय (डीजीसीए) ने टिड्डी कीटों के जोखिम के कारण एयरो-कमर्शियल ऑपरेशंस से जुड़े सुरक्षा उपायों के बारे में ऑपरेशंस सर्कुलर नंबर 5/2020 के साथ कमर्शियल एविएशन कम्युनिटी को चेतावनी जारी की है। यह स्थिति एयरलाइनों को संचालन के लिए सुरक्षा प्रोटोकॉल को सक्रिय करने के लिए सचेत करती है। भारतीय उद्योग नियामक ने एयरलाइंस को टिड्डियों के झुंड के माध्यम से उड़ान भरने से बचने की सलाह दी है। एयरलाइन ऑपरेशंस के लिए खतरे के टिड्डियों को उजागर करते हुए, विशेष रूप से टेक-ऑफ और लैंडिंग के दौरान, DGCA ने कहा है कि किसी भी ज्ञात टिड्डियों के झुंड के माध्यम से उड़ानों से बचा जाना चाहिए।
डीजीसीए का कहना है कि टिड्डियां विमान के लिए खतरा हैं, यह सुरक्षित उड़ान के लिए दिशानिर्देश जारी करती है। "लॉबस्टर आम तौर पर निचले स्तर पर होते हैं और इसलिए लैंडिंग और उड़ान के महत्वपूर्ण चरण में विमान के लिए खतरा पैदा करते हैं। लगभग सभी विमान हवा का सेवन बंदरगाहों के लिए प्रवण होंगे। डीजीसीए ने 29 मई, 2020 को एक परिपत्र में कहा, "यदि विमान एक झुंड को उड़ाता है, तो बड़ी मात्रा में घूस"।
पूर्ववर्ती
जनवरी 202 में एक इथियोपियाई एयरलाइंस के विमान को विंडशील्ड में फैले टिड्डियों के झुंड में उड़ने के बाद एक आपातकालीन लैंडिंग करने के लिए मजबूर किया गया था।
सुरक्षा परिणाम
DGCA ने समझाया: "लॉबस्टर आमतौर पर निचले स्तर पर होते हैं और इसलिए लैंडिंग के महत्वपूर्ण चरण और उड़ान के दौरान विमान के लिए खतरा पैदा करते हैं। लगभग सभी विमान के एयर एंट्री पोर्ट होंगे। बड़ी मात्रा में अंतर्ग्रहण की संभावना है, अगर विमान एक झुंड के माध्यम से उड़ता है"।
DGCA ने कहा कि इंजन इनलेट और एयर कंडीशनिंग पैकेज इनलेट पर टिड्डे स्वार्स का अंतर्ग्रहण अवरुद्ध हो सकता है। एक विमान पर अन्य उपकरण, जैसे पिटोट ट्यूब, विमानों के पार्क होने पर भी टिड्डियों से प्रभावित हो सकते हैं। इससे विमान की उड़ान कंप्यूटर के लिए गलत गति और ऊंचाई रीडिंग हो सकती है, जिससे यह दुर्व्यवहार हो सकता है। स्थैतिक स्रोत गलत उपकरण संकेत, विशेष रूप से अविश्वसनीय हवा की गति और altimeter संकेत का नेतृत्व करते हैं। टिड्डी आक्रमणों का एकमात्र अनुकूल पहलू, नियामक ने नोट किया, कि कीड़े रात में नहीं उड़ते हैं, इस प्रकार दिन के दौरान उनसे बचने का बेहतर अवसर प्रदान करते हैं।
DGCA ने सवारों को सलाह दी कि वे विंडशील्ड से लॉबस्टर्स को हटाने के लिए विंडशील्ड वाइपर का इस्तेमाल न करें, क्योंकि इससे दाग और अधिक फैल सकता है। "एक दिन की घटना होने के नाते, पायलट से यह भी उम्मीद की जाती है कि वह इस तरह के किसी भी अवलोकन की तलाश में है, उसे टिड्डे के झुंड के स्थान की जानकारी भी साझा करनी चाहिए, अगर उसने उड़ान में कोई भी देखा है", उन्होंने कहा। डीजीसीए ने कहा, "इंजीनियरिंग चालक दल को अगली उड़ान के लिए विमान को लॉन्च करने से पहले आदेशों को पूरा करना होगा"।
एयर ट्रैफिक कंट्रोलर्स टिड्डियों की उपस्थिति के बारे में जानकारी साझा और रिपोर्ट करेंगे। नियामक ने पायलटों के दोष रिकॉर्ड में प्रवेश करने के लिए पायलटों को भी कहा है कि क्या वे टिड्डियों के झपट्टे से उड़ते हैं। ग्राउंडहैंडिंग एजेंसियों को पता होना चाहिए कि टिड्डी दल पार्क किए गए विमानों के लिए खतरा पैदा करते हैं, जहां संभावित वायु घुसपैठ और जांच को कवर किया जाना चाहिए।
 टिड्ड कीट की गतिविधि भारत में पिछले 20 वर्षों में सबसे अधिक दर्ज की गई है। "जबकि टिड्डे के झुंडों के कारण कृषि और फसलों को होने वाली क्षति को अच्छी तरह से जाना जाता है, परिचालन के इस परिपत्र का उद्देश्य उड्डयन बिरादरी को टिड्डियों के झूलों से उत्पन्न जोखिमों से अवगत कराना और उड़ने से बचने की आवश्यकता के बारे में बताना है। एक झुंड के माध्यम से", DGCA ने कहा।
भारत, टिड्डियों का प्लेग
२०२० में भारत में दशकों से सबसे खराब स्थान पर हमला हुआ है क्योंकि महाराष्ट्र, उत्तर प्रदेश और पंजाब में राजस्थान, गुजरात, मध्य प्रदेश और हरियाणा में फसलों को नष्ट करने के बाद हमला किया जा रहा है। 27 मई, 2020 को कृषि मंत्रालय ने कहा कि नियंत्रण अभियान तेज किया गया और प्रभावित राज्यों में कीटनाशकों के हवाई छिड़काव के लिए ड्रोन तैनात किए जाएंगे। 47,000 से अधिक हेक्टेयर में फैले 303 स्थानों पर टिड्डियों के नियंत्रण के उपाय और छिड़काव कार्य किए गए हैं।
2019 में भारत, ईरान और पाकिस्तान में झींगा मछलियों पर प्रतिबंध लगाया गया है। वर्तमान में, आबादी दक्षिण-पश्चिम पाकिस्तान और ईरान से वसंत प्रजनन क्षेत्रों से आगे बढ़ रही है। वे आमतौर पर जून के अंत में आक्रमण करते हैं, लेकिन ईरान और दक्षिण-पश्चिम पाकिस्तान में सूखे की स्थिति के कारण एक महीने पहले ही भारत में होते हैं।
Ξ A I R G W A Y S Ξ
PUBLISHER: Airgways.com
DBk: Dgca.gov.in / Scroll.in / Wefornewhindi.com / Satyaindi.com / Airgways.com
AW-POST: 202005301200AR
A\W A I R G W A Y S ®