AW | 2021 01 19 10:41 | AVIATION SAFETY
Volcán Semeru en Isla de Java entra en erupción
El Monte Semeru, el volcán más alto de la Isla de Java, en la República de Indonesia, ha reactivado el proceso de expulsión de material volcánico abarcando un área de alcance de 4,5 kilómetros (casi 3 millas) el Sábado 16/01. Actualmente no ha existido evacuaciones inmediatas, pero la Agencia Nacional de Mitigación de Desastres advirtió a las personas que viven en las aldeas en las laderas de la montaña de 3.676 metros (12,060 pies) de altura que estuvieran atentas en busca de señales de peligro. La portavoz de la Agencia, Raditya Jati, ha comunicado que las personas alrededor de la cuenca del río en las laderas de la montaña deben tener cuidado con la alta intensidad de lluvia que puede desencadenar inundaciones de lava.
El Centro de Vulcanología y Mitigación de Peligros Geológicos de Indonesia no ha elevado el estado de alerta de Semeru, que ya había estado en el Tercer Nivel más alto desde que comenzó a entrar en erupción en Mayo 2020. El volcán arrojó ceniza caliente durante 3.000 metros (9.800 pies) a principios de Diciembre 2020, lo que desencadenó pánico entre los aldeanos.
Aviación vs vulcanología
Mientras tanto, la agencia Volcano Observatory Notice for Aviation (VONA) de la República de Indonesia, ha emitido el Código Naranja: Erupción con nube de ceniza volcánica en 1024 UTC (17:24 local) nube de ceniza moviéndose hacia el noreste. La mejor estimación de la parte superior de la nube de cenizas es alrededor de 18,163 FT (5.676 M) sobre el nivel del mar, puede ser más alta de lo que se puede observar claramente. Fuente de los datos de altura: observador del suelo.
Indonesia, Anillo de Fuego
Indonesia, un archipiélago de más de 250 millones de personas, se encuentra en el "Anillo de Fuego" del Pacífico y es propenso a terremotos y erupciones volcánicas. Los sismólogos del Gobierno monitorean más de 120 volcanes activos. El terremoto de magnitud 6,2 en Sulawesi West que sacudió la Isla de Célebes de Indonesia a principios del Viernes 16/01, ha arrojado un saldo de al menos a 46 personas fallecidos; las inundaciones frente al sur de Kalimantan; los deslizamientos de tierra en Java Occidental, están afectando continuamente a las tierras de Indonesia.
Mount Semeru erupts
Semeru volcano on Java Island erupts
Mount Semeru, the highest volcano on the island of Java, in the Republic of Indonesia, reactivated the process of expelling volcanic material covering a range of 4.5 kilometers (almost 3 miles) on Saturday 01/16. There have currently been no immediate evacuations, but the National Disaster Mitigation Agency has warned people living in villages on the slopes of the 3,676-meter (12,060-foot) high mountain to be vigilant for signs of danger. Agency spokesperson Raditya Jati has communicated that people around the river basin on the mountain slopes should be careful with the high intensity of rain that can trigger lava floods.
The Indonesian Center for Volcanology and Geological Hazard Mitigation has not raised the alert status of Semeru, which had already been at the Third Highest Level since it began to erupt in May 2020. The volcano spewed hot ash for 3,000 meters (9,800 feet) in early December 2020, sparking panic among the villagers.
Aviation vs volcanology
Meanwhile, the Volcano Observatory Notice for Aviation (VONA) agency of the Republic of Indonesia, has issued the Code Orange: Eruption with volcanic ash cloud at 1024 UTC (17:24 local) ash cloud moving northeast. The best estimate of the top of the ash cloud is around 18,163 FT (5,676 M) above sea level, it may be higher than can be clearly observed. Height data source: ground observer.
Indonesia, Ring of Fire
Indonesia, an archipelago of more than 250 million people, sits on the Pacific "Ring of Fire" and is prone to earthquakes and volcanic eruptions. Government seismologists monitor more than 120 active volcanoes. The 6.2 magnitude earthquake in Sulawesi West that shook the Indonesian island of Sulawesi at the beginning of Friday 01/16, has left at least 46 people dead; the floods off South Kalimantan; landslides in West Java are continuously affecting Indonesian lands.
Gunung Semeru meletus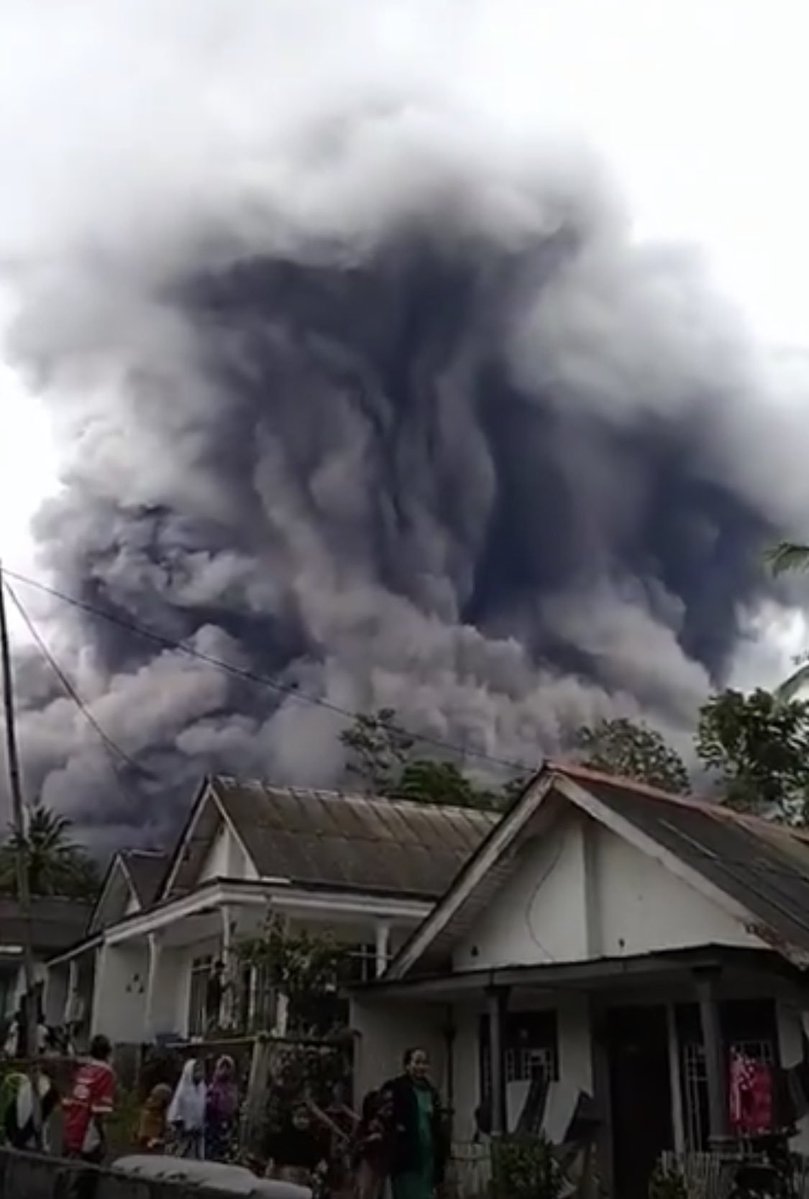 Gunung berapi Semeru di Pulau Jawa meletus
Gunung Semeru, gunung berapi tertinggi di pulau Jawa, di Republik Indonesia, mengaktifkan kembali proses pengusiran material vulkanik yang mencakup jarak 4,5 kilometer (hampir 3 mil) pada Sabtu 16/01. Saat ini tidak ada evakuasi segera, tetapi Badan Nasional Penanggulangan Bencana telah memperingatkan orang-orang yang tinggal di desa-desa di lereng gunung setinggi 3.676 meter (12,060 kaki) untuk mewaspadai tanda-tanda bahaya. Juru bicara dinas Raditya Jati menyampaikan bahwa masyarakat sekitar wilayah sungai di lereng gunung harus berhati-hati dengan intensitas hujan yang tinggi yang dapat memicu banjir lahar.
Pusat Vulkanologi dan Mitigasi Bencana Geologi Indonesia belum menaikkan status waspada Semeru yang sudah berada di Tingkat Tertinggi Ketiga sejak mulai meletus pada Mei 2020. Gunung tersebut memuntahkan abu panas setinggi 3.000 meter. (9,800 kaki) pada awal Desember 2020, memicu kepanikan di antara penduduk desa.
Penerbangan vs vulkanologi
Sementara itu, badan Volcano Observatory Notice for Aviation (VONA) Republik Indonesia telah mengeluarkan Code Orange: Eruption dengan awan abu vulkanik pada pukul 10:24 UTC (17:24 WIB) yang bergerak di timur laut. Estimasi terbaik dari puncak awan abu adalah sekitar 18,163 FT (5.676 M) di atas permukaan laut, mungkin lebih tinggi dari yang dapat diamati dengan jelas. Sumber data ketinggian: pengamat lapangan.
Indonesia, Cincin Api
Indonesia, sebuah negara kepulauan dengan lebih dari 250 juta orang, terletak di "Cincin Api" Pasifik dan rentan terhadap gempa bumi dan letusan gunung berapi. Ahli seismologi pemerintah memantau lebih dari 120 gunung berapi aktif. Gempa 6,2 skala Richter di Sulawesi Barat yang mengguncang pulau Sulawesi Indonesia pada awal Jumat 16 Januari, telah mengakibatkan sedikitnya 46 kematian; banjir di Kalimantan Selatan; tanah longsor di Jawa Barat terus menerus mempengaruhi daratan Indonesia.

PUBLISHER: Airgways.com
DBk: Magma.vsi.esdm.go.id/vona / Bnpb.go.id / Airgways.com
AW-POST: 202101191041AR
A\W A I R G W A Y S ®