AW | 2016 08 31 16:25 | AIRLINES
El transportador de la bandera de la República de Uzbekistán se convierte en operador de 66º Dreamliner
Tashkent, Uzbekistán ·  Uzbekistán Airways, la aerolínea de bandera de la República de Uzbekistán, celebró hoy la entrega de la línea aérea de primer Boeing 787-8 Dreamliner.
«La entrega de nuestro primer Dreamliner marca un nuevo y emocionante capítulo en nuestra larga relación con Boeing, que comenzó en el año 1996», dijo Valeriy Tyan, Director General de Uzbekistan Airways. «Estamos encantados de que tan pronto como en septiembre los pasajeros de Uzbekistan Airways se les ofrecerá una nueva experiencia de vuelo y un incomparable nivel de comodidad a bordo de nuestro Boeing 787 Dreamliner.»
«Esta entrega de Uzbekistan Airways es un momento notable en nuestra sociedad que tiene un gran valor para Boeing«, dijo Marty Bentrott, vicepresidente de Ventas, Oriente Medio, Rusia y Asia Central de Boeing Commercial Airplanes. «Hoy, estamos orgullosos no sólo tener Uzbekistán unirse a nuestra creciente base de 787 clientes en la región, sino también en la continua confianza de la aerolínea en la tecnología y los aviones de Boeing en los últimos años.»
La flota Uzbekistán Airways consiste en 34 aviones, incluyendo nueve Boeing 767 y seis Boeing 757 aviones. Desde su centro de operaciones en el aeropuerto internacional de Tashkent, la línea aérea vuela a más de 40 ciudades de todo el mundo.
Este primer vuelo 787 de entrega a Tashkent también traerá la ayuda humanitaria a los pacientes en los hospitales, clínicas materno-infantiles, centros de rehabilitación y orfanatos. Como parte de su actividad benéfica en Uzbekistán, Boeing y Uzbekistán Airways que se han asociado con AmeriCares, que es compatible con una amplia gama de instituciones de salud en todo el país. El vuelo es uno de los muchos envíos humanitarios que Boeing y Uzbekistan Airways han emprendido juntos.
El Boeing 787 Dreamliner es una nueva familia, super-eficiente de los aviones comerciales que trae grandes rangos de chorro y la velocidad a la media del mercado. En respuesta a la abrumadora preferencia de las aerolíneas, Boeing ha diseñado la familia 787 con una eficiencia superior, que permite a las compañías aéreas para abrir nuevas rutas rentable para volar directamente a la gente dónde les gustaría ir en un confort excepcional.
Desde su entrada en servicio en 2011, la familia 787 está volando más de 350 rutas y ha establecido más de 75 nuevas rutas sin escalas alrededor del mundo. Hasta la fecha 66 clientes en todo el mundo han realizado pedidos de 1.161 aviones, por lo que el 787 Dreamliner en el avión de venta más rápida de doble pasillo en la historia de Boeing. 
Boeing Delivers First 787 Dreamliner to Uzbekistan Airways
Flag carrier of the Republic of Uzbekistan becomes 66th Dreamliner operator
TASHKENT, Uzbekistan · Uzbekistan Airways, the flag carrier of the Republic of Uzbekistan, today celebrated the delivery of the airline's first Boeing 787-8 Dreamliner.
«The delivery of our first Dreamliner marks a new and exciting chapter in our long-standing relationship with Boeing that began back in 1996,» said Valeriy Tyan, Director General, Uzbekistan Airways. «We are delighted that as early as in September, passengers of Uzbekistan Airways will be offered a new flight experience and an unmatched level of comfort onboard our Boeing 787 Dreamliner.»
«This delivery to Uzbekistan Airways is a remarkable moment in our partnership that has a great value for Boeing,» said Marty Bentrott, vice president of Sales, Middle East, Russia and Central Asia, Boeing Commercial Airplanes. «Today, we are proud not only to have Uzbekistan join our growing base of 787 customers in the region, but also at the airline's continued confidence in Boeing's technology and airplanes over the years.»
Uzbekistan Airways' fleet consists of 34 aircraft, including nine Boeing 767 and six Boeing 757 airplanes. From its hub at Tashkent International Airport, the airline flies to more than 40 cities around the world.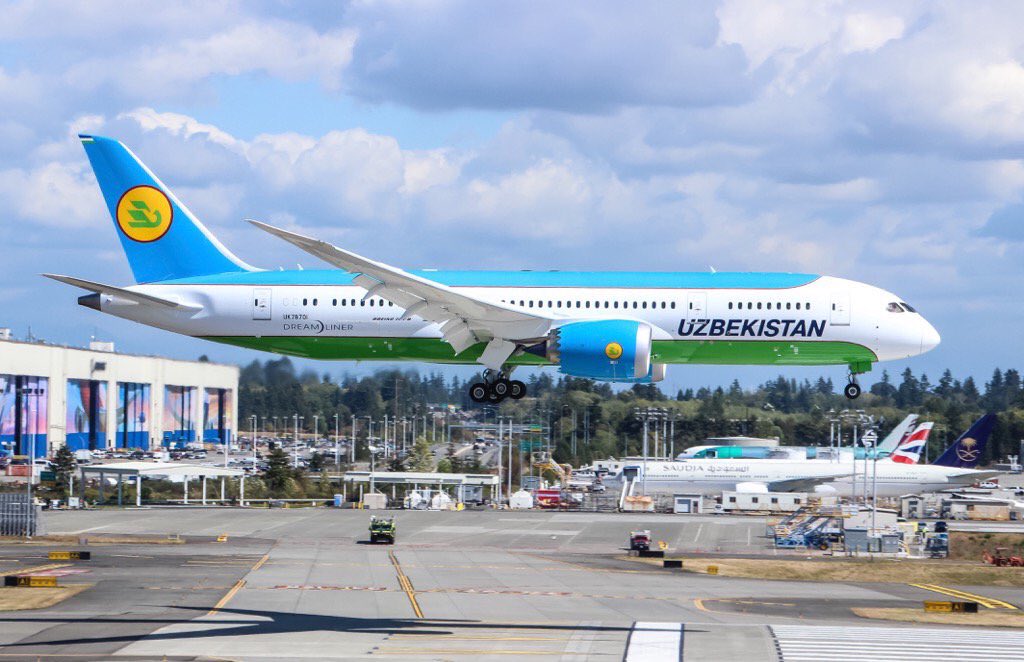 This first 787 delivery flight to Tashkent will also bring humanitarian aid to patients in hospitals, mother-child clinics, rehabilitation centers and orphanages. As part of its charitable activity in Uzbekistan, Boeing and Uzbekistan Airlines have partnered with AmeriCares, which supports a broad range of health care institutions throughout the country. The flight is one of the many humanitarian shipments that Boeing and Uzbekistan Airways have undertaken together.
The Boeing 787 Dreamliner is an all-new, super-efficient family of commercial airplanes that brings big-jet ranges and speed to the middle of the market. In response to airlines' overwhelming preference, Boeing designed the 787 family with superior efficiency, which allows airlines to profitably open new routes to fly people directly where they'd like to go in exceptional comfort.
Since entering service in 2011, the 787 family is flying more than 350 routes and has established more than 75 new nonstop routes around the world. To date 66 customers worldwide have placed orders for 1,161 airplanes, making the 787 Dreamliner the fastest selling twin-aisle airplane in Boeing history. A\W
Ξ A I R G W A Y S Ξ
SOURCE: prnewswire.com
DBk: prnewswire.com / Boeing.com / 
svzm.aero / twicopy.org 


AW-POST: 201608311625AR
A\W A I R G W A Y S ®