AW | 2016 10 31 09:07 | INDUSTRY
El sueño chino toma forma en Shanghai para desafiar a Airbus y Boeing
China tiene un sueño de desafiar el duopolio de Airbus Group SE y Boeing Co. en el mercado mundial de aviones de aire. La ambición está tomando forma poco a poco en un hangar en Shanghai.
La estatal Comercial Aircraft Corp. China Ltd., conocida localmente como COMAC, tiene la construcción del C919 de 168 asientos, de un solo pasillo, apostando el modelo ayudaría a la ruptura fabricante de aviones en la gran liga. Se bancaria en la experiencia adquirida gracias a su pequeño jet de 90 asientos, el ARJ21, que ha ganado pedidos comerciales por valor de al menos $ 2 mil millones, en su mayoría de las empresas locales.
A pesar de los retrasos en el programa C919, el primer vuelo de prueba se ha aplazado al menos dos veces desde 2014. El mensaje de COMAC al mundo: El constructor dice que ya tiene compromisos de 21 clientes para 517 aviones. En el Salón Aeronáutico de Zhuhai esta semana, COMAC se establece con una maqueta y podría anunciar un mayor interés de los posibles compradores.
El proyecto del avión de pasajeros es parte de un ambicioso plan del presidente Xi Jinping, para transformar a China de un fabricante de zapatillas de deporte, prendas de vestir y juguetes en una que pueda competir con los gustos de Airbus y Boeing. Conseguir el C919 de la placa del diseño de los cielos es crucial para Xi, que ha identificado la industria aeroespacial entre los sectores que podrían ayudar a acelerar la modernización de la economía para parecerse a Japón y Alemania.
Buen caso
«Fabricación de aviones doméstica es un buen ejemplo de la ambición del país para asegurar un punto de apoyo en la parte superior de la cadena de valor global», dijo Liu Yuanchun, decano ejecutivo de la Academia Nacional de Desarrollo y Estrategia de la Universidad Renmin de China en Beijing. «Todavía hay algunas bases serio que hacer para darse cuenta finalmente su ambición de dominar sofisticados procesos de diseño y fabricación.»
Aeroespacial ocupa el tercer lugar después de la tecnología de la información y la robótica en la lista de prioridades del plan maestro de Xi «Made in China 2025» dio a conocer el año pasado. Para la fabricación de la aviación, Pekín ha puesto sus ojos en el desarrollo de aviones de pasajeros de fuselaje ancho, helicópteros pesados y diversos tipos de motores, en cooperación con socios globales.
La demostración de aire de Zhuhai, que empezará el martes también contará con la recién formada Aero Motor Corp. de China, que tiene planes para construir motores para los aviones. Un representante de Airbus no quiso hacer comentarios, mientras que Boeing no respondió a un correo electrónico en busca de comentarios.
COMAC dio inicio a la investigación y el desarrollo en el C919 en 2008 tan pronto como la creación de la empresa. La misión era realizar el sueño de construir y volar un gran avión comercial – aclamado como el «flor» y «perla» de la fabricación moderna y la encarnación de la posición tecnológica de la nación.
El fabricante de aviones cuenta tanto como 16 corporaciones globales como proveedores, como General Electric Co. y Honeywell International Inc., y ha establecido al menos 16 empresas conjuntas para la aviónica, control de vuelo, energía, combustible y del tren de aterrizaje. COMAC estima que el potencial de mercado para el avión en tanto como 650 mil millones de yuanes (96 mil millones).
El C919 está en buena forma para el vuelo de prueba y el desarrollador no ve ninguna razón para otro retraso, un representante de COMAC, sin entregar una fecha. Dado que el trabajo acaba de comenzar, es demasiado pronto para hablar de competencia a los grandes como lo son en una liga diferente, dijo. El vuelo de prueba podría ocurrir a finales de este año o principios de 2017, el jefe de diseño de COMAC Wu Guanghui dicho por separado en Zhuhai.
Aunque el objetivo puede ser décadas de distancia, el fabricante de aviones puede ya tener un libro de jugadas a contar. El Jet Regional Avanzado ARJ21, que tomó 13 años para diseñar, construir y poner en el mercado, ha estado volando desde junio. Con un alcance máximo de unos 1.380 millas y propulsadas por motores de GE, el chorro compite con los de Bombardier Inc. y Embraer SA. China Aircraft Leasing Group Holdings Ltd., una compañía cotizada en Hong Kong, fue el último cliente, aceptar la compra de 60 ARJ21s en julio un acuerdo por valor de unos $ 2.3 millones de dólares a precios de catálogo.
China, con el tiempo puede llevarlo a cabo con el C919, pero la aeronave puede estar confinado en un principio sólo para el mercado interno y hasta cierto interés por parte de algunos países en desarrollo, dijo Shukor Yusof, uno de los fundadores de la firma consultora de aviación Endau Analytics en Malasia. Las preocupaciones de seguridad pueden disuadir a los mejores aerolíneas del mundo a partir de optar por el chorro, dijo.
«Después de unas cuantas mejoras, debe ser capaz de demostrar al mundo que es un avión grave», dijo Shukor. «Con el fin de alcanzar el nivel de comodidad para las compañías aéreas, especialmente las compañías aéreas de primer nivel, podría tomar más de dos décadas.»
Para el C919, una vez listo y seguro, China podría llegar a ser un mercado cautivo. La nación, fijado para superar los EE.UU. para convertirse en el mayor mercado de aviación del mundo por los pasajeros para el 2024, tendrá 1,3 millones de viajeros en 2035, según la Asociación Internacional de Transporte Aéreo. El país puede necesitar 6.810 nuevos aviones valorados en $ 1.03 billones de dólares en las próximas dos décadas para satisfacer la creciente demanda de viajes aéreos, Boeing estima en septiembre.
«En algún momento, China no puede basarse simplemente en las importaciones de Boeing y Airbus para su demanda de aviones,» dijo Liu de la Universidad de Renmin. «Haciendo su propio plano eleva el estatus de China y es un componente clave de impulsar el crecimiento económico de China en el futuro.» 

Xi's Dream Takes Shape in Shanghai to Challenge Airbus, Boeing
China has a dream of challenging the duopoly of Airbus Group SE and Boeing Co. in the global market for air planes. That ambition is slowly taking shape in a hangar in Shanghai.
The state-owned Commercial Aircraft Corp. of China Ltd., locally known as COMAC, is building the 168-seat, single-aisle aircraft C919, betting the model would help the planemaker break into the big league. It's banking on expertise gained from its smaller 90-seat jet, the ARJ21, which has won commercial orders worth at least $2 billion, mostly from local companies.
Despite delays to the C919 program, the first test flight has been postponed at least twice since 2014,  COMAC's message to the world: Watch this space. The builder says it has already got commitments from 21 customers for 517 planes. At the Zhuhai Air Show this week, COMAC is set to showcase the aircraft with a mock-up and could announce more interest from prospective buyers.
The passenger jet project is part of an ambitious plan by President Xi Jinping to transform China from a maker of sneakers, apparels and toys into one that can compete with the likes of Airbus and Boeing. Getting the C919 from the design board to the skies is crucial for Xi, who has identified aerospace among sectors that could help accelerate modernization of the economy to resemble Japan and Germany.
Good Case
"Domestic airplane manufacturing is a good case of the country's ambition to secure a foothold at the very top of the global value chain," said Liu Yuanchun, executive dean of the National Academy of Development and Strategy at Renmin University of China in Beijing. "There's still some serious groundwork to do to eventually realize its ambition of mastering sophisticated design and manufacturing processes."
Aerospace ranks third after information technology and robotics on the priority list of Xi's master plan "Made in China 2025" unveiled last year. For aviation manufacturing, Beijing has set its eyes on developing widebody passenger jets, heavy helicopters and various types of engines, in cooperation with global partners.
The Zhuhai Air Show, set to start Tuesday, will also feature the newly formed Aero Engine Corp. of China, which has plans to build engines for aircraft. A representative for Airbus declined to comment, while Boeing didn't respond to an e-mail seeking comments.
COMAC kicked off research and development on the C919 in 2008 as soon as the establishment of the company. The mission was to realize the dream of building and flying a large commercial aircraft — hailed as the "flower" and "pearl" of modern manufacturing and embodiment of the nation's technological standing.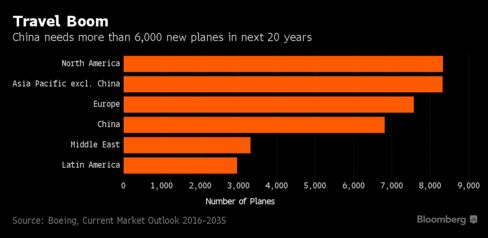 The aircraft maker counts as many as 16 global corporations as suppliers, including General Electric Co. and Honeywell International Inc., and has set up at least 16 joint ventures for avionics, flight control, power, fuel and landing gear. COMAC estimates the market potential for the plane at as much as 650 billion yuan ($96 billion).
The C919 is in good shape for the test flight and the developer sees no reason for another delay, a representative for COMAC said, without providing a date. Since the work has just started, it's too early to talk about competing with the majors as they are in a different league, he said. The test flight could happen later this year or early 2017, COMAC's chief designer Wu Guanghui said separately in Zhuhai.
Though the goal may be decades away, the planemaker may already have a playbook to count on. The Advanced Regional Jet ARJ21, which took 13 years to design, build and bring to market, has been flying since June. With a maximum range of about 1,380 miles and powered by GE engines, the jet competes with those of Bombardier Inc. and Embraer SA. China Aircraft Leasing Group Holdings Ltd., a Hong Kong-listed company, was the latest customer, agreeing to purchase 60 ARJ21s in a July deal worth about $2.3 billion at list prices.
China may eventually pull it off with the C919, but the aircraft may be initially confined only to the domestic market and to some interest from a few developing countries, said Shukor Yusof, a founder of aviation consulting firm Endau Analytics in Malaysia. Safety concerns may deter the world's top airlines from opting for the jet, he said.
"After a few upgrades, it should be able to show the world that it's a serious aircraft," Shukor said. "In order to achieve the comfort level for airlines, especially first-tier airlines, it could take more than two decades."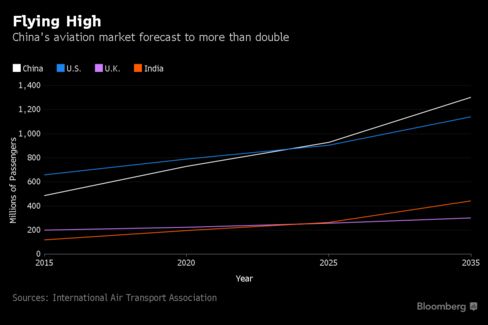 For the C919, once ready and safe, China could prove to be a captive market. The nation, set to surpass the U.S. to become the world's largest aviation market by passengers by 2024, will have 1.3 billion travelers by 2035, according to the International Air Transport Association. The country may need 6,810 new aircraft valued at $1.03 trillion in the next two decades to meet rising demand for air travel, Boeing estimated in September.
"At some point, China cannot simply rely on imports from Boeing and Airbus for its aircraft demand," Renmin University's Liu said. "Making its own plane elevates China's status and is a key component of propelling China's economic growth in the future." A\W
Ξ A I R G W A Y S Ξ
SOURCE: bloomberg.com
DBk: Photographic © Ainonline.com / Flightpress.aero
AW-POST: 201610310907AR
A\W A I R G W A Y S ®