AW | 2016 10 31 07: 57 | AIRLINES MARKET
Las aerolíneas de bajo coste extienden sus alas en los vuelos transatlánticos para disgusto de las principales líneas aéreas, obligados a servir a nuevos destinos y para ajustar sus precios para mantener sus manos en este mercado altamente rentable.
Los vuelos operados por Norwegian Air, la compañía islandesa Wow, Canadá o WestJet marroquí Royal Air Marruecos para conectar los dos lados del Atlántico se han multiplicado en los últimos dos años a raíz de la caída de los precios del combustible. A menudo, casi la mitad más barato que las tarifas ofrecidas por las principales compañías aéreas, precios de billetes planos de estos » bajo coste » les han permitido atraer a los viajeros con bastante rapidez. La cuota de mercado de las grandes empresas ha caído del 75% en el verano del año 2014 al 72% el pasado verano, según la firma de investigación de OAG.
Las aerolíneas más bajo costo » aumentar la capacidad, tanto más se convertirán en una amenaza creciente para las principales líneas aéreas ,» dijo George Hobica, sitio especializado airfarewatchdog.com. Un billete de avión hacia y desde Londres y Nueva York, tomada de antemano, con un valor promedio de $ 398 con un bajo costo, según el experto, contra más de 600 dólares de las grandes empresas. El canadiense WestJet incluso pretende ofrecer vuelos desde Canadá a Londres a 199 dólares canadienses, incluyendo impuestos. Incluso mediante la adición de los precios de los servicios pagados (comidas, equipaje, auriculares …) el viajero está beneficiando asegura George Hobica.
Consciente del peligro, las grandes empresas no tardaron en responder, ofreciendo asientos más baratos, más vuelos directos y la apertura de nuevas rutas. British Airways opera desde pequeños vuelos directos de San José a Londres. Delta Air Lines, United y American Airlines, las tres principales aerolíneas estadounidenses, advirtió recientemente han observado una desaceleración en el tráfico en sus rutas transatlánticas y advirtió que sus ganancias sufrirían. Esta disminución de la asistencia se debe a Brexit, los ataques en Europa y la sobrecapacidad, explicaron.
La fiabilidad y la seguridad
Durante mucho, líneas transatlánticos eran del dominio exclusivo de las principales líneas aéreas, protegidos por los acuerdos de cielos abiertos (cielo abierto), firmado entre los Estados Unidos y Europa. Estos acuerdos han permitido a estas empresas a aliarse dentro de los tres asociaciones (SkyTeam, OneWorld y Atlántico) y aplicar los tipos que querían. No es de extrañar que las primeras líneas aéreas de bajo coste intentos en este nicho han sido fracasos. Laker Airways, el precursor en el 70, se declaró en quiebra menos de diez años después del inicio de sus rutas transatlánticas.
La situación ha cambiado con la venta de aviones nuevos de cambiarse el motor de Boeing 787 y Boeing 737 MAX, Airbus A320neo y A350 que son más eficientes en queroseno. «No podría ser más rentable para operar un modelo de bajo costo con la generación anterior de dispositivos «, resume Anders Lindström de Norwegian Air, que se lanzó en este mercado en 2013. El vehículo registrado registrar una ganancia neta de $ 122 millones en el tercer trimestre.
La caída de los precios del petróleo hace dos años, finalmente convencieron a otras empresas para lanzar porque el queroseno es el elemento principal del gasto en el transporte aéreo. » Es evidente que hay una fuerte demanda de larga distancia de bajo costo «, dijo Robert Palmer de WestJet.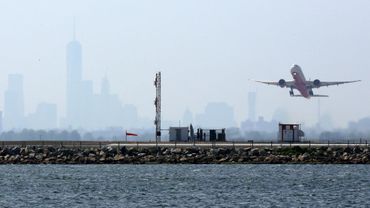 Ambiciones y limitaciones 
Después de haber desafiado el liderazgo de las principales compañías aéreas en los Estados Unidos, Southwest Airlines y JetBlue no ocultan su ambición. rutas transatlánticas » sufren de falta de competencia y las altas tarifas que conocían el transcontinental «, dijo Tamara Young, un portavoz de JetBlue, que pasó el fin A321 puede conectar la costa este de los Estados ESTADOS Europa.
Si sus precios asequibles han abierto sus puertas, bajo costo sin embargo, tiene que construir su reputación, los ánimos George Hobica. » ¿Son seguros? ¿Son fiables? «, Preguntó el experto, que también observaron que la falta de programas de fidelidad y la baja frecuencia de los vuelos se ofrecen otro talón de Aquiles. » Si su vuelo se cancela, se cocinan, mientras que una gran compañía aérea que puede redirigir al vuelo de un socio «, ha concluido. 
Lowcost airlines spread their wings over the Atlantic
The low cost carriers spread their wings on transatlantic flights to the chagrin of the major airlines, forced to serve new destinations and to align their prices to keep their hands on this highly profitable market.
Flights operated by Norwegian Air, the Icelandic company Wow, Canada or WestJet Moroccan Royal Air Morocco to connect the two sides of the Atlantic have multiplied in the last two years in the wake of falling fuel prices. Often almost half cheaper than the rates offered by major airlines, ticket prices planes of these «low cost» have enabled them to attract travelers rather quickly. The market share of the big companies has fallen from 75% in the summer of 2014 to 72% last summer, according to the research firm OAG.
The more low-cost airlines «increase the capacity, the more they will become an increasing threat to major airlines,» said George Hobica, site specializing airfarewatchdog.com. A plane ticket to and from London and New York, taken in advance, worth on average $ 398 with low cost, according to the expert, against over 600 dollars from big companies. The Canadian WestJet even claims to offer flights from Canada to London to 199 Canadian dollars including tax. Even by adding the prices of paid services (meals, luggage, headphones …) the traveler is benefiting assures George Hobica.
Conscious of the danger, the big companies were quick to respond, offering cheaper seats, more direct flights and opening new routes. British Airways operates from little direct flights from San Jose to London. Delta Air Lines, United and American Airlines, the three major US airlines, warned recently have observed a slowdown in traffic on their transatlantic routes and warned that their earnings would suffer. This decline in attendance is due to Brexit, the attacks in Europe and overcapacity, they explained.
Reliability and Security
For a long, transatlantic lines were the preserve of major airlines, protected by the Open Skies Agreements (open skies), signed between the United States and Europe. These agreements have enabled these companies to ally within three partnerships (SkyTeam, OneWorld and Atlantic) and apply the rates they wanted. It is no surprise that the first low-cost airlines attempts in this niche have been failures. Laker Airways, the forerunner in the 70, filed for bankruptcy less than ten years after the start of its transatlantic routes.
The situation has changed with the sale of new generation aircraft re-engined Boeing 787 Dreamliner and 737 MAX , Airbus A320neo and A350  which are more efficient in kerosene. «It could not be profitable to operate a low cost model with the older generation of devices,» summarizes Anders Lindström the Norwegian Air, which launched on this market in 2013. The carrier recorded record net income of $ 122 million in the third quarter.
Falling oil prices two years ago finally convinced other companies to launch because kerosene is the main item of expenditure in air transport. «Clearly there is a strong demand for long-haul low-cost», told WestJet Robert Palmer.
Ambitions and limitations as
Having challenged the leadership of the major airlines in the United States, SouthWest Airlines and JetBlue do not hide their ambitions. Transatlantic routes «suffer from lack of competition and high tariffs that knew the transcontinental», told Tamara Young, a spokesman for JetBlue, who spent A321 aircraft order may connect the east coast of the States Europe.
If their affordable prices have opened their doors, low cost have yet to build their reputation, tempers George Hobica. «Are they safe? Are they reliable?» Asked the expert, who also noted that the lack of loyalty programs and the low frequency of flights are offered another Achilles heel. «If your flight is canceled, you are cooked, while a major airline can redirect you to the flight of a partner,» he concluded.  A\W
Ξ A I R G W A Y S Ξ
SOURCE: rtbf.be
DBk: Photographic © Washington Post / wsj.com
AW-POST: 201610310757AR
A\W A I R G W A Y S ®