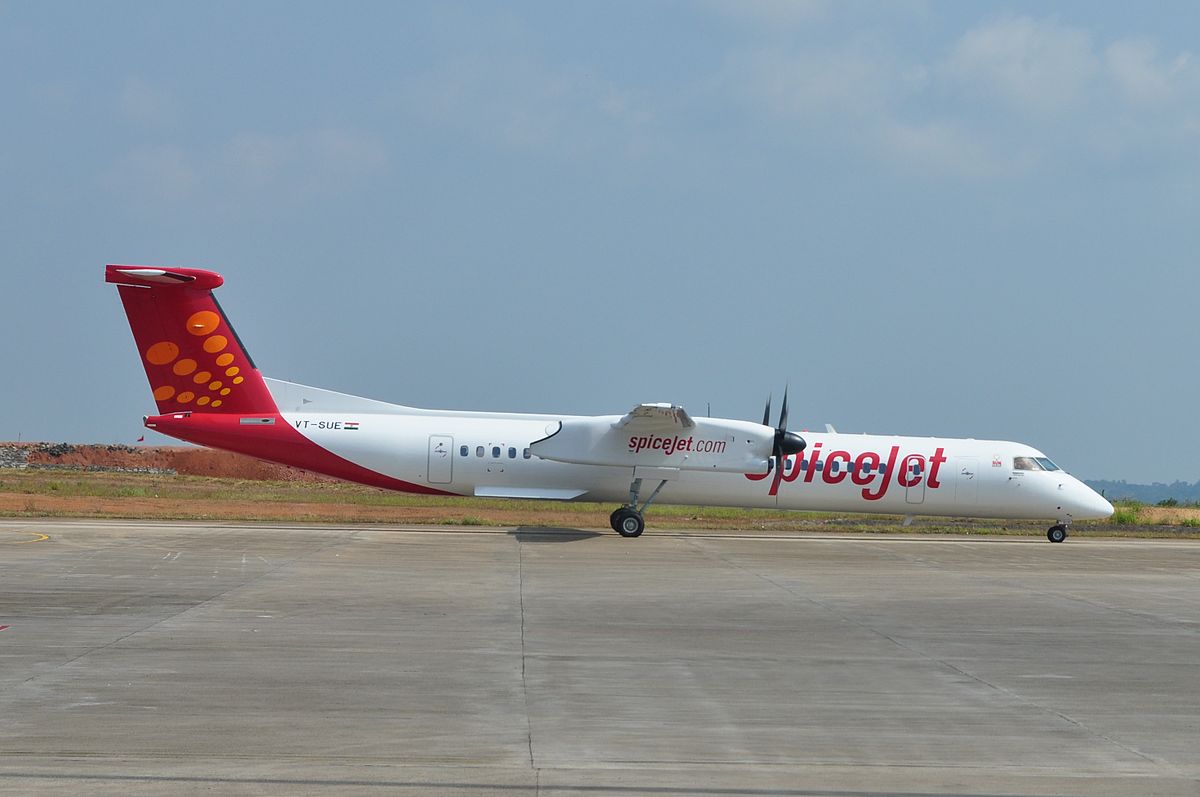 AW | 2018 09 24 12:38 | INDUSTRY
Bombardier entrega la primera aeronave Q400 de 90 plazas a SpiceJet
La low cost india SpiceJet ha recibido la primera versión de 90 asientos del turbohélice Bombardier Q400, ha comunicado Bombardier Inc. el 21 Septiembre 2018.
Bombardier ha entregado la primera versión de 90 asientos de su serie Q-400 a la aerolínea de la India SpiceJet. De acuerdo con el anuncio de la compañía, la aerolínea es el primer cliente del Bombardier Q400 con pasajeros incrementado, que ofrece espacio para 90 asientos. La capacidad de la versión básica es de 86 pasajero, mientras que el fuselaje no se ha estirado, lo que Bombardier ha configurado las secciones interiores para alojar más asientos hasta acomodar 90 pasajeros.
La entrada de la aeronave de capacidad extra en el servicio comercial es un hito para el Programa Q400 de Bombardier y le da al fabricante canadiense un impulso necesario desde la facturación de Julio 2018 del programa de aeronaves CSeries a Airbus. La versión de 90 asientos del Q400 fue certificada por Transport Canada a principios de Agosto 2018.
SpiceJet es el cliente de lanzamiento del Q400 de 90 asientos, y ha confirmado un pedido en Septiembre 2017 para 25 adicionales, más opciones para otros 25 Q400. La orden de SpiceJet sigue siendo la mayor reserva individual de Bombardier para aviones Q400 hasta la fecha, valorada en un total de $ 1,700 millones. La versión de 90 asientos ofrece un 15% más de capacidad de pasajeros y una reducción del 15% en los costos de los asientos, en comparación con la configuración estándar de 78 asientos, según Colin Bole, comercial de Bombardier Commercial Aircraft SVP.
La opción de 90 asientos demuestra el potencial de rentabilidad incrementado que este exclusivo turbohélice tiene para ofrecer. Los asientos adicionales y las mejoras de rendimiento resultarán en una reducción sustancial en los costos unitarios. Las mejoras adicionales para el Q400 incluyen un 2,000 libras en progreso. Aumento de la carga útil, así como una expansión de los intervalos de mantenimiento de verificación A y C del Q400 de 600 a 800 horas y de 6.000 a 8.000 horas, respectivamente.
Bombardier busca desarrollar una tendencia entre algunas aerolíneas, como Ethiopian Airlines y WestJet de Canadá, para trabajar con el Q400 en los horarios principales, aprovechando la velocidad máxima de crucero de 360 ​​kt en rutas que no pueden admitir trenes estrechos, o en rutas que requieren más frecuencia. en lugar de aviones de mayor capacidad.
"Ha habido un cambio en el mercado Q400 en los últimos años", dijo en mayo el vicepresidente de marketing de Bombardier Commercial Aircraft y jefe de marketing, Patrick Baudis. "Las aerolíneas operaban turbopropulsores en modo de aislamiento, lo que no aprovecha las capacidades del Q400. Ahora, algunos integran por completo las operaciones del Q400 en una operación de reactores. Eso cambia la dinámica".
El Q400 ampliado obtuvo un segundo cliente en las últimas semanas, ya que el CIB Leasing de China convirtió la mitad de su pedido pendiente de 10 CRJ900 a cinco Q400 de 90 asientos a principios de Septiembre 2018.
En su informe de estado del programa de la serie Q más reciente, desde el 30 de junio, Bombardier reportó un atraso de 56 Q400, para clientes que incluyen Air Connection Express de Angola, CemAir de Sudáfrica, Conair, Ethiopian Airlines, Philippine Airlines, operador regional de Kazajstán Qazaq Air y SpiceJet.  
Bombardier delivers first Q-400 Streched
Bombardier delivers the first Q400 aircraft with 90 seats to SpiceJet
The Indian low-cost SpiceJet has received the first 90-seat version of Bombardier's Q400 turboprop, Bombardier Inc. announced on 21 September 2018.
Bombardier has delivered the first 90-seat version of its Q-400 series to the Indian airline SpiceJet. According to the company's announcement, the airline is the first customer of the Bombardier Q400 with increased passengers, which offers space for 90 seats. The capacity of the basic version is 86 passenger, while the fuselage has not been stretched, which Bombardier has configured the interior sections to accommodate more seats to accommodate 90 passengers.
The entry of the extra capacity aircraft into the commercial service is a milestone for the Bombardier Q400 Program and gives the Canadian manufacturer a necessary boost from the July 2018 billing of the CSeries aircraft program to Airbus. The 90-seat version of the Q400 was certified by Transport Canada in early August 2018.
SpiceJet is the launch customer of the 90-seat Q400, and has confirmed an order in September 2017 for an additional 25, plus options for another 25 Q400. The SpiceJet order remains Bombardier's largest single reserve for Q400 aircraft to date, valued at a total of $ 1,700 million. The 90-seat version offers 15% more passenger capacity and a 15% reduction in seat costs, compared to the standard 78-seat configuration, according to Colin Bole, Bombardier Commercial Aircraft SVP commercial.
The 90-seat option demonstrates the increased profitability potential that this exclusive turboprop has to offer. Additional seats and performance improvements will result in a substantial reduction in unit costs. Additional improvements for the Q400 include a 2,000-pound in progress. Increase of the payload, as well as an expansion of the maintenance intervals of verification A and C of the Q400 from 600 to 800 hours and from 6,000 to 8,000 hours, respectively.
Bombardier seeks to develop a trend among some airlines, such as Ethiopian Airlines and WestJet of Canada, to work with the Q400 at prime time, taking advantage of the maximum cruising speed of 360 kt on routes that can not support narrow trains, or on routes that require more frequency. instead of larger capacity aircraft.
"There has been a change in the Q400 market in recent years", said Vice President of Marketing at Bombardier Commercial Aircraft and chief marketing officer, Patrick Baudis, in May. "The airlines were operating turboprops in isolation mode, which does not take advantage of the Q400's capabilities, and now some completely integrate Q400 operations into a reactor operation, which changes the dynamics".
The expanded Q400 gained a second customer in recent weeks, as China's CIB Leasing converted half of its outstanding order from 10 CRJ900 to five Q400 of 90 seats at the beginning of September 2018.
In its most recent Q series program status report, since June 30, Bombardier reported a delay of 56 Q400, for customers including Air Connection Express of Angola, CemAir of South Africa, Conair, Ethiopian Airlines, Philippine Airlines, Kazakhstan regional operator Qazaq Air and SpiceJet. A \ W
Ξ A I R G W A Y S Ξ
SOURCE:  Airgways.com
DBk: Bombardier.com / Airwayssmag.com
AW-POST: 201809241238AR
A\W   A I R G W A Y S ®