AW | 2020 04 30 11:11 | AVIATION ORGANISMS
La aviación comercial reunida para proyectar su futuro
La industria de la aviación mundial se ha convocado el 29 Abril 2020 para un evento único de transmisión durante todo el día para alentar la colaboración durante el momento más desafiante e impredecible de su historia. FlightPlan: Trazando un curso hacia el futuro, organizado por Inmarsat Aviation y la Airline Passenger Experience Association (APEX), vio a más de 50 voces líderes intercambiar puntos de vista sobre el presente y el futuro de la aviación. Más de 3.000 espectadores sintonizaron desde casi 100 países de todo el mundo para una serie de debates en vivo, entrevistas y análisis de noticias.
Los expertos expresan su confianza en un eventual repunte para la industria de la aviación. Airbus, Air Transport Action Group, Avianca, Collins Aerospace, Deutsche Telekom, Agencia Espacial Europea, Honeywell, IATA, Japan Airlines, Panasonic Avionics y Rolls-Royce entre los oradores principales en FlightPlan, un evento virtual de todo el día organizado por Inmarsat Aviation y APEX. Nick Careen, Vicepresidente Senior de Seguridad y Carga de Pasajeros del Aeropuerto de la Asociación Internacional de Transporte Aéreo (IATA), observó que aunque la pandemia COVID-19 «no tiene paralelo en la memoria reciente, la industria de las aerolíneas ha ilustrado una y otra vez que si hay alguna industria en el mundo que sepa cómo lidiar con una crisis, es esta". Nick Careen predijo que los cambios en los viajes de pasajeros de aerolíneas como resultado de COVID-19 pueden incluir procesos de abordaje escalonados, junto con una adopción más rápida de tecnologías biométricas y de autoservicio en el aeropuerto.
En una encuesta interactiva, los espectadores de FlightPlan fueron invitados a compartir sus propias predicciones sobre la fase de recuperación de COVID-19 durante todo el día. Los puntos destacados de los resultados incluyen:
El 43% predijo que la recuperación llevará de 18 meses a tres años.
El 44% dijo que la industria estaba mal preparada para COVID-19
El 36% declaró que los gobiernos han ayudado a la industria a navegar la pandemia, pero podrían haber hecho más
El 87% espera ver una limpieza más profunda y tiempos de respuesta más lentos
El 86% cree que el equipo de protección personal (EPP) se convertirá en estándar para las tripulaciones de cabina en los próximos meses
El 80% espera que los escáneres térmicos formen parte del viaje del pasajero
Solo el 9% considera que los análisis de sangre de los pasajeros de las aerolíneas se están convirtiendo en la norma.
Esfuerzo unificado esencial para abordar el impacto ambiental de la aviación
Al analizar algunos de los ambiciosos objetivos de sostenibilidad que la industria se había fijado previamente, como las emisiones netas de carbono cero para 2050, los expertos acordaron que la colaboración era fundamental. Alentadoramente, los líderes de la industria expresaron su confianza en que COVID-19 no interrumpirá el progreso en la aviación sostenible e incluso puede impulsar el tema más arriba en la agenda. El mundo posterior a COVID-19 va a ser uno que reconocerá la fragilidad del planeta, la sostenibilidad no solo volverá al punto en que se encontraba antes de COVID, sino que será un problema aún más fuerte. Los resultados de la encuesta de FlightPlan reflejaron este punto de vista, y el 40% de los encuestados estuvo de acuerdo en que COVID-19 acelerará el impulso para reducir las emisiones.
La digitalización catalizará la recuperación de la industria y el crecimiento futuro. Rupert Pearce, CEO de Inmarsat, habló sobre el poder de la conectividad para impulsar el desarrollo global y la recuperación de la industria. Aunque «2019 ya se siente como si perteneciera a una era diferente. Creo que la digitalización se encuentra en el corazón de nuestra capacidad para sobrevivir primero a esta crisis, y luego para impulsar nuestra capacidad de rebotar y comenzar a prosperar en cualquier nueva realidad que se nos presente», Pearce comentó que la pandemia no ha frenado la cuarta revolución industrial.
Philip Balaam, presidente de Inmarsat Aviation, dijo: "Al mirar hacia la recuperación y garantizar la resiliencia a largo plazo, no habrá un enfoque único para todos. Sin embargo, seguirá siendo importante que las aerolíneas puedan diferenciar para los clientes. Está claro que la seguridad de los consumidores seguirá estando a la vanguardia en este nuevo mundo, y que la digitalización y la innovación serán cruciales para impulsar las eficiencias necesarias, reducir el impacto ambiental y mejorar la experiencia de los pasajeros».
Reflexionando sobre el evento, Dominic Walters, Vicepresidente de Inmarsat Aviation, comentó: "En tiempos de crisis, es imperativo que las industrias colaboren para encontrar el mejor camino a seguir. Con tantos de los principales eventos de aviación de este año cancelados, queríamos conectar a la industria de una manera única y útil, y la respuesta ha sido fenomenal. Juntos, más de 50 voces principales compartieron un mensaje compartido claro: que si bien la industria de la aviación enfrenta un período de extrema incertidumbre, estas nubes eventualmente se despejarán. Ahora es el momento de enfocarnos en acelerar nuestra recuperación y reconstruir una industria que sea más fuerte, más ágil y adecuada para el futuro».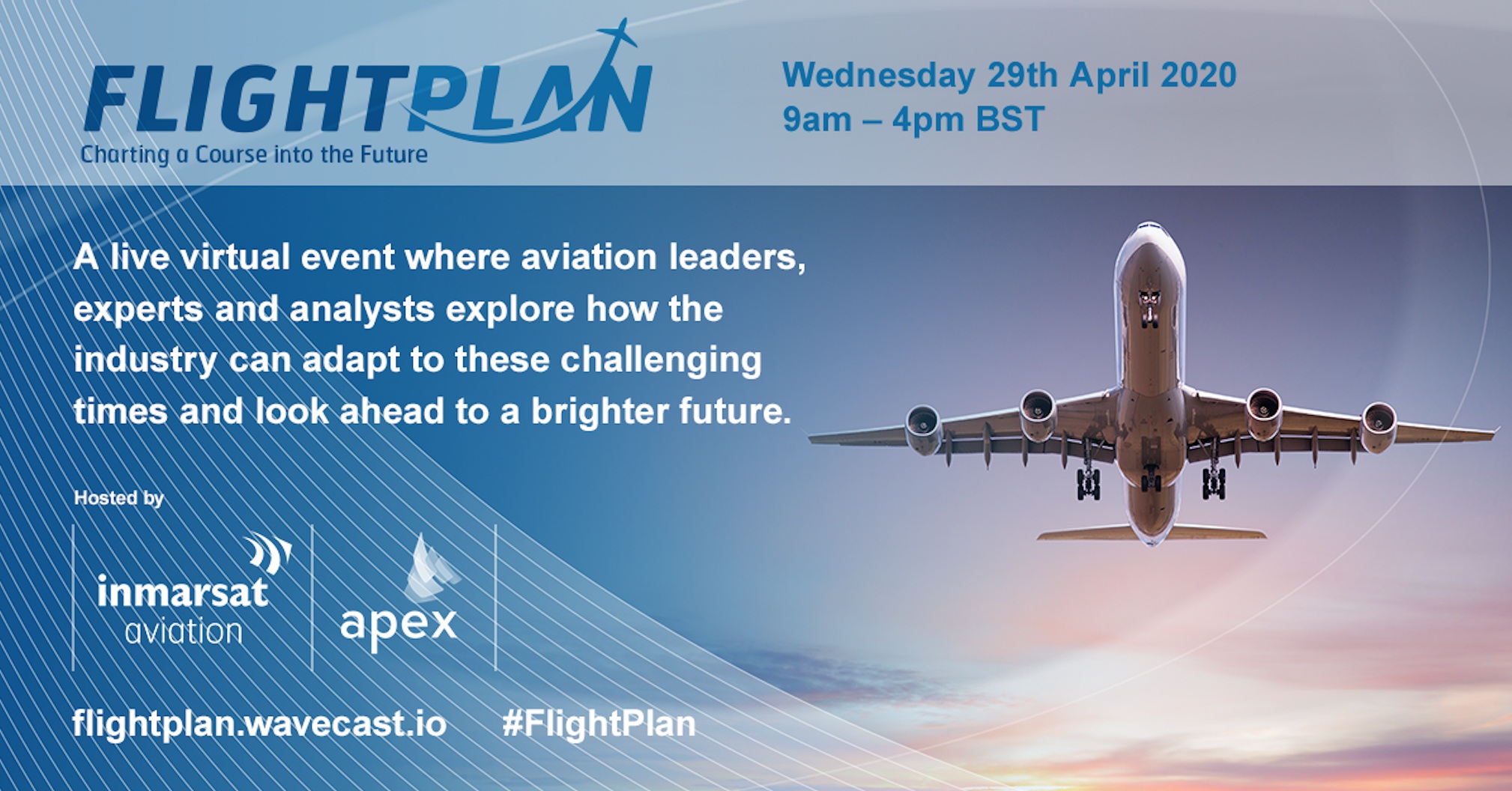 FlightPlan: Charting course into the future
Commercial aviation gathered to project its future
The global aviation industry has been convened on April 29, 2020, for a unique all-day broadcast event to encourage collaboration during the most challenging and unpredictable moment in its history. FlightPlan: Charting a Course into the Future, organized by Inmarsat Aviation and the Airline Passenger Experience Association (APEX), saw more than 50 leading voices exchange views on the present and future of aviation. More than 3,000 viewers tuned in from nearly 100 countries around the world for a series of live debates, interviews, and news analyses.
Experts express their confidence in a possible rebound for the aviation industry. Airbus, Air Transport Action Group, Avianca, Collins Aerospace, Deutsche Telekom, European Space Agency, Honeywell, IATA, Japan Airlines, Panasonic Avionics, and Rolls-Royce among keynote speakers at FlightPlan, an all-day virtual event organized by Inmarsat Aviation and APEX. Nick Careen, Senior Vice President of Airport Passenger Cargo and Safety for the International Air Transport Association (IATA), noted that although the COVID-19 pandemic «is unparalleled in recent memory, the airline industry has illustrated one and again that if there is any industry in the world that knows how to deal with a crisis, it is this one". Nick Careen predicted that changes in airline passenger travel as a result of COVID-19 may include tiered boarding processes, along with faster adoption of biometric and self-service technologies at the airport.
In an interactive survey, FlightPlan viewers were invited to share their own predictions about the recovery phase of COVID-19 throughout the day. Highlights of the results include:
43% predicted that recovery will take 18 months to three years.
44% said the industry was poorly prepared for COVID-19
36% stated that governments have helped the industry navigate the pandemic, but could have done more
87% expect to see deeper cleaning and slower response times
86% believe that personal protective equipment (PPE) will become standard for cabin crews in the coming months
80% expect thermal scanners to be part of the passenger journey
Only 9% believe that blood tests of airline passengers are becoming the norm.
An essential unified effort to address the environmental impact of aviation
Analyzing some of the ambitious sustainability targets the industry had previously set for itself, such as net-zero carbon emissions by 2050, experts agreed that collaboration was critical. Encouragingly, industry leaders expressed confidence that COVID-19 will not disrupt progress in sustainable aviation and may even push the issue higher on the agenda. The post-COVID-19 world is going to be one that will recognize the fragility of the planet, sustainability will not only return to where it was before COVID, but it will be an even stronger problem. The FlightPlan survey results reflected this view, and 40% of respondents agreed that COVID-19 will accelerate the drive to reduce emissions.
Digitization will catalyze the recovery of the industry and future growth. Rupert Pearce, CEO of Inmarsat, spoke about the power of connectivity to drive global development and industry recovery. Although «2019 already feels like it belongs to a different era. I think digitization is at the heart of our ability to survive this crisis first, and then to boost our ability to rebound and begin to thrive in any new reality that introduces us», Pearce said the pandemic has not slowed the fourth industrial revolution.
Philip Balaam, President of Inmarsat Aviation, said: "By looking towards recovery and ensuring long-term resilience, there will be no one size fits all approach. However, it will continue to be important that airlines can differentiate for customers. It is clear that consumer safety will continue to be at the forefront in this new world, and that digitization and innovation will be crucial to drive the necessary efficiencies, reduce environmental impact and improve the passenger experience».
Reflecting on the event, Dominic Walters, Vice President of Inmarsat Aviation, commented: "In times of crisis, it is imperative that industries collaborate to find the best way forward. With so many of this year's major aviation events canceled, we wanted to connect the industry in a unique and helpful way, and the response has been phenomenal. Together, more than 50 leading voices shared a clear shared message: that while the aviation industry faces a period of extreme uncertainty, these clouds will eventually clear up. Now is the time to focus on accelerating our recovery and rebuilding an industry that is stronger, more agile, and fit for the future».
Ξ A I R G W A Y S Ξ
SOURCE: Airgways.com
DBk: Flightplan.wavecast.io/live / Inmmarsataviation.com / Airgways.com
AW-POST: 202004301111AR
A\W   A I R G W A Y S ®