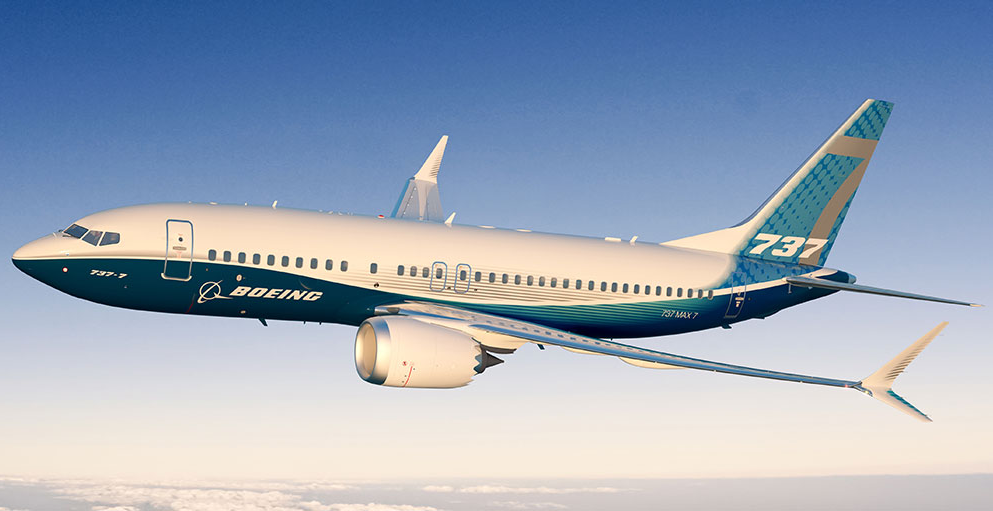 AW | 2017 10 06 01:37 | INDUSTRY
Los trabajadores de Boeing han comenzado a construir componentes para el 737-7 MAX
El Boeing 737-7 MAX es la tercera de las cinco variantes principales previstas para el narrowbody, anunció la compañía el 4 de octubre. Es el modelo más pequeño de la familia MAX. En el transcuso de la línea de la historia de esta serie ha pasado a incrementar su tamaño y pesos específicos. Ha agregado en su rediseño dos cuadernas, una delante del plano alar y la otra posterior al plano alar. Este cambio permitió a Boeing hacer del 737-7 un avión más atractivo para las aerolíneas.
Fabricación del Boeing 737-7 MAX
El primer plano alar de 19.8m (65ft) para el 737-7 entró en el sistema de producción de Boeing esta semana en el complejo industrial de Renton, Washington. Con los motores CFM International Leap-1B y los winglets Advanced Technology, Boeing lista el 737-7 con un alcance máximo de 3.825nm (7.080km). Con un precio de lista de 90 millones de dólares, la capacidad de asientos para el 737-7 oscila entre 138 en un diseño típico de dos clases o hasta 172 en una configuración de alta densidad de una sola clase.
«El MAX 7 es una pieza importante de la familia MAX, especialmente porque proporciona a las aerolíneas la mayor variedad de cualquier nuevo avión de pasillo único en el mercado», dice Keith Leverkuhn, vicepresidente de Boeing y gerente general del 737 MAX.
SOUTHWEST AIRLINES SERÁ EL CLIENTE DE LANZAMIENTO DEL BOEING 737-7 MAX
Aunque el total de la familia 737 MAX ha atraído más de 3.900 pedidos firmes, la demanda para el 737-7 es significativamente más débil a pesar de un pequeño rediseño el año pasado que alargó el fuselaje.
El 737-7 ha recolectado 65 pedidos firmes de cuatro clientes, pero Southwest y WestJet se combinan para 55. La línea aérea canadiense Jetlines y Air Lease Corp dividieron los pedidos para los 10 restantes. La entrada en servicio está prevista para enero de 2019 con el operador de lanzamiento Southwest Airlines.
Además del 737-7, Boeing ya ha comenzado a entregar el 737-8. El 737-9 está programado para entrar en servicio el próximo año, seguido por el 737 MAX 200 en 2019. El 737-10 está programado para entrar en servicio en 2020.  
Boeing starts production Boeing 737-7 MAX
Boeing workers have begun building components for the 737-7 MAX
The Boeing 737-7 MAX is the third of five major variants planned for the narrowbody, the company announced Oct. 4. It is the smallest model in the MAX family. In the transcuso of the line of the history of this series has happened to increase its size and specific weights. He has added two frames in his redesign, one in front of the wing plane and the other one behind the wing plane. This change allowed Boeing to make the 737-7 a more attractive aircraft for the airlines.
Manufacture of the Boeing 737-7 MAX
The 19.8m (65ft) wing foreground for the 737-7 entered Boeing's production system this week at the Renton industrial complex in Washington. With the CFM International Leap-1B engines and Advanced Technology winglets, Boeing lists the 737-7 with a maximum range of 3,825nm (7,080km). With a list price of $ 90 million, the seating capacity for the 737-7 ranges from 138 in a typical two-class design or up to 172 in a single-class high density configuration.
«The MAX 7 is an important part of the MAX family, especially as it provides airlines with the widest variety of any new single-aisle aircraft on the market,» said Keith Leverkuhn, Boeing vice president and general manager of the 737 MAX.
Although the total 737 MAX family has attracted more than 3,900 firm orders, demand for the 737-7 is significantly weaker despite a small redesign last year that extended the fuselage.
The 737-7 has collected 65 firm orders from four customers, but Southwest and WestJet combine for 55. Canadian airline Jetlines and Air Lease Corp split orders for the remaining 10. The entry into service is scheduled for January 2019 with the launch operator Southwest Airlines.
In addition to the 737-7, Boeing has already begun delivering the 737-8. The 737-9 is scheduled to enter service next year, followed by the 737-8 MAX 200 in 2019. The 737-10 is scheduled to go into service in 2020. A \ W
Ξ A I R G W A Y S Ξ
SOURCE:  Airgways.com
DBk: Boeing.com / Tim Bicheno-Brown Flight Global
AW-POST: 201710060137AR
A\W   A I R G W A Y S ®