AW | 2017 10 31 05:43 | AIRLINES
American Airlines cerrará la base piloto en el Aeropuerto de St. Louis en 2018
American Airlines cerrará su base piloto en el Aeropuerto Internacional de St. Louis-Lambert el 1 de septiembre de 2018. Está reduciendo otro enlace clave a su pasado de TWA en St. Louis.
Es más un golpe al ego para St. Louis que uno económico, dijeron analistas. Sin duda es una noticia difícil para los 180 pilotos estadounidenses que se encuentran aquí.
Una carta del vicepresidente de operaciones de vuelo de American a los pilotos dice, en parte: «[…] obviamente no es la noticia que nuestros pilotos de St. Louis quieren escuchar […] este cierre es para la base de pilotos de StL específicamente y no afecta las operaciones de St Louis, incluido el servicio de vuelo, mantenimiento o nuestro nivel general de servicio aéreo».
Los pilotos ya están peleando un fallo de arbitraje este verano, despojándolos de la antigüedad que ganaron con TWA. La base piloto aquí es un remanente de la adquisición de TWA por parte de American en 2001. American prometió entonces mantener las operaciones de St. Louis, pero cerró el centro de St. Louis dos años después.
Más de 400 vuelos estadounidenses operaban desde St. Louis en ese momento, pero ahora solo 41 vuelos diarios. Solo 19 de ellos son vuelos principales con pilotos estadounidenses reales. El resto son vuelos contratados a través de otros operadores.
Los estadounidenses vinculan el paso a la eliminación gradual de los aviones McDonnell-Douglas MD-80 adquiridos en la toma de control. Para el próximo otoño, los únicos MD-80 restantes estarán basados ​​en DFW. Para el otoño de 2019, desaparecerán por completo. Entonces los pilotos eventualmente van a tener trenes para volar nuevos aviones.
«Si se deshicieran de todos los MD-80 mañana, entonces los 180 pilotos que trabajan aquí no tendrían trabajo», dijo Mel Burkart, un piloto jubilado de TWA y profesor de aviación. «Tendrían que ir a algún lugar para encontrar un avión que pudieran volar. Creo que la mayoría de la gente continuará viviendo aquí y viajará al trabajo […] el cierre no tiene nada que ver con la cantidad de vuelos que van a operar dentro y fuera de St. Louis «.
Los desplazamientos eran muy comunes en la industria, dijo. American también cerró recientemente su base piloto en San Francisco. Los cerca de 600 azafatas y trabajadores de mantenimiento estadounidenses con base en St. Louis no se ven afectados.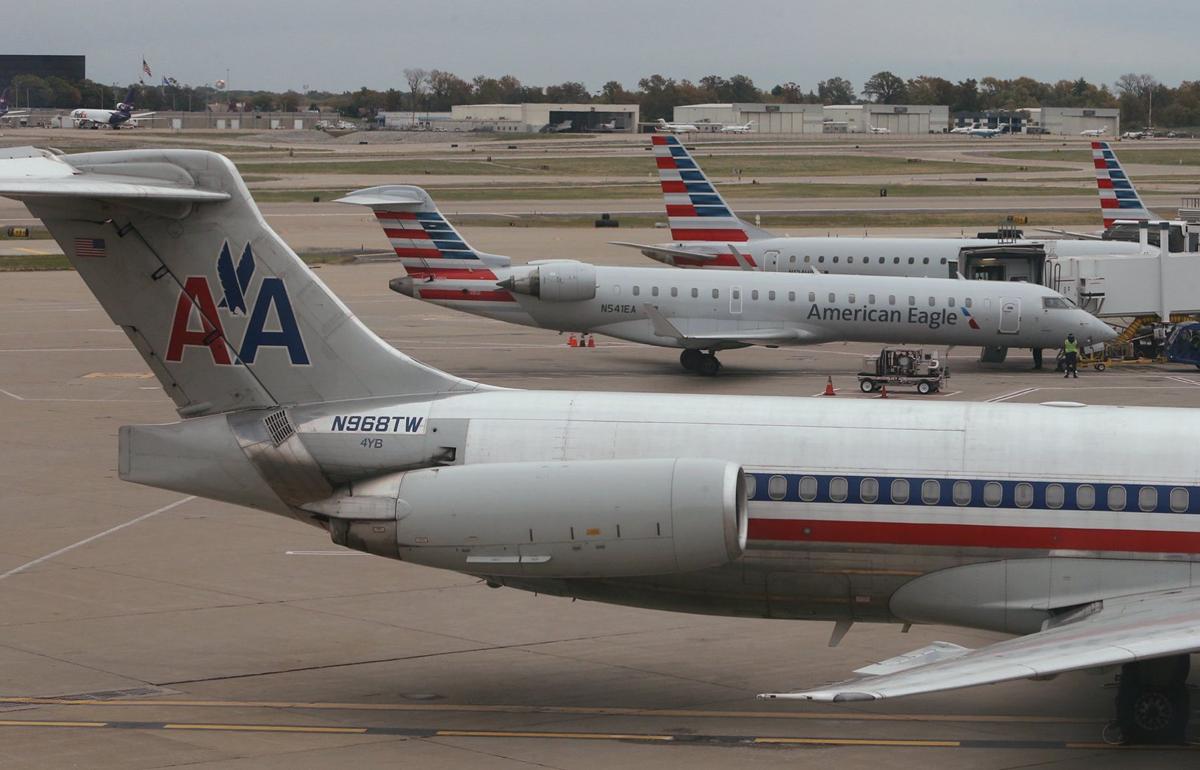 American closes base pilots in St. Louis
American Airlines will close the pilot base at St. Louis Airport in 2018
American Airlines will close its pilot base at St. Louis-Lambert International Airport on September 1, 2018. It is reducing another key link to its TWA past in St. Louis.
It's more an ego hit for St. Louis than an economic one, analysts said. It is undoubtedly a difficult news for the 180 American pilots who are here.
A letter from American's vice president of flight operations to the pilots says, in part: «[…] obviously it's not the news that our pilots in St. Louis want to hear this […] closure is for the base of StL pilots specifically and does not affect St. Louis operations, including flight service, maintenance or our general level of air service».
The pilots are already fighting an arbitration ruling this summer, stripping them of the seniority they won with TWA. The pilot base here is a remnant of American's acquisition of TWA in 2001. American then pledged to maintain St. Louis operations, but closed downtown St. Louis two years later.
More than 400 US flights operated from St. Louis at that time, but now only 41 daily flights. Only 19 of them are major flights with real US pilots. The rest are contracted flights through other operators.
The Americans link the step to the phase out of McDonnell-Douglas MD-80 aircraft acquired in the takeover. For next fall, the only remaining MD-80s will be based on DFW. By the fall of 2019, they will disappear completely. Then the pilots will eventually have trains to fly new planes.
«If they got rid of all the MD-80s tomorrow, then the 180 pilots who work here would not have jobs,» said Mel Burkart, a retired TWA pilot and aviation professor. «They would have to go somewhere to find a plane that could fly. I think most people will continue to live here and travel to work […] the closure has nothing to do with the number of flights that will operate in and out of St. Louis».
Displacement was very common in the industry, he said. American also recently closed its pilot base in San Francisco. The nearly 600 stewardesses and US maintenance workers based in St. Louis are not affected. A \ W
Ξ A I R G W A Y S Ξ
SOURCE:  Airgways.com
DBk:  J. B. Forbes / Enacademic.com
AW-POST: 201710310543AR
A\W   A I R G W A Y S ®