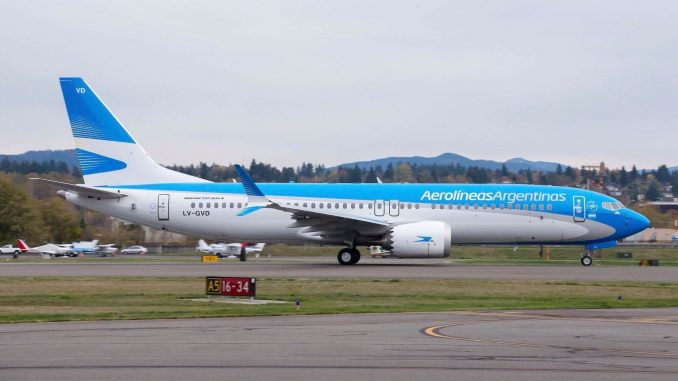 AW | 2017 11 09 00:10 | AIRLINES
El Boeing 737-8 MAX de Aerolíneas Argentinas está realizando las últimas pruebas antes de su entrega al primer operador en Latinoamérica y Argentina
Aerolíneas Argentinas recibirá su primer Boeing 737-8 MAX antes de finalizar Noviembre 2017, convirtiendo a la primera aerolínea en Latinoamérica y Argentina Argentina como operador de la última y más nueva generación de la línea 737.
Arribo del «MAX» a Argentina
Aerolíneas ha informado que el vuelo de entrega del Boeing 737-8 MAX debería partir en una primera etapa desde Seattle, Washington el 24 de Noviembre poniendo rumbo a Punta Cana, República Dominicana. La segunda etapa del viaje completará el ferry de la aeronave al día siguiente a Buenos Aires, Argentina. Se espera la recepción del Boeing 737-8 MAX a Buenos Aires, pero no está establecida todavía la fecha para la ceremonia de arribo.
Negociando por más «MAX»
La línea aérea de Argentina ha renegociado los términos del contrato con la empresa de leasing Avolon Aerospace Leasing, donde se han convertido 11 pedidos en firme de aviones 737-800NG a la variante más actual el Boeing 737-8 MAX.
La incorporación de los nuevos Boeing 737-8 MAX mejorará en la puesta de nuevas tecnologías, menor consumo de combustible, mejores recursos, mayor rango operativo, entre otras ventajas.
Las nuevas rutas asignadas para los nuevos Boeing 737-8 MAX principalmente son para el Caribe y el nordeste de Brasil, entre otras rutas regionales. Los principales aeropuertos argentinos de partida serán desde Buenos Aires (Ezeiza) y Córdoba.
El Gerente General de Aerolíneas Argentinas, Mario Dell 'Acqua, expresó los beneficios del Boeing 737-8 MAX: «Le dará a nuestra operación un aumento directo del 25% en la eficiencia. Podremos llegar a los destinos regionales con un avión de pasillo único, maximizando la ecuación de costo-beneficio para esas rutas».
Mercado de largo recorrido
Aerolíneas tiene la intención de dar de baja la flota de largo recorrido. Aunque no se ha tomado una decisión definitiva sobre qué aeronave dirigirá la oferta de larga distancia en los próximos años, los Airbus A340-300 que actualmente vuelan para la compañía se están retirando lentamente del servicio. El 5 de Noviembre de 2017, el A340 LV-CSE de 21 años se dió de baja comercial, y emprendió su viaje final a Victorville, California. Llegó al depósito del aeropuerto de logística de Southern California el 6 de Noviembre 2017. Después de operar un total de 13 A340 (A340-200/300), Aerolíneas Argentinas mantendrá solo cuatro hasta su retiro final en 2020.
La vida promedio de los Airbus A340 están en 20.8 años. Pero Aerolíneas Argentinas ha renobado su parque aeronáutico de largo recorrido sumando Airbus A330-200, con una edad promedio de 10.4 años. Diego García, Director Comercial de Aerolíneas Argentinas, declaró a principios de este año que el reemplazo de larga distancia debería seleccionarse a más tardar durante el primer 1Q2018.
Vuelos domésticos
Los vuelos domésticos de Aerolíneas/Austral marcan un factor de ocupación de más del 80%, lo que ha permitido a la compañía reducir el monto total de los subsidios que ha solicitado al gobierno argentino de AR$ 300 millones en 2016 a AR$ 170 millones en 2017 y una proyección de AR$ 90 millones en 2018.  
Latest news Boeing 737-8 Aerolíneas MAX
The Boeing 737-8 MAX of Aerolíneas Argentinas is carrying out the last tests before its delivery to the first operator in Latin America and Argentina
Aerolíneas Argentinas will receive its first Boeing 737-8 MAX before the end of November 2017, making the first airline in Latin America and Argentina as the operator of the latest and newest generation of line 737.
Arrival of the «MAX» to Argentina
Aerolíneas has informed that the delivery flight of the Boeing 737-8 MAX should depart in a first stage from Seattle, Washington on November 24, heading to Punta Cana, Dominican Republic. The second stage of the trip will complete the aircraft ferry the next day to Buenos Aires, Argentina. The reception of the Boeing 737-8 MAX is expected in Buenos Aires, but the date for the arrival ceremony is not yet established.
Negotiating for more «MAX»
The airline of Argentina has renegotiated the terms of the contract with the leasing company Avolon Aerospace Leasing, where 11 firm orders of 737-800NG aircraft have been converted to the most current variant of the Boeing 737-8 MAX.
The incorporation of the new Boeing 737-8 MAX will improve the implementation of new technologies, lower fuel consumption, better resources, greater operating range, among other advantages.
The new routes assigned to the new Boeing 737-8 MAX are mainly for the Caribbean and northeastern Brazil, among other regional routes. The main Argentine airports of departure will be from Buenos Aires (Ezeiza) and Córdoba.
The General Manager of Aerolíneas Argentinas, Mario Dell 'Acqua, expressed the benefits of the Boeing 737-8 MAX: «It will give our operation a direct 25% increase in efficiency, we can reach regional destinations with a single aisle aircraft, maximizing the cost-benefit equation for those routes».
Long-distance market
Aerolíneas intend to decommission the long-haul fleet. Although a final decision has not been made on which aircraft will direct the long distance offer in the coming years, the Airbus A340-300 that currently fly for the company are slowly retiring from service. On November 5, 2017, the 21-year-old A340 LV-CSE was commercialized, and embarked on its final journey to Victorville, California. It arrived at the logistics depot of Southern California on November 6, 2017. After operating a total of 13 A340 (A340-200/300), Aerolíneas Argentinas will maintain only four until its final withdrawal in 2020.
The average life of the Airbus A340 are in 20.8 years. But Aerolíneas Argentinas has renewed its long-haul aeronautical park by adding Airbus A330-200, with an average age of 10.4 years. Diego García, Commercial Director of Aerolíneas Argentinas, stated earlier this year that the long distance replacement should be selected at the latest during the first 1Q2018.
Domestic flights
The domestic flights of Aerolíneas / Austral mark an occupation factor of more than 80%, which has allowed the company to reduce the total amount of subsidies it has requested from the Argentine government from AR $ 300 million in 2016 to AR $ 170 million in 2017 and a projection of AR $ 90 million in 2018. A \ W
Ξ A I R G W A Y S Ξ
SOURCE:  Airgways.com
DBk:  Aerolineas.com / Airlinegeeks.com
AW-POST: 201711090010AR
A\W   A I R G W A Y S ®