AW | 2017 11 10 21:05 | AVIATION SAFETY
El Bombardier 8 Q-400 delvuelo BE-331 de la línea aérea Flybe aterrizó en emergencia por problemas tren aterrizaje de naríz
Un Bombardier 8Q-400, con registro G-JEDU realizando el vuelo BE-331 desde Belfast City (NI) a Inverness (SC), Reino Unido con 53 pasajeros y 4 tripulantes, estaba saliendo del Aeropuerto de Belfast cuando la tripulación detuvo el ascenso 4000 pies reportando problemas con su equipo. El avión entró en espera mientras la tripulación estaba solucionando el problema, pero no pudo resolver el problema, el mecanismo dle tren de aterrizaje de la nariz permaneció en una posición insegura y no pudo extenderse nuevamente. La tripulación decidió desviarse al Aeropuerto Internacional Aldergrove de Belfast, donde el avión aterrizó de manera segura en la pista 25 aproximadamente a las 02:05 horas después de que la marcha se detuvo en su equipo principal y la nariz. Una persona fue llevada a un hospital con heridas menores, la aeronave recibió daños sustanciales.
Flybe confirmó que el vuelo BE-331 aterrizó con el tren de aterrizaje retraído. Un pasajero fue llevado a un hospital con una lesión leve en la mano. Había 52 pasajeros más un bebé y 4 tripulantes a bordo sin necesidad de ser hospitalizados. De acuerdo con los observadores de tierra, las puertas del engranaje de la nariz de la aeronave estaban abiertas, pero el tren de nariz estaba retraído.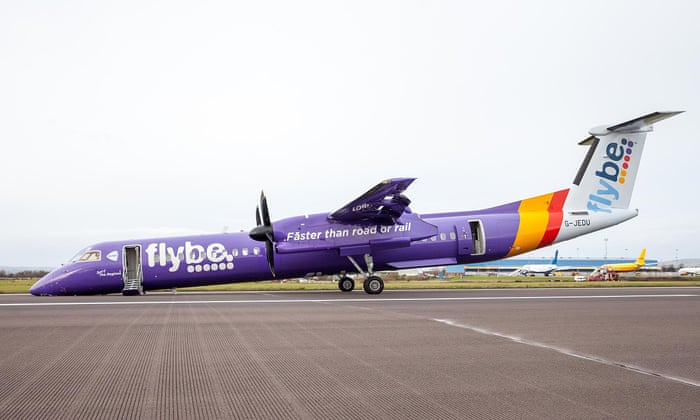 Emergency landing Q-400 of Flybe in Belfast
The Bombardier 8 Q-400 flight BE-331 of the airline Flybe landed in emergency due to problems landing nose train
A Bombardier 8Q-400, with G-JEDU registration making the flight BE-331 from Belfast City (NI) to Inverness (SC), United Kingdom with 53 passengers and 4 crew, was leaving Belfast Airport when the crew stopped the ascent 4000 feet reporting problems with your equipment. The plane went on hold while the crew was solving the problem, but could not solve the problem, the nose gear remained in an insecure position and could not extend again. The crew decided to detour to the Aldergrove International Airport in Belfast, where the plane landed safely on runway 25 at approximately 02:05 hours after the march stopped on their main gear and nose. A person was taken to a hospital with minor injuries, the aircraft received substantial damage.
Flybe confirmed that flight BE-331 landed with the landing gear retracted. A passenger was taken to a hospital with a slight hand injury. There were 52 passengers plus one baby and 4 crew on board without needing to be hospitalized. According to ground observers, the nose gear doors of the aircraft were open, but the nose train was retracted. A \ W
Ξ A I R G W A Y S Ξ
SOURCE:  Airgways.com
DBk:  Avherald.com / Justin Kernoghan / Theguardian.com
AW-POST: 201711102105AR
A\W   A I R G W A Y S ®