AW | 2017 11 27 11:00 | INDUSTRY
El constructor de motores CFM International alcanzará record de producción
CFM International, la empresa conjunta de Safran con GE, que fabrica los motores Boeing 737 y Airbus A320, ha alcanzado nuevos records en sus registros de pedidos y entregas en 2017.
CFM International ha estimado alcanzar nuevos máximos de producción y órdenes hasta 2017. En 2016, CFM entregó 1.693 CFM56 y 77 LEAP. Para este año 2017 se espera alcanzar los 1.400 CFM56 y más de 450 LEAP. La producción del nuevo motor LEAP irá aumentando su cartera de pedidos, estimando llegar entre 1.100 a 1.200 motores en 2018, superando los 2.000 anuales para 2020. Las entregas de motores al término del 2017 se estiman entre 1.800 a 1.900 unidades. Hasta finales de Octubre, CFM había conseguido unos pedidos de 2.944 motores.
CFM suministra el motor CFM56, que equipa los Boeing 737 y parte de los Airbus A320ceo, y está comenzando el incremento de producción del LEAP, que equipa al Boeing 737 MAX y a parte de los Airbus A320NEO.
En cuanto al CFM56, se observa una reducción de producción más lenta de lo previsto, ya que aún se están recibiendo pedidos de este motor. CFM ya ha ordenado su cadena de suministro de forma que en 2018 se alcance una cadencia de 20 motores LEAP por semana, y continúa trabajando en su estrategia de establecer una duplicidad de suministradores en los elementos críticos del motor. En cualquier caso, CFM deberá revisar su estrategia si tanto Boeing como Airbus deciden incrementar la producción de 737 y A320 por encima de las 60 unidades al mes.
Más del 60% de la cuota de mercado
Más de un año después de su entrada en servicio, el nuevo motor de salto, lo que debería suceder gradualmente el CFM56 bajo las alas de 737 MAX y A320NEO, continúa impulsando las ventas, con cerca de 2.500 pedidos cosechados de enero a octubre y más de 14,000 pedidos en total. El Leap también continúa ampliando la brecha con el motor Pratt & Whitney PW1100G, con el que compite en el A320 Neo. "En 2017, ganamos el 90% de las licitaciones contra Pratt & Whitney", dice Cédric Goubet. En combinación, nuestra cuota de mercado ahora supera el 60%.
Un éxito muy superior a los pronósticos de Safran y CFM, que inicialmente contaba con un equilibrio con Pratt & Whitney en el A320, y que podría obligar a los dos fabricantes de motores a revisar sus pronósticos de producción, 2.000 motores Leap por año a partir de 2020 Airbus, como Boeing, ya está hablando de la posibilidad de ir más allá de los 60 pasillos individuales por mes programados para el final de la década.
El objetivo de 2,000 motores por año
"Por ahora, el objetivo sigue siendo llegar a 2.000 motores en 2020, que ya es un desafío industrial", dice Cédric Goubet. Esto corresponde a los patrones de aceleración de los fabricantes de aviones y actualmente no tenemos ningún plan para ir más allá. Si Boeing y Airbus aumentaran aún más sus tasas, examinaríamos los escenarios propuestos que podrían requerir un replanteamiento de nuestras suposiciones, lo que requeriría recursos adicionales.
Pero en el futuro inmediato, la prioridad sigue siendo cumplir con el objetivo de entre 450 y 500 entregas de Leap programadas para 2017. "Tenemos un retraso de tres a cuatro semanas en nuestro plan de mercado, que debería ser absorbido en las próximas semanas", asegura el jefe de los motores civiles de Safran Aircraft Engines. Después de eso, será necesario cruzar sin tropezar una nueva gran marcha en 2018, que sumará 1.200 entregas el próximo año, luego 1.800 en 2019.
CFM56 hace resistencia
Y esto, mientras que la disminución en la producción de CFM56, el CFM actual más vendido, es más lento de lo esperado. El motor más vendido en el mundo todavía representa las tres cuartas partes de las entregas en 2017 y continúa acumulando pedidos. "El declive en el CFM56 es más lento de lo esperado, debido al bajo precio del combustible y al crecimiento de las empresas", dice Cédric Goubet. Esto nos obligó a ajustar nuestros planes de producción hacia arriba. Hoy, no planeamos detener la producción del CFM56 antes de 2021. Y aun así, continuaremos produciendo algunos motores nuevos para el 737 US Army.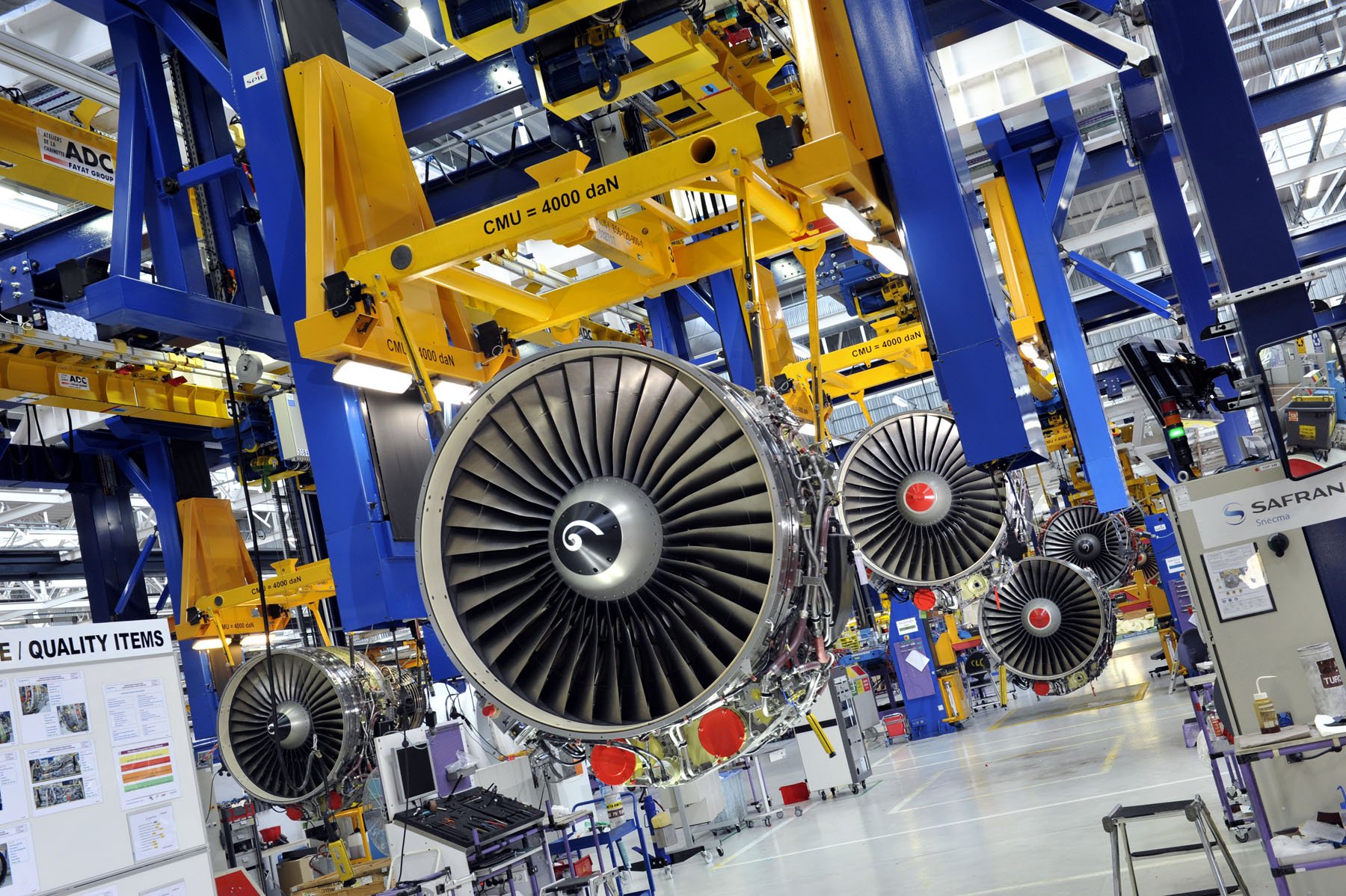 CFM International reaches record production
Engine builder CFM International will reach production record
CFM International, Safran's joint venture with GE, which manufactures the Boeing 737 and Airbus A320 engines, and has reached new records in its order and delivery records in 2017.
CFM International has estimated reaching new production maximums and orders until 2017. In 2016, CFM delivered 1,693 CFM56 and 77 LEAP. For this year 2017 it is expected to reach 1,400 CFM56 and more than 450 LEAP. The production of the new LEAP engine will increase its order book, estimating to reach between 1,100 to 1,200 engines by 2018, surpassing 2,000 per year by 2020. Engine deliveries at the end of 2017 are estimated between 1,800 and 1,900 units. Until the end of October, CFM had obtained orders for 2,944 engines.
CFM supplies the CFM56 engine, which equips the Boeing 737 and part of the Airbus A320ceo, and is beginning the production increase of LEAP, which equips the Boeing 737 MAX and part of the Airbus A320NEO.
Regarding the CFM56, a slower production reduction is observed than expected, since orders for this engine are still being received. CFM has already ordered its supply chain so that by 2018 it achieves a cadence of 20 LEAP engines per week, and continues to work on its strategy of establishing a duplicity of suppliers in the critical elements of the engine. In any case, CFM should review its strategy if both Boeing and Airbus decide to increase production of 737 and A320 above 60 units per month.
More than 60% of the market share
More than a year after its entry into service, the new jump engine, which should gradually happen to the CFM56 under the wings of 737 MAX and A320NEO, continues to drive sales, with nearly 2,500 orders harvested from January to October and more of 14,000 orders in total. The Leap also continues to widen the gap with the Pratt & Whitney PW1100G engine, with which it competes on the A320NEO. "In 2017, we won 90% of the bids against Pratt & Whitney," says Cédric Goubet. In combination, our market share now exceeds 60%.
A success far superior to the forecasts of Safran and CFM, which initially had a balance with Pratt & Whitney in the A320, and that could force the two engine manufacturers to review their production forecasts, 2,000 Leap engines per year starting of 2020 Airbus, like Boeing, is already talking about the possibility of going beyond the 60 individual corridors per month scheduled for the end of the decade.
The goal of 2,000 engines per year
"For now, the goal remains to reach 2,000 engines by 2020, which is already an industrial challenge", says Cédric Goubet. This corresponds to the acceleration patterns of aircraft manufacturers and we currently have no plan to go further. If Boeing and Airbus further increased their rates, we would examine the proposed scenarios that could require a rethinking of our assumptions, which would require additional resources.
But in the immediate future, the priority remains to meet the goal of between 450 and 500 Leap deliveries scheduled for 2017. "We have a delay of three to four weeks in our market plan, which should be absorbed in the coming weeks", assures the head of the civil motors of Safran Aircraft Engines. After that, it will be necessary to cross without a new major march in 2018, which will add 1,200 deliveries next year, then 1,800 in 2019.
CFM56 does resistance
And this, while the decrease in the production of CFM56, the current best selling CFM, is slower than expected. The best selling engine in the world still accounts for three quarters of deliveries in 2017 and continues to accumulate orders. "The decline in CFM56 is slower than expected, due to the low price of fuel and the growth of companies", says Cédric Goubet. This forced us to adjust our production plans upwards. Today, we do not plan to stop production of the CFM56 before 2021. And even then, we will continue to produce some new engines for the 737 US Army. A \ W
Ξ A I R G W A Y S Ξ
SOURCE:  Airgways.com
DBk: Cfmaeroengines.com / Lesechos.fr / Airgways.com / Safran-aircraft-engines.com
AW-POST: 201711271100AR
A\W   A I R G W A Y S ®