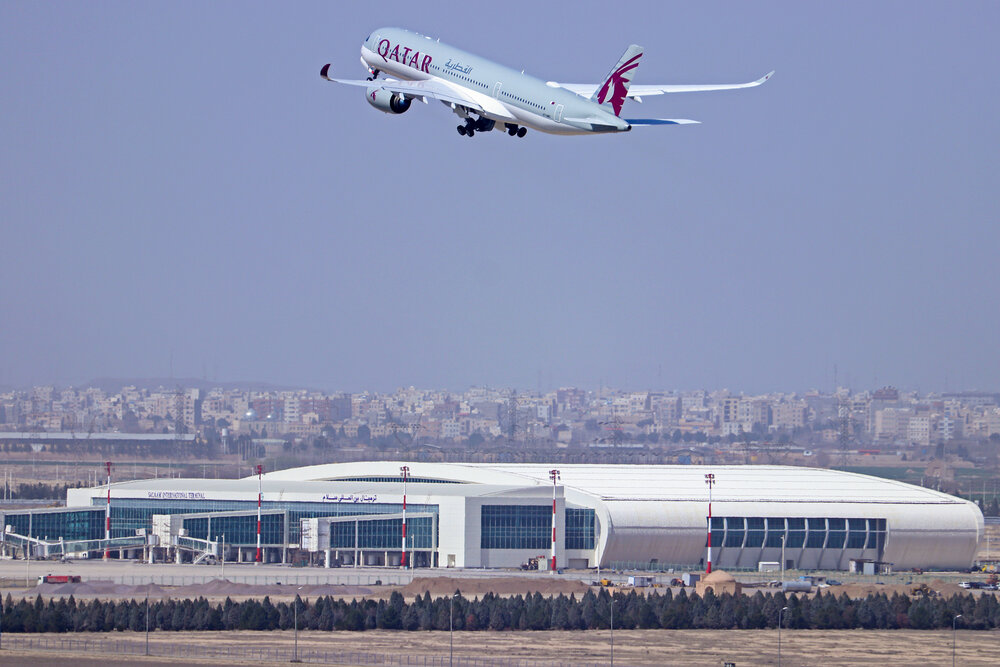 AW | 2019 12 31 14:00 | AIRPORTS / AIR TRAFFIC
Aeropuerto Khomeini elevará el número de vuelos en la República Islámica de Irán
Imam Khomeini International Airport (IKIA) incrementará vuelos domésticos en la República Islámica de Irán. El Aeropuerto Internacional Imam Khomeini ha anunciado que está listo para agregar vuelos de cabotaje a sus servicios, ha anunciado el Subdirector de Operaciones Aeroportuarias de IKIA. Los pasajeros tendrán más opciones para elegir entre los vuelos nacionales que se transfieren al aeropuerto. Se espera que la medida reduzca considerablemente el tráfico en el Aeropuerto Internacional Mehrabad de Teherán, que actualmente opera vuelos nacionales desde la ciudad capital. No se ha considerado ninguna ruta en particular para la reubicación permanente a IKIA y la cantidad de vuelos estará determinada por la demanda del mercado.
El Aeropuerto Internacional Imam Khomeini registró 47.446 despegues y aterrizajes en el último año fiscal que terminó el 20 de Marzo 2019. Más de 7.27 millones de pasajeros y 141.704 toneladas de carga fueron transportados desde el aeropuerto durante el período para ubicarse en el tercer lugar en la lista de los aeropuertos más ocupados de Irán en 2018.
Imam Khomeini increases domestic traffic
Khomeini Airport will increase the number of flights in the Republic of Iran
Imam Khomeini International Airport (IKIA) will increase domestic flights in the Islamic Republic of Iran. Imam Khomeini International Airport has announced that it is ready to add domestic flights to its services, the IKIA Assistant Director of Airport Operations has announced. Passengers will have more options to choose from domestic flights that transfer to the airport. The measure is expected to significantly reduce traffic at Tehran Mehrabad International Airport, which currently operates domestic flights from the capital city. No particular route has been considered for permanent relocation to IKIA and the number of flights will be determined by market demand.
Imam Khomeini International Airport recorded 47,446 take-offs and landings in the last fiscal year that ended on March 20, 2019. More than 7.27 million passengers and 14,171 tons of cargo were transported from the airport during the period to be ranked third in the List of the busiest airports in Iran in 2018.
الإمام الخميني يزيد من حركة المرور المحلية
سيزيد مطار الخميني عدد الرحلات في جمهورية إيران
سيقوم مطار الإمام الخميني الدولي (IKIA) بزيادة الرحلات الداخلية في جمهورية إيران الإسلامية. أعلن مطار الإمام الخميني الدولي عن استعداده لإضافة رحلات جوية محلية إلى خدماته ، حسبما أعلن مساعد مدير عمليات المطار في IKIA. سيكون لدى الركاب المزيد من الخيارات للاختيار من بينها الرحلات الداخلية التي تنقل إلى المطار. من المتوقع أن يؤدي هذا الإجراء إلى تقليل حركة المرور في مطار طهران محراباد الدولي ، والذي يشغل حاليًا رحلات جوية داخلية من العاصمة. لم يتم النظر في أي طريق معين للانتقال الدائم إلى IKIA وسيتم تحديد عدد الرحلات حسب الطلب في السوق.
سجل مطار الإمام الخميني الدولي 47،446 عملية إقلاع وهبوط في السنة المالية الأخيرة المنتهية في 20 مارس 2019. تم نقل أكثر من 7.27 مليون مسافر و 14،171 طن من البضائع من المطار خلال الفترة ليحتلوا المرتبة الثالثة في قائمة أكثر المطارات ازدحاما في إيران في عام 2018.
Ξ A I R G W A Y S Ξ
SOURCE: Airgways.com
DBk: Ikac.ir / Tehrantimes.com / Wikiwand.com
AW-POST: 201912311400AR
A\W   A I R G W A Y S ®